We will have to wait a little longer to find out the final outcome of the appeal presented by Honda against the modification of the penalty inflicted on Marc Marquez for the accident with Miguel Oliveira in the early stages of last weekend's Portuguese Grand Prix.
In fact, the FIM Appeal Commissioners deemed the Japanese manufacturer's protest admissible, but Paul King and Armando Marques did a bit like Pontius Pilate: they washed their hands of it and passed the buck into the hands of the Court of Appeal of the MotoGP, which will therefore have to give a ruling on the matter.
The crux is simple: the eight-time world champion was punished with a double long lap penalty and, as is current practice in MotoGP, the commissioners' panel wrote in the provision that the Spaniard should have served the penalty at the Grand Prix of Argentina this weekend.
The problem arose when Marc was diagnosed with a broken right hand, for which he also underwent surgery in Madrid. At that point, the doctors decided to be cautious, given his long absences over the last three years, and decided to stop him for the Termas de Rio Hondo weekend.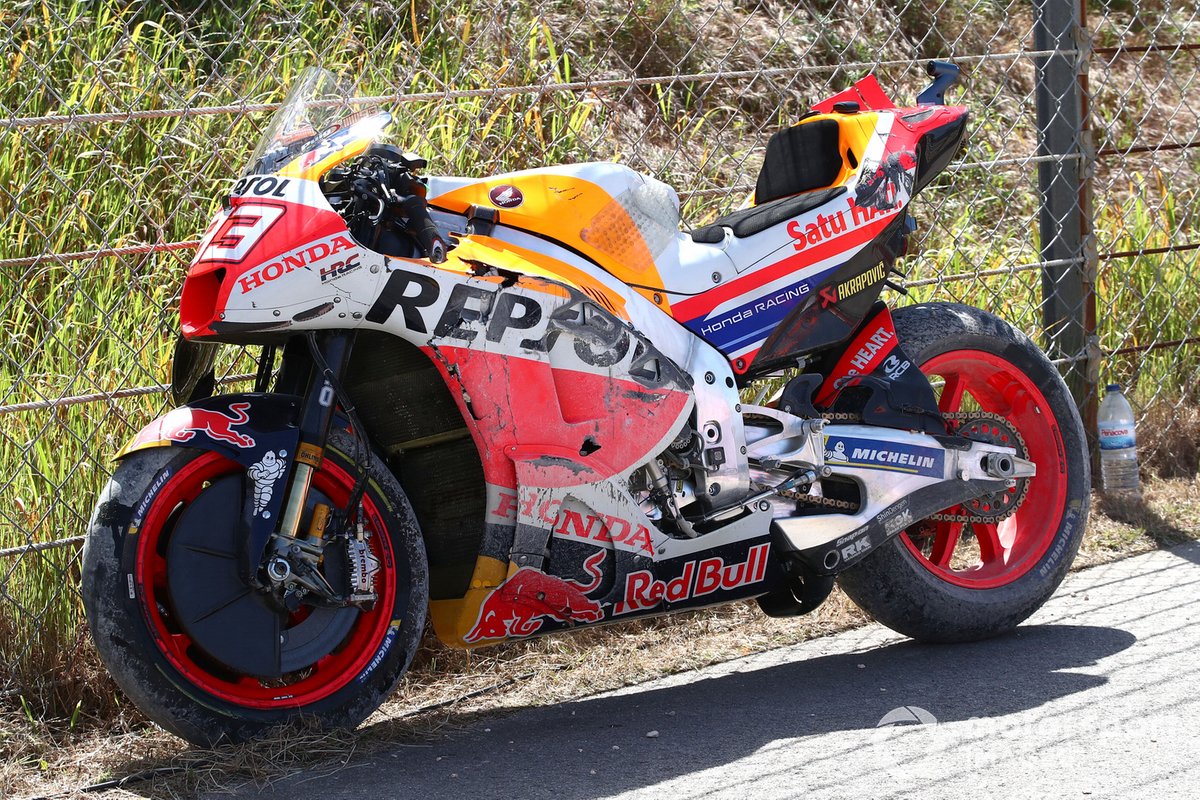 The bike of Marc Marquez, Repsol Honda Team after the accident
Photo by: Gold and Goose / Motorsport Images
That being the case, based on the stewards' decision, it seemed that the #93 would get away with serving his penalty during his absence. This obviously caused discussion and on Tuesday morning a clarification regarding the penalty arrived, which explained that clearly Marc would have to serve it as soon as he returned to racing, therefore presumably in Austin in two weeks.
However, Honda's reply was immediate, as the Japanese giant believes that it is not fair that the penalty has been changed with respect to the measure that was initially taken. A common sense solution, which however had highlighted quite clearly, and for the umpteenth time, the bad work of the college of commissioners. Despite having the legal quibbles on its side, Honda too could have tacitly accepted a penalty which was more than fair, as had also been acknowledged by its rider.
We have therefore arrived at today and at the hearing convened in Termas de Rio Hondo, before the aforementioned King and Marques, which however has led to another stalemate: "Considering the circumstances of the case and the legal questions raised by the appeal presented by Mr. Marquez and HRC Repsol Honda Team, the FIM Appeal Commissioners have decided to refer the case to the MotoGP Court of Appeal for proper resolution of the case," reads the statement.
Read also: