Suara.com – The number of victims who died as a result of the fire at the Pertamina Plumpang Depot, Koja, North Jakarta continues to grow. Based on the latest data, the number of victims who died was said to have reached 17 people, two of whom were children.
While the number of injured victims was reported to reach 50 people. One of them is a child.
Kapolda Metro Jaya Inspector General Pol Fadil Imran said that his party together with Kodam Jaya would set up an emergency post for victims. This was conveyed by Fadil when directly observing the location of the fire with the Military Commander Maj. Gen. Untung Budiharto.
"It was conveyed earlier by the Regional Military Commander that we will create a post," said Fadil at the location, Friday (3/3/2023) evening.
Also Read: Pertamina Plumpang Koja Depot Fire Kills 17 People
Fadil explained that the post was established to accommodate the affected victims. Besides that, it is also to facilitate consolidation between personnel and the joint SAR team.
"Both of them provide assistance for personnel consolidation and so on," he said.
Previously, North Jakarta Metro Police Chief Kombes Pol Gidion Arif Setyawan said that based on provisional data there were a total of 14 victims who died and 28 were injured. All victims were evacuated to the Harbor Hospital, Koja Hospital and Mulya Sari Hospital.
"14 victims died and 28 were treated," he said.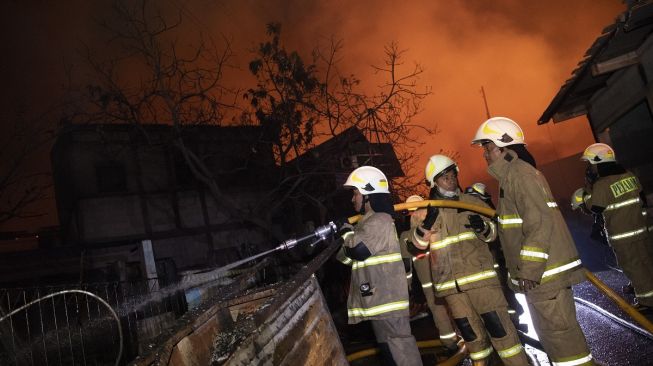 A number of officers tried to extinguish the fire that burned the houses of residents affected by the fire at the Pertamina Plumpang Depot, Jalan Koramil area, Rawa Badak Selatan, Koja, North Jakarta, Friday (3/3/2023). (BETWEEN PHOTOS/M Risyal Hidayat).
While the areas affected by the fire incident include two RWs. Gidion could not confirm what caused the fire because the team was currently focusing on evacuating victims and extinguishing the fire.
Also Read: Responding to the Pertamina Plumpang Depot Fire Incident, Erick Thohir: Investigate Completely!
"There are two RWs that have been affected and currently we, together with the TNI, Polri, firefighters and stakeholders, are focused on fighting fires and searching for victims," ​​he concluded.