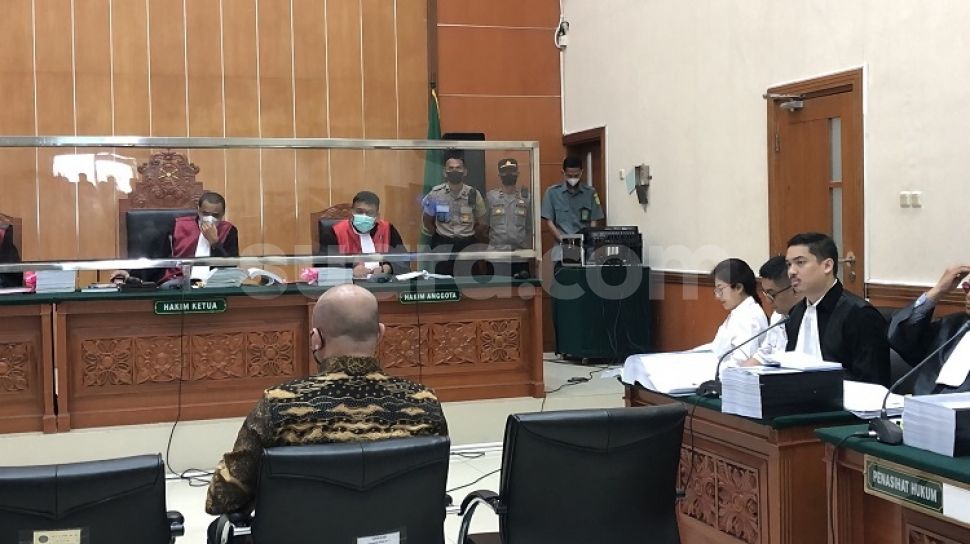 Suara.com – Inspector General Teddy Minahasa, the defendant in the embezzlement and distribution of methamphetamine evidence, admitted to the WhatsApp message containing an order for AKBP Dody Prawiranegara to exchange crystal methamphetamine with alum.
This was revealed by Teddy Minahasa when he became a witness in the continuation of the narcotics case, at the West Jakarta District Court, with the defendant Doddy Prawiranegara, Wednesday (1/3/2023) today.
It is known that this happened when Inspector General Teddy Minahasa was still the West Sumatra Regional Police Chief, while AKBP Dody was his subordinate, as the Bukittinggi Police Chief.
"I did a warning by sending a narrative that part of BB was replaced with alum while sending a laughing emoji for bonus members," Teddy said in court.
Also Read: Today, Teddy Minahasa was examined as a witness in the trial of the former Bukit Tinggi Police Chief
Teddy admitted that he sent the WhatsApp message before the press release on the disclosure of methamphetamine at the Bukittinggi Police on Friday 2022. He argued that when he sent Dody the message was not an order, but he claimed it was a joke against Dody.
Teddy also argued that he sent the message to Dody so that Dody would not exchange crystal methamphetamine for member bonuses.
"The point is that Doddy's brother doesn't do that (exchanging methamphetamine with alum) and in my experience in the field, members often make deviations," said Teddy.
Meanwhile, the Chief Judge, Jon Sarman Saragih, tried to detail Teddy Minahasa's statement regarding member bonuses.
"What does the member bonus mean?" asked Judge Jon Sarman.
Also Read: Here's How Anita Cepu Communicates with Teddy Minahasa Circulating Crystal Meth, Using the Code 'Sembako from Padang'
"That's just a general narrative," replied Teddy.
"Do you mean for the bonus?" asked the judge again.
"I didn't mean to do that, I mean to control Dody's brother not to do that. The bonus we usually give is in the form of awards or rewards," said Teddy.
Based on the results of investigations by Polda Metro Jaya investigators, in this case, Teddy Minahasa ordered Dody Prawiranegara to set aside his catch. Then to trick him, Teddy also asked Dody to exchange it for alum.
In this case, Teddy Minahasa is one of the defendants. Besides Teddy, there are a number of other names that have also become defendants, they are AKBP Dody Prawiranegara, Kompol Kasranto, Aiptu Janto, Linda Pudjiastuti alias Mami Linda or Anita Cepu, Syamsul Maarif and M Nasir alias Daeng.
They were charged with Article 114 Paragraph 2 Subsidiary Article 112 Paragraph 2 Juncto Article 55 of the Law of the Republic of Indonesia Number 35 of 2009 concerning Narcotics.