The directors of Super Mario Bros. The Movie reveal the change of roles of Peach and Luigi in this new adventure. The tables have turned!
Although we still do not have its plot 100% confirmed, all the advances that have been emerging about Super Mario Bros. The Movie they are giving us a good idea of ​​how his story unfolds. We have seen that powerful Peach who raises passions and a Mario who has a lot to learn, key pieces in a script that is going to turn the tables. Because in the Mario Bros movie, Peach and Luigi have switched roles.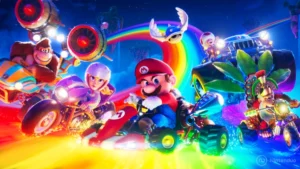 Nintendo has announced a special Direct to show the final trailer of Super Mario Bros The Movie, here all its details.
What do we mean? In an interview with Total Film, the directors of the feature film have explained the approach they wanted to give to Luigi and Peach. Unlike in video games, this time it will be up to Mario to rescue Luigiwith the help of a princess who is more warrior than ever and who does not need to be rescued.
Mario's goal is save his brother from Bowser's clutches. He has to embark on this epic adventure to get it. Luigi, famous for his anxiety and nervousnessfinds himself in the worst possible predicament: having to survive Bowser's interrogations and overcome said challenge.

peach is the monarch who leads this kingdom of hapless and adorable Toads. We think of how strong that person should be to protect his people. All of that influenced the idea of ​​Peach's character in our movie.

Aaron Horvath and Michael Jelenic, directors of Super Mario Bros. The Movie
It seems that, facing the film, Illumination and Nintendo have preferred that their protagonist run into a "I'm sorry Mario, but your brother is in another castle". Will we ever hear that phrase? Will they dare to transmit a formula like this to video games? We have already seen Luigi saving Mario on more than one occasion, he now played the other side of the coin.
The protagonists of Super Mario Bros. The Movie go to a TV program to do promotion, running into a balls censorship.
Via