Suara.com – A man with the initials BI is drinking liquor at a stall on Jalan Jati Baru, Tanah Abang, Central Jakarta, Tuesday (21/3/2023) evening. Unexpectedly, the alcohol he drank blinded BI, who had the heart to kill his own friend.
The victim with the initials PW came to see BI and the two of them enjoyed drinking alcohol together. Because he was already drunk, PW continued to rant and challenge BI.
"I was never afraid of you," said PW to BI.
Initially, BI was still able to control himself and asked PW to control himself by not talking in vain.
Also read: PAM Jaya admits big loss due to damage to water pipeline contractor in Gambir
"Never mind, don't be like that. It's embarrassing to be seen by people, your (stupid) buyan is seen by many people with temperament," said BI.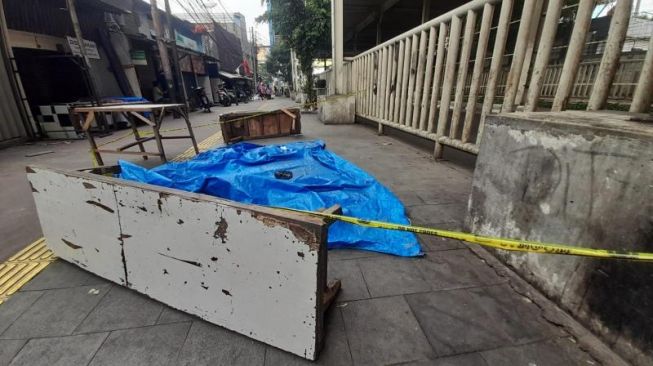 The location where the man who was slashed to death by his own friend was killed is in the Jatibaru Tanah Abang area, Central Jakarta. [Suara.com/Rakha]
PW did not heed BI's message. He even became more and more so that he was called a stupid BI.
BI's patience then turned into heartache. Apart from being under the influence of alcohol, the word 'stupid' was also said to be the reason BI dared to attack PW.
"The motive is because the suspect feels hurt when he has been said or you are stupid like that," said Central Jakarta Metro Police Head of Criminal Investigation Unit AKBP Hady Saputra Siagian in a press conference, Friday (24/3/2023).
BI immediately attacked PW with the dagger he was carrying. BI carried out six dagger punctures into PW's body until he fell to the ground.
Also Read: Slitting and Stabbing Your Own Friend to Death, Sadistic Man from Tanah Abang Threatened with the Death Penalty
Not satisfied with his actions, BI also slit PW's throat like he was slaughtering a cow.
The local residents knew about the plight of PW's plight. The resident immediately reported the incident to the Head of RT 02 RW 01, Kampung Bali, Tanah Abang, Heri.
He said he did not hear any screams for help at the time of the incident. However, due to reports from residents, he immediately went to the TKP and saw the terrible condition of PW.
"It's really bad. It's like seeing a cow being slaughtered. It's gaping here (the neck). There are punctures too," he explained.
BI Threatened Death Penalty
As a result of his actions, BI was immediately secured by the Central Jakarta Metro Police in Palembang, South Sumatra, Thursday (23/3/2023). BI becomes a suspect in the murder of his old friend.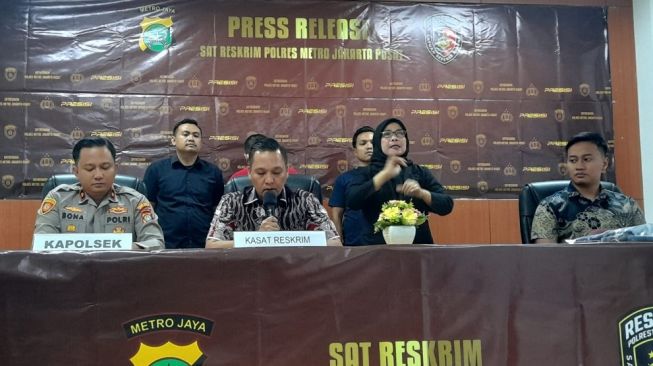 The Central Jakarta Metro Police released a case of a man's throat being slashed by his own friend while he was drunk on Jalan Jati Baru, Tanah Abang, Central Jakarta. [Suara.com/Rakha]
Now, the police have named BI as a suspect in this case. BI is charged with Article 338 of the Criminal Code or Article 351 paragraph 3 of the Criminal Code or Article 354 paragraph 2 of the Criminal Code with a maximum penalty of 15 years in prison, 10 years in prison, and a maximum of 7 years in prison.
At maximum, BI is also threatened with the death penalty.
"The maximum is (death penalty). Yes, that's true (snared by multiple articles)," said Hady.