A story that went viral on the web, especially on TikTok. She is a girl subjected to anesthesia who after waking up she lost her memory but she fell in love with her boyfriend again. TikTok user @mikefajardo_ proved it when he shared a girl's reaction after undergoing surgery and waking up from anesthesia with a small temporary loss of short-term memory that didn't allow her to recognize her partner.
"You look strange… but you are beautiful", says the young patient to the boy who is taking care of her in the hospital without knowing that he is actually her boyfriend. The young woman stares at him and strokes her face, but even though they've been together for two years, she can't remember him. Nevertheless, she feels an immediate attraction: "I like you."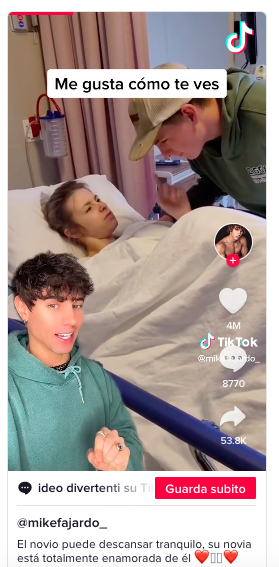 The boy is amused by his girlfriend's reaction and laughs a little, despite this, the young woman still doesn't understand anything and starts flirting with him: she takes off his cap, puts it on and while stroking his face she says "I like you" .
Finally the young man kisses her on the cheek, she remains open-mouthed.