Petrucci accuses Lowes and the FIM Stewart Commission: "In the sprint race it seems to be on bumper cars. Lowes dropped Baz and then broke his foot, without receiving any penalty"
March 5, 2023
Harsh (but fair) vent of the Barni Spark Racing Team driver after Race 2. Petrucci bluntly accuses Alex Lowesbut above all the Race Direction (in reality it is not the Race Direction that decides any penalties but the FIM Stewart Commission).
In his opinion the English driver in the Superpole Race it would have hurt himto then fall and drop also Loris Baz. This incident then caused the fall of Rhea and consequently induced the Race Direction (in this case it is she who decides) to interrupt the race with the Red flag.
At the resumption of the race Lowes hit Baz againby getting him one double fracture in the right foot. The whole without ever being penalisedso much so that he was able not only to finish the race, but also get on the third step of the podium.
The whole thing is made even more incomprehensible from the penalty imposed on Petrucci in Phillip Island, after a contact with Xavi Vierge. If it was rightly decided to penalize the rider from Terni for his contact with the Spaniard from Honda then why not punish the other dozens of contacts that took place in these first six WorldSBK races?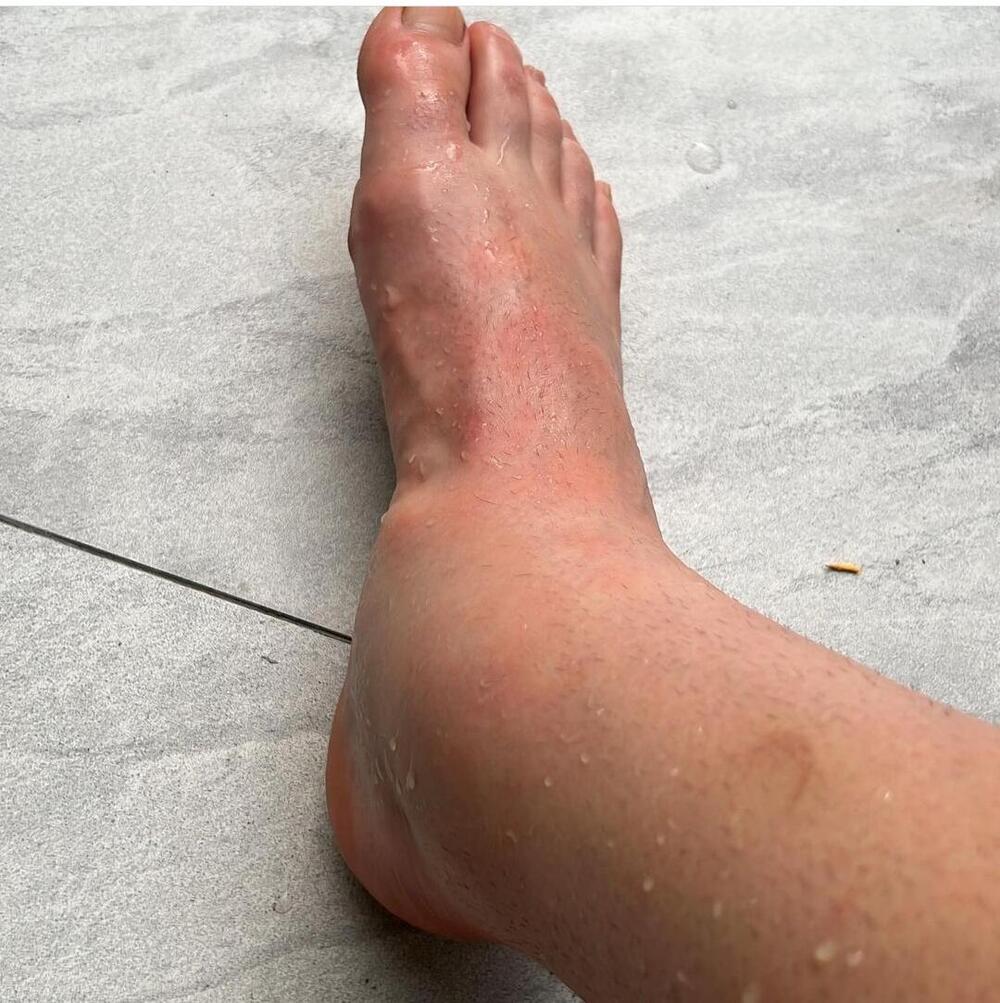 Baz's foot
Here are Danilo Petrucci's statements

"I am glad to be back in parc ferme even if only how first of the Independent pilots. I didn't expect it to be so fast on this track which I did not know, instead we have shown that we have the potential to be able to in the future get on the podium. I'm starting to understand them better tyres and this allows me to be fast throughout the race."
"As for the Superpole Race looks just like one bumper car race. I can not understand the behavior of some drivers that they ruin their own race and that of others, and I also struggle to understand the decisions of Race Direction. For example, Lowes first caused Baz to crash, risking me crashing too, and then in the second part of the race he hit Baz again and broke his foot. All without receiving not even a penalty.
"In Australia he dropped Razgatlioglu and even then no penalty. I came into contact with Vierge at Phillip Island and they penalized me by one position. I don't understand with what logic. If a driver makes a mistake, even without doing it on purpose, he must be penalized especially if he jeopardizes the race of his opponents. Instead, Lowes was given everything and was also awarded for his third place".
"I have to say that I'm worried about running the Superpole Racebecause every time I detach the flaps. It will also be a good race for spectators, but anything goes on the track and so far the only one they have penalized it was me. In the GP when I unintentionally crashed Laverty in Austria in 2016, they rightly penalized me by three positions on the grid in the following race. Here instead they allowed the driver to restart which in fact caused the red flag to be displayed. We are not playing a video game. Here, if you fall, you can even get hurt. Ask Baz how he is today after the race."