Suara.com – The condition of Madura United FC player Ricki Ariansyah (Rian) is now starting to improve after collapsing due to a collision with a PSIS Semarang player in the 29th week of the BRI League 1 Indonesia 2022-2023 at the Jatidiri Stadium, Semarang, Tuesday (7/3/2023) ).
"Currently, Rian's condition has improved and he can communicate. Earlier, Mas Rian had already communicated with other Madurese players who were on their way to Pamekasan," said Madura United FC Media Officer Ferdiansyah via telephone line in Pamekasan, East Java, Wednesday (8 /3/2023).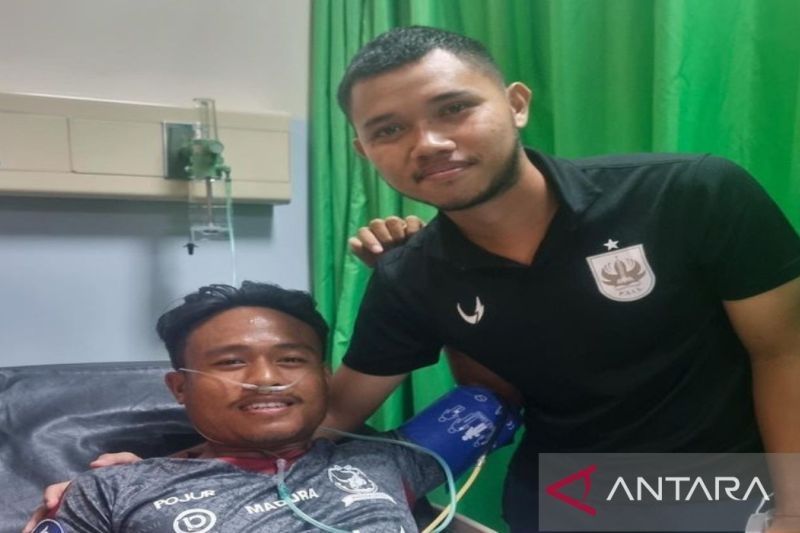 Ricki Ariansyah (Rian) taking a photo with PSIS Semarang players. Currently Rian's condition began to improve. (ANTARA/HO-Madura United FC)
Rian is currently undergoing treatment at St Elisabeth Hospital (RS) on Jalan Kawi, Semarang City, Central Java.
Ferdiansyah explained, the team of doctors had also carried out an examination with x-ray digital computer technology (CT SCAN) and taking pictures of the inside of the body (X-ray).
Also Read: List of Players Participating in the Second TC of the U-22 Indonesian National Team, None Appears Regularly in League 1
"Please continue praying, I hope Rian gets well soon," said Ferdiansyah.
Rian collapsed in the final minutes of the Madura United FC match against PSIS Semarang at the Jatidiri Stadium, Semarang, Tuesday (7/3/2023) after scoring a header and colliding with PSIS player Farrell Arya.
In that away game, Madura United won three points with a final score of 2-0. This victory broke the bad trend of the club nicknamed 'Laskar Sape Kerrap' in the last four matches which lost in a row.
According to Madura United FC Assistant Coach Rakhmad Basuki, Ricki Ariansyah started playing in the 83rd minute to replace Dodi Alekvan. He scored in the 92nd minute with a header after receiving a pass from Lulinha.
"Thank you to all the medical teams, both the Madura United medical team, PSIS Semarang and the Panpel medical team who provided first aid so that Rian can be safe and now his condition is starting to improve," said Rakhmad Basuki.
Also Read: The distance between Persib and PSM Makassar is getting farther, Luis Milla will not compromise on this matter
Currently, Madura is ranked 5th in the 2022-2023 Indonesia League 1 standings with 45 points from 29 matches. While PSIS is in 10th position by collecting 35 points from 27 matches.
The following is the lineup for Madura United FC and PSIS Semarang for the 2022-2023 BRI Liga 1 Indonesia follow-up match which will be held at the Jatidiri Stadium in Semarang on March 7 2023.
Madura United FC players consist of Rendy Oscario, Novan Setyo Sasongko (Reva Adi Utama 27′), Cleberson, Hasyim Kipuw, Alekvan Djin (Ricki Ariansyah 83′), Jaja, Zulfiandi (Esteban Vizcarra 83′), Lee Yoo-Joon, Lulinha , Alberto 'Beto' Goncalves (Otavio Dutra 83′), and Malik Risaldi (Kwabena Appiah-Kubi 72′).
PSIS Semarang lineup: Ray Redondo, Fredyan Wahyu (Riyan Ardiansyah 75′), Bayu Fiqri, Ridho Syuhada Putra (Wawan Febrianto 68′), Bahril Fahreza (Delvin Rumbino 46′), Ryo Fujii (Damas Damarjat 68′), Alfeandra Dewangga , Luthfi Kamal, Taisei Marukawa, Septian David Maulana, and Dwi Rizky.