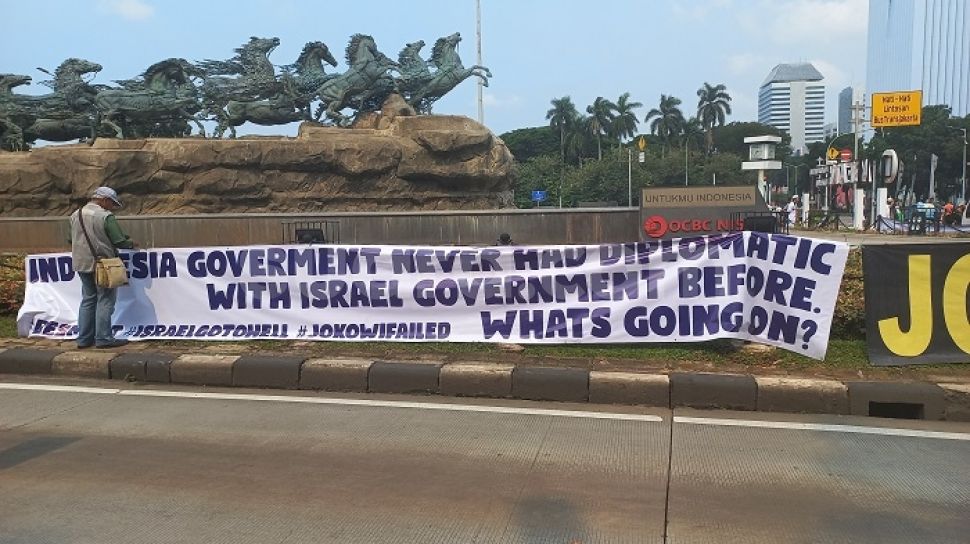 Suara.com – A number of masses belonging to the Alumni Brotherhood (PA) 212, the Islamic Brotherhood Front (FPI), and the National Movement to Guard Fatwa (GNPF) Ulama, staged a protest against the participation of the Israeli National Team (Timnas) in the upcoming U-20 World Cup. in Indonesia in June.
The action coordinator, Buya Husein said, Indonesia was asked to learn from Qatar in boycotting countries that were in conflict to become participants in the soccer event.
As we all know, during the World Cup yesterday, Qatar as the host banned Russia from coming, because Russia was carrying out an embargo on Ukraine.
"Yes, that means we can. If Qatar can why can't we. Qatar rejects Russia because Russia is carrying out aggression against Ukraine," said Husein, at the Horse Statue on Jalan Medan Merdeka Barat, Monday (20/3/2023).
Also Read: 4 Interesting Facts about Victor Dethan, Player of Canadian Descent Called by Shin Tae-yong to the U-20 Indonesian National Team
Husein claimed that at this time around 500-1,000 people took part in the protest against the arrival of the Israeli national team. However, if the demands were made this time, then he admitted that there would be another, more massive action so that the government would hear the rejection of Israel's arrival.
"As long as our demands have not been met, we are consistently committed to continuing action until our demands are met," he said.
Husein said, if the rejection of Israel, is an implementation of the 1945 constitution which rejects colonialism on earth.
"Our demands are in accordance with the constitution that I have mentioned," he said.
Also Read: Expect Club Cooperation Regarding Calling Indonesian National Team Players, Shin Tae-yong: Please Help…