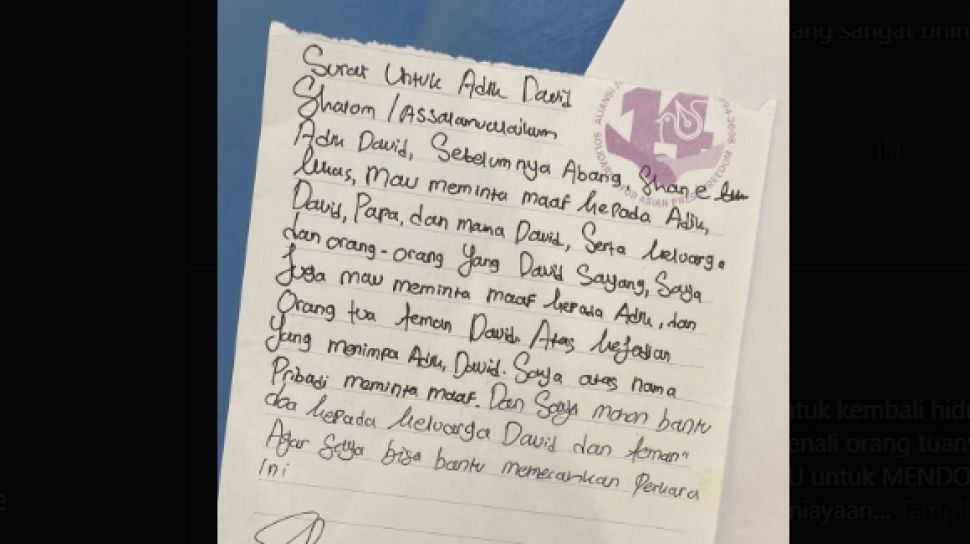 Suara.com – The Alliance of Independent Journalists (AJI) Indonesia emphasized that it had no connection with Shane Lukas Rotua Pangondian Lumbantoruan (19), a suspect in the persecution of David (17). This confirmation was conveyed following the circulation of Shane's apology letter to David, which used paper with the AJI logo.
"AJI as an organization stated that it had no connection with the case of abuse against D or the suspect Shane Lukas," said the general chairman of AJI Indonesia, Sasmito told reporters, Wednesday (29/3/2023).
According to Sasmito, the paper with the AJI logo was also used without his knowledge.
"AJI also did not know about the use of the paper for an apology letter," he said.
Also Read: Agnes Gracia Threatened with 12 Years in Prison, David Ozora's Father Writes a Striking Message: They Will Be Destroyed
"Thus we convey this clarification. We hope that the victim will soon recover and be able to return to his activities, and receive full justice for this persecution," he added.
Apology Rejected
Previously, David's family firmly rejected Shane's apology. Because they considered the apology written in the letter to be without empathy.
"There is no apology, and there is no peace. It is a letter without empathy," said David's family representative, Alto Luger, to journalists, Tuesday (27/3/2023).
Based on the photo document uploaded by Alto via the Twitter account @AltoLuger, the letter written by Shane contains the message:
Also Read: Latest! Confession of David Ozora's father, Jonathan Latumahina: They are begging for public sympathy!
'A letter to David. Shalom / Assalamualaikum. David's younger brother, formerly his older brother, Shane Lukas, wants to apologize to David's younger brother, David's father and mother, as well as the family and people David loves. I also want to apologize to David's friend's sister and parents for what happened to David's sister. I personally apologize. And I'm asking for prayers for David's family and friends so I can help solve this matter'.