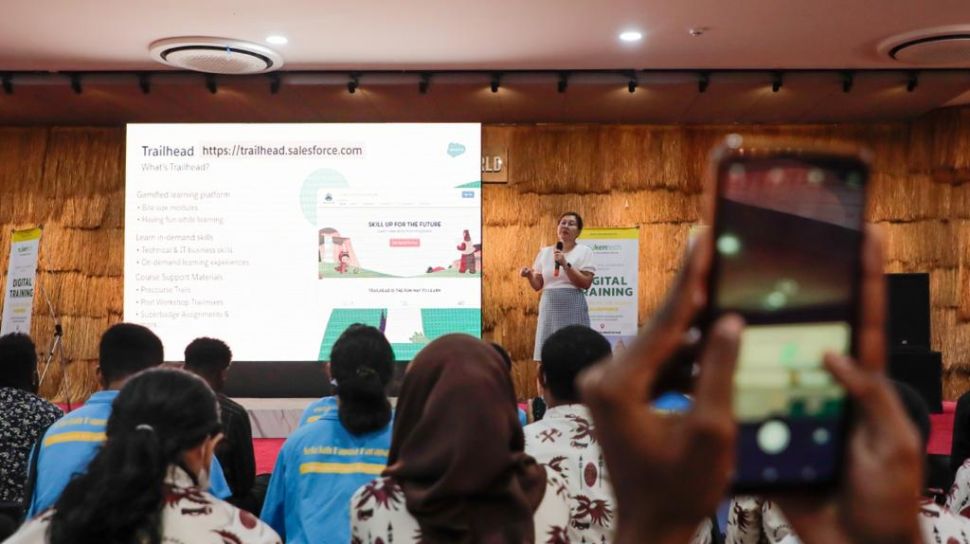 Suara.com – Papua Youth Creative Hub (PYCH) is working with PT Nokentech Digital Indonesia and technology company Salesforce to hold digital training at the PYCH building.
Main Director of PT Nokentech Digital Indonesia, Audy Nelwan said the training which was attended by hundreds of young Papuans discussed customer relationship management (CRM).
CRM itself is a business strategy that combines processes, people and technology. CRM systems include CRM software that is used to manage and access information about customers, as well as the business processes that govern how companies interact with customers.
Audy explained that many industries have used CRM, including several unicorn industries in Indonesia.
Also Read: Developing the Interests and Talents of Young Papuans, PYCH Presents a Podcast Studio
"The output is that we want to create digital talents in Papua. Indeed, this setup will be a bit spectacle, because it comes back from the infrastructure and education setup here too," said Audy.
He continued that this training was not just learning CRM technology, but also included the process of applying it to the corporate industry.
It is hoped that Audy will be able to develop his digital talents for young Papuans who are taking part in this training, as well as being able to become trainers who teach CRM technology to young people in other regions.
"This is more about Papuan talents who have potential, especially in the digitalization era. Starting from Papua, we will expand to the west. Maybe for Papuan children, they will probably be holding trainings in several cities in the western region," he explained Audy.
Audy also explained that his collaboration with PYCH would also continue in the development of one of the PYCH launch applications, namely Papua Talent Management (MANTAP).
Also Read: Papuan Young People Hold Screen Printing MSME Activities at PYCH
"In the future, the salesforce module will be embedded in the MANTAP application," he said.
Meanwhile, PYCH Technology Program Manager, Elia Musa Rawar said he hoped that young Papuans could gain as much knowledge and skills from this training.
The man who is familiarly called Elmus also said that the holding of the training with Nokentech and Salesforce was a sign that PYCH was being looked at by agencies and people outside Papua.
"This is the first activity after the attention of the Papua Youth Creative Hub. So, it means that stakeholders out there have paid attention to new things happening in Papua, especially the existence of the Papua Youth Creative Hub so that there are lots of interactions to create collaborations and events in the technology sector," he concluded.