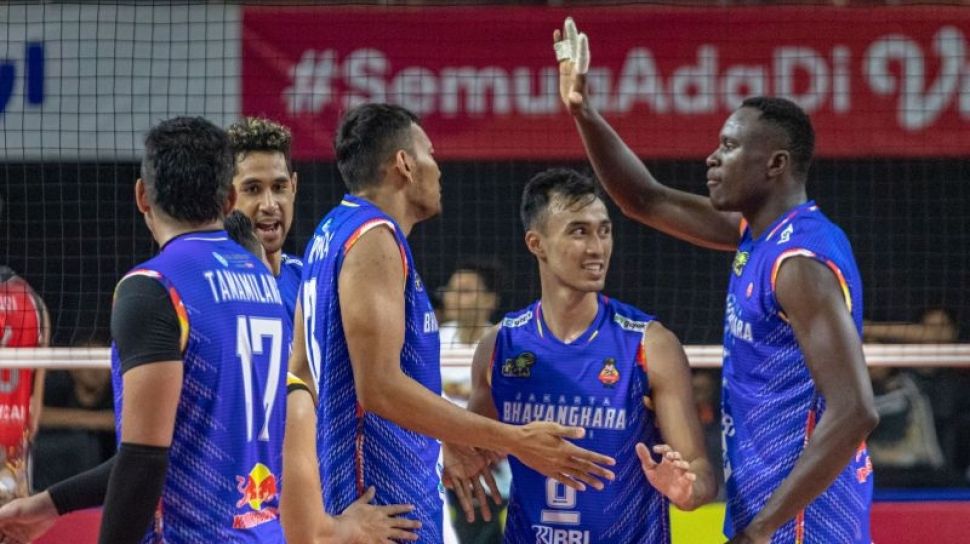 Suara.com – The Jakarta Bhayangkara Presisi men's volleyball team won its first victory in the final four of the PLN Mobile Proliga 2023 after defeating Surabaya BIN Samator with a score of 3-0 (25-21, 25-22, 25-19) at the Jatidiri Sports Hall, Semarang, Central Java, Thursday (2/3/2023).
This victory became Bhayangkara's important capital to be able to advance to the final of the most prestigious professional volleyball competition in the country.
Assistant coach Bhayangkara Presisi, Ayib Rizal, said that the first victory was very meaningful and motivated the players to continue to achieve maximum results in the next match.
"We have to maintain the players' mentality and stamina," said Ayub in a written statement received in Jakarta, Thursday as quoted by ANTARA.
In the previous week in Gresik, Jakarta Bhayangkara Presisi swallowed two defeats each from Jakarta STIN BIN with a score of 2-3 (25-23, 18-25, 17-25, 25-22, 15-17) and Jakarta LavAni Allo Bank with 2-3 (25-18, 26-28, 25-16, 17-25, 13-15).
Meanwhile, in the second week of the first round of the final four, Bhayangkara still has one match left by returning against Jakarta STIN BIN on Saturday (4/3).
Meanwhile for Surabaya BIN Samator the results of today's match extended their bad record after two matches last week the team also lost, each to LavAni with 0-3 (20-25, 22-25, 16-25) and STIN BIN with a score of 0-3 (23-25, 22-25, 21-25).
Surabaya BIN coach Samator Ryan Masajedi could not hide his disappointment. Because, the result of that match made it even harder for his team to get to the final round.
Also Read: Proliga 2023: STIN BIN vs LavAni Becomes the Decisive Match for Round I Final Four
"I really hope for more and try to do my best," said Masajedi.
Samator still has one match left by facing Jakarta LavAni Allo Bank again at GOR Jatidiri, Sunday (5/3/2023).