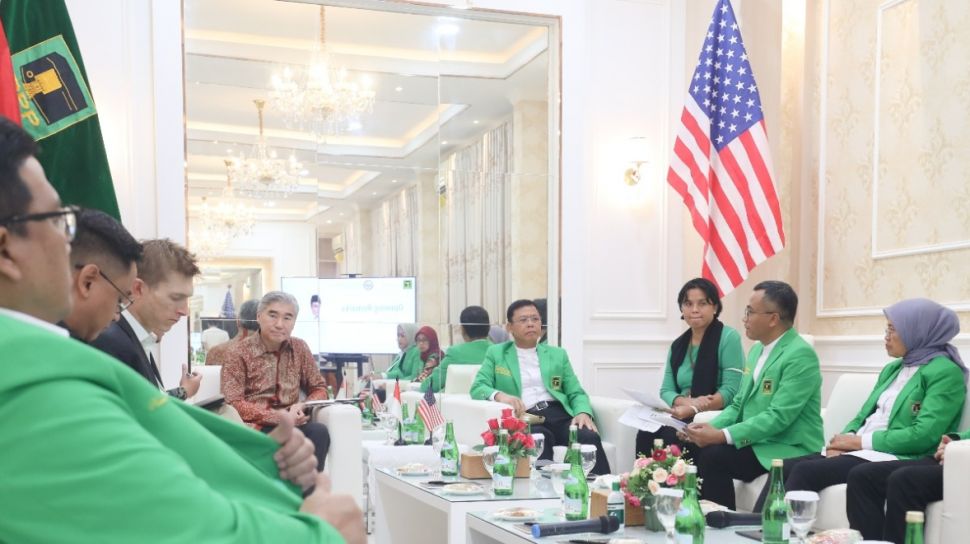 Suara.com – The United Development Party (PPP) received a visit from the United States Ambassador to Indonesia Sung Yong Kim, at the PPP DPP Office, Menteng, Central Jakarta.
Plt Chairman of PPP Muhamad Mardiono said his meeting with Sung Yong Kim discussed many things.
Starting from Indonesia's cooperation with the United States, global political conditions, to preparations for the 2024 election.
"We are very happy that America has a large investment in Indonesia. Because of that, we will convey matters related to investment and cooperation in the future, then discuss global political conditions, and I will present PPP's work program and policies in preparation for the election," said Muhamad Mardiono.
Also Read: PKS Politicians: The Central Jakarta District Court's Decision Cannot Hamper the Election Stages, the Prima Party has the wrong address
During the meeting, Sung Yong Kim also asked about the coalition that joined PPP, namely the United Indonesia Coalition (KIB), to the presidential candidates (candidates) and vice presidential candidates (cawapres) who will be nominated for the 2024 elections.
"Discussing about MNH, I convey that our coalition is in good condition. However, for now we have not decided who will be nominated as presidential and vice presidential candidates," he said.
Muhamad Mardiono admitted that PPP would encourage democracy in Indonesia to continue to increase. So as to create a conducive political situation.
"This meeting is very interesting for PPP, because the United States is also a country that has built an advanced democracy. Of course, we don't want to be left behind and PPP will encourage democracy in Indonesia so that its quality improves from year to year. It is also hoped that the people will enjoy the fruit of democracy that has been built so far," he explained.
Meanwhile, Sung Yong Kim admitted that he was looking forward to holding a fair and free democratic party in 2024.
Also Read: Central Jakarta District Court Decision Orders KPU to Postpone Elections, PDIP: Mrs. Megawati Emphasizes that KPU Continues with the 2024 Election
"To thank the General Chairperson of the PPP, earlier we discussed the importance of Indonesia's relationship with America," he said.
He added that PPP also discussed plans to be carried out for the 2024 elections.
"I'm always interested in how democracy works and look forward to Indonesia being able to hold it next year," said Sung Yong Kim.