Suara.com – A subsidiary of PT Astra International Tbk and part of Astra Financial, PT Federal International Finance (FIF) posted positive performance growth throughout 2022, with an increase in net profit of 28.59% to IDR 3.17 trillion, compared to the same period in 2021 of IDR 2.47 trillion.
The success achieved by PT FIF in 2022 reflects the revival of the national economy and growth in the company's performance in the financing business. Even though it was affected by the semiconductor chip crisis, this did not prevent PT FIF from continuing to grow and record positive performance," said President Director of PT FIF, Margono Tanuwijaya.
He added, this year was a challenge for PT FIF in pushing for better performance compared to 2022.
"PT FIF will continue to be optimistic about various strategies that will be implemented in 2023," explained Margono.
Also Read: Understanding the Relationship Between Holding Companies and Subsidiaries in SOEs
PT FIF managed to record growth in the value of disbursement of financing by 10.23% in 2022 to IDR 35.08 trillion, compared to 2021 which reached IDR 31.83 trillion. This growth can also be seen in terms of the number of orders (booking units) in 2022, which reached 2.74 million units, an increase of 4.67% compared to 2021 which reached 2.62 million units.
PT FIF has also succeeded in becoming a healthy financial services company, with a level of non-performing loans or better known as Non-Performing Financing (NPF) at 0.9%, equaling the 2022 achievement rate, where the Financial Services Authority (OJK) judging, a finance company with an NPF below 1% is categorized as a healthy company.
For this positive achievement, PT FIF has managed to record asset growth in 2022 with an asset value of IDR 36.07 trillion, growing 2.04% compared to 2021 which reached IDR 35.35 trillion.
In running its business, there are 4 main business lines carried out by the company, namely FIFASTRA, SPEKTRA, DANASTRA, FINATRA, AMITRA. The FIFASTRA business line, which provides financing services for new Honda motorcycles, recorded a slight increase of 0.76% in the value of financing disbursement in 2022 of IDR 21.37 trillion, compared to 2021 of IDR 21.21 trillion.
In terms of booking units, FIFASTRA recorded performance in disbursing financing to 1.25 million units, an increase of 1.90% compared to 2021 which reached 1.23 million units.
Also Read: State Budget Performance is Controlled Thanks to the Positive Performance of All Components of Customs and Excise Revenue
SPEKTRA, which provides financing services for electronic devices, gadgets and household furniture, also recorded slight growth in its financing distribution performance in 2022, which reached IDR 703.55 billion or grew 4.15% compared to 2021 which only reached IDR 675.55 billion.
PT FIF's multipurpose financing service, DANASTRA, recorded a growth in financing distribution performance of 25.79% in 2022 to IDR 12.44 trillion, compared to last year which reached IDR 9.88 trillion. Meanwhile, DANASTRA unit bookings grew by 6.69% in 2022 reaching 1.36 million units compared to 2021 which was 1.28 million units.
PT FIF's sharia business line, namely AMITRA, recorded significant growth in financing distribution performance. There was a growth of 368.42% in 2022 worth IDR 266.2 billion compared to 2021, which was only IDR 56.83 billion.
In terms of booking units, there was a growth of 345.42% in 2022 of 13 thousand booking units compared to 2021 which only reached 3 thousand booking units.
FINATRA which is a new PT FIF business line in 2022 for productive financing of Micro, Small and Medium Enterprises (MSMEs) recorded a financing disbursement value of IDR 309.5 billion for 3 thousand booking units.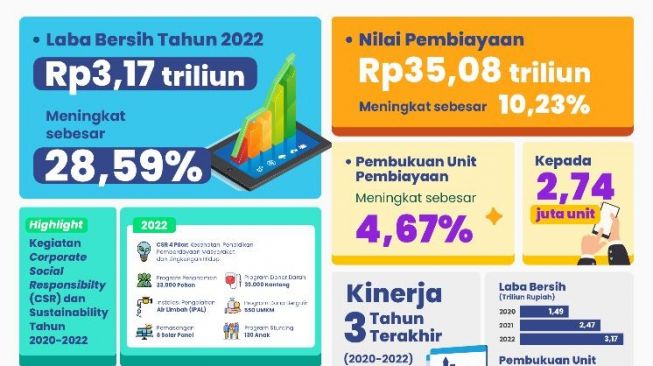 Infographic of PT FIF's performance achievements in 2022. (Doc: FIF)
Corporate Social Responsibility Program
PT FIF is committed to continuing to realize the company's mission, namely "Bringing a Better Life for the Community", by carrying out various sustainability programs to have a positive social and environmental impact referring to Environment, Social and Governance (ESG).
The various programs that have been implemented fall under the 4 pillars of corporate social responsibility, namely Smart FIFGROUP, Healthy FIFGROUP, Prosperous FIFGROUP, and Sustainable FIFGROUP.
At FIFGROUP Sejahtera, PT FIF is implementing a revolving fund program, whereby in 2022, the company targets to distribute interest-free business capital loans to 550 business actors, Micro, Small and Medium Enterprises. The program has been successfully implemented, where PT FIF managed to record distribution to 600 MSMEs throughout Indonesia.
In the health pillar, in line with the 33rd anniversary, PT FIF held a 33,000 Blood Bag Donor activity. By the end of 2022, 38,006 blood bags had been collected from the program.
In addition to the blood donation program, PT FIF also organizes the Posyandu program by providing medical equipment needed for the Posyandu that are spread across a number of points.
In line with the government's program to reduce the number of stunted children, PT FIF also distributed assistance to 130 stunted children, who collaborated with Posyandu at several points in Indonesia.
At FIFGROUP Lestari, PT FIF has contributed to planting trees in a number of areas in Indonesia.
In celebrating its 33rd anniversary in 2022, PT FIF is also holding an activity to plant 33,000 trees throughout 2022. To reduce greenhouse gas emissions, PT FIF also contributes by installing solar panels with a capacity of 86.4 kilowatt-peak at 8 PT branch points. FIF in 2022.
At FIFGROUP Pintar, PT FIF has organized several programs to assist Indonesian education, such as distributing assistance to 33 orphanages in developing guidance for students in Indonesia, the Teacher Training Program which has so far benefited 5,017 teachers in Indonesia, and the Jams Program. Social Teaching with a total of 1,076 students affected, starting from elementary, junior high, high school/vocational school, to the university level.
In total, in 2022, PT FIF has distributed corporate social responsibility funds worth IDR 6.35 billion, where this figure has increased by 51.84% compared to 2021 of IDR 4.18 billion. these programs are expected to be part of PT FIF's contribution to the Government's programs in realizing sustainable development and expanding the beneficial impact of the programs being implemented.