SuaraPekanbaru.id- The case of Mario Dandy's abuse of David Ozora is still being investigated by police investigators.
Most recently, it was reported that Polda Metro Jaya would immediately summon four corroborating witnesses, who were said to know about the plans of Rafael Alun Trisambodo's son, to commit the abuse of David Ozora.
Head of Public Relations of Polda Metro Jaya, Kombes Pol Trunoyudo Wisnu Andiko, said that investigators are still processing the summons schedule for the four witnesses.
"Regarding the development of the examination of the four witnesses to strengthen the plan for serious persecution carried out by MDS, investigators are still waiting, of course, to summon the four witnesses," said Kombes Pol Trunoyudo, Tuesday Monday (14/3/2023).
Also Read: LPSK Rejects Application for Protection of Agnes Garcia, Beloved of Mario Dandy, Role when Reconstruction Revealed
However, Kombes Pol Trunoyudo did not specify in detail which of the four witnesses who would be summoned for questioning.
"Anyone, we are both waiting for the results of the investigators. To strengthen the plans for serious persecution carried out by MDS," he explained.
The four witnesses allegedly knew Mario Dandy's plan to assault David Ozora on the night of an unfortunate incident some time ago.
"There are four more witnesses that we have not examined in order to strengthen this. Once again in order to strengthen the elements of the planning of these suspects, which we will examine in the near future," said the Director of General Criminal Investigation, Kombes Pol Hengki Haryadi after the reconstruction, Friday ( 10/3) last week.
Because according to Hengki, Mario Dandy had contacted other colleagues before finally meeting and inviting Shane Lukas.
Also Read: APA Denies South Jakarta Police Chief Doesn't Know What Mario Dandy's Plans Are to Persecute David Ozora, Considered Another Blunder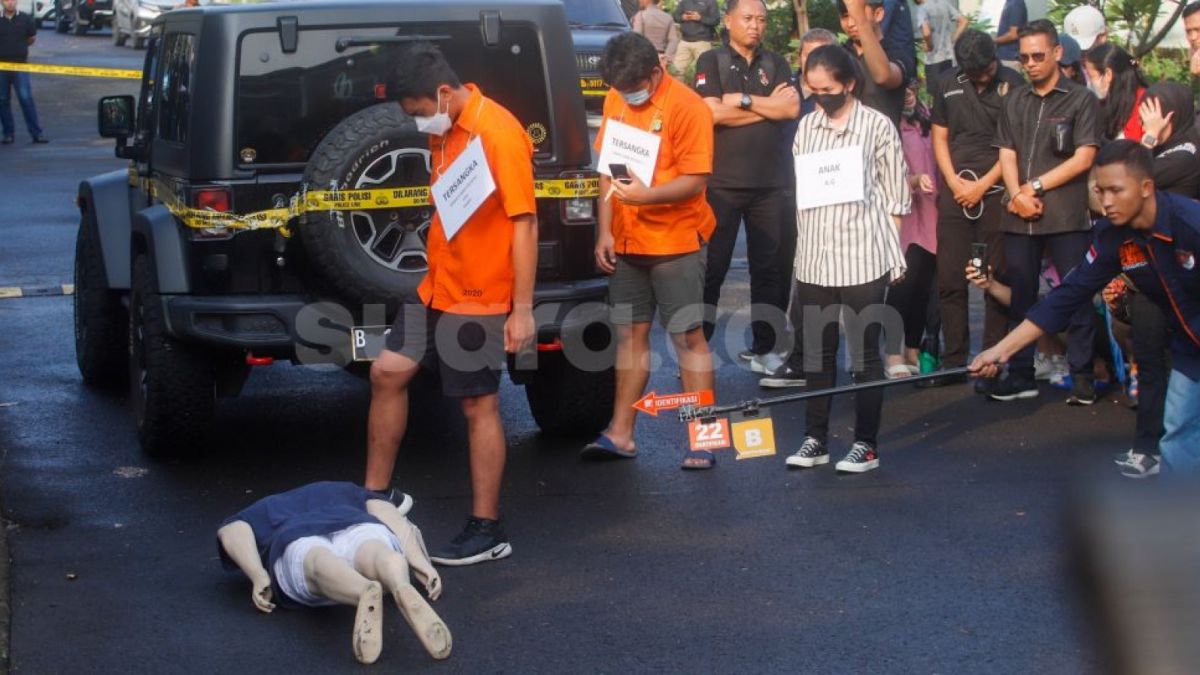 Reconstruction of the persecution case against David Ozora by Mario Dandy Satriyo. Shane Lukas was also present at the set scene. Mario's sad abuse of David is revealed. (source: Photo: Suara.com – Alfian Winnato)
"As an example, what we mean here is that, prior to the occurrence of this crime, it turned out that the MDS suspect contacted several people, and informed them that they were going to commit a criminal act that occurred," explained Hengki.
Not only that, the police will also coordinate with the Witness and Victim Protection Agency (LPSK), so they can ask for statements from witnesses, in the case of Mario Dandy cs. Because he said, there were also witnesses under the protection of the LPSK.
"Then we will coordinate with the LPSK. There are witnesses who are currently under the protection of the LPSK. We will try to ask for information because they are also key witnesses," he said.
Loading…