It is time to put the different options on the table and analyze them.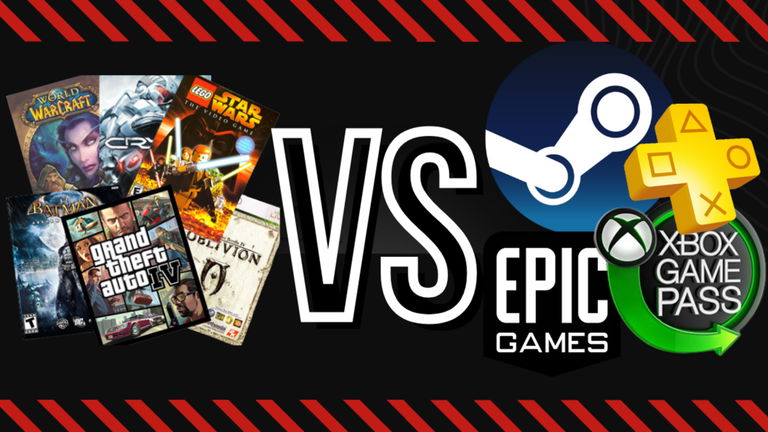 It is time to put the different options on the table and analyze them.
join the conversation
"Again the hackneyed debate of digital format vs. physical format? Isn't this widely seen already?" you will be wondering right now. You may be right, this is a matter that has been discussed ad nauseam and therefore your doubt is perfectly legitimate, but now I am going to tell you about my experience, and it may help you a new point of view on the subjectdon't you think?
Many years ago, when the digital format did not exist, I was the typical one who took care of all his games with great care. All the discs kept in their respective boxes, with their manuals in perfect condition, and the boxes proudly decorated my bookshelf, classified by console and in alphabetical order, sometimes I was dedicated to observing in wonder the covers of my games, while telling me to myself: "what a piece of collection I have!" I always thought of my games and consoles as a legacy to leave to my children and grandchildren if I ever had them. It would be nice to give them a generous slice of video game history. That's why I was always a firm defender of the physical format, I looked suspiciously at everything that had to do with the digital format. It sounded strange to me as if the word "digital" heralded an uncertain future that was looming inevitably.
Everything evolves, and video games too
In July 2017 I bought a good PC for parts, a master race of the time. There I made a decision and I did not put a DVD player. The reason? Well, I saw that in spite of myself digital was beginning to prevail and with more and more force. To this day I continue to use my PC to its fullest and play with it as much as I want, and except on a couple of occasions I have not missed the DVD player. How is such a drastic change in my mind possible?
Well, I have to admit that the digital format is very comfortable. I start my PC, double click on the game I want to spend the afternoon with and that's it. It is true that you miss that magical moment of opening the box, looking at your manual (if you have one), removing the disc and inserting it into the player… It's almost like a ritual. However, over time I have realized that all this, although it is beautiful and nostalgic, is also secondary. What is truly important is the game itself, not its packaging. I didn't get excited about Final Fantasy IX because of how beautiful its four discs were, but because of its story and its characters. It wasn't the Super Mario Bros 3 manual that had me hopelessly captivated from the first moment when I was a kid, but its gameplay and its music. And it wasn't the Mass Effect box that captivated me as a player, but its charisma and its universe full of possibilities.
Sometimes I get the feeling that something as obvious as this is forgotten, and that there is an abundance of a certain class of collectors who love sealed plastic boxes and forget about the most important thing, which is the video game itself and what it makes us feel. And I say this while still keeping all my physical games on my shelf, which fills me with satisfaction and makes me shed a nostalgic tear when I look at it.
And what about collecting?
By no means will I be the one who belittles video game collecting, a hobby as noble and beautiful as any other. But what does bother me greatly is the speculation that often accompanies it. It is something that has increased in recent years due to the obsession that some have to defend the physical format. On the other hand, it is true that the traditional physical format allows you to have real control of the product, makes you feel it is yours and makes you the owner of something tangible. With the digital format we do not stop being owners of a handful of zeros and ones in the vast ocean of the internet, who knows, maybe one day they could be lost forever, or so they say.
In the end it is obvious that everyone will choose according to their tastes or preferences. I currently opt for the digital format, but I really understand the defenders of the physical format. One thing is clear no matter which side you belong to, and that is that digital video games should be cheaper than physical ones, since they lack distribution, manufacturing, shipping or storage costs, and they cannot be resold. I think we should all agree on this… right?
join the conversation