Suara.com – Samuah (54), a mother whose child was a victim of the fire at the Pertamina Plumpang Depot, North Jakarta, has been visiting the National Police Hospital, Kramat Jati, East Jakarta for four days.
Samuah came with several of his families looking for the body of his son Hadi (30) who died in the Pertamina Depot fire incident last Friday (3/3/2023).
"I want to find the body of my child who was a victim of the Pertamina Plumpang Depot fire," Samuah told reporters at the National Police Hospital, Tuesday (7/3/2023).
Samuah's house is not far from the fire hotspot. He has lived in the house for 40 years.
Also Read: Learning from the Pertamina Plumpang Depot Fire Case, Here's First Aid for Fire Victims
When the fire blazed violently, Samuah tried to save himself with his children, Khairul and Hadi.
"So at the time of the incident, I, Khairul and Hadi were in the house, then suddenly there was a strong smell, then there was an explosion," said Samuah.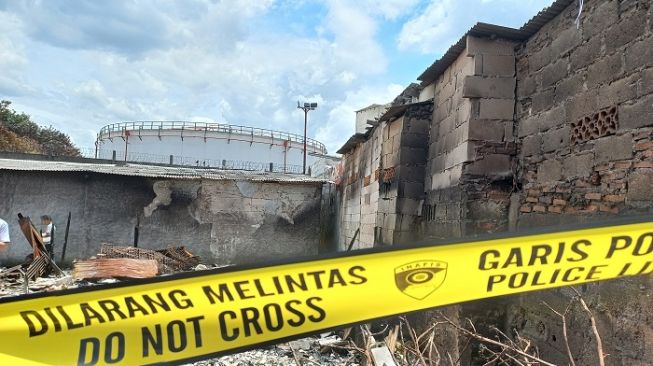 The condition of residents' houses in Tanah Merah, Plumpang North Jakarta has been flattened by the fire-affected land at the Pertamina Depot last Friday (3/3). (Suara.com/Faqih)
The three of them, fled on a motorcycle. However, Hadi actually turned around and reasoned that he wanted to take his cell phone and observe the situation.
"The three of me immediately tried to save ourselves, I was taken with my son Khairul to run away on a motorcycle, when the three of us left, Hadi suddenly came back because he wanted to get his cell phone first," he said.
"When we asked him to save himself, he said he didn't want to. Want to see the situation and conditions first, he said that," he continued.
Also Read: The Government Will Relocate the Pertamina Plumpang Depot to Land Owned by Pelindo
Samuah revealed that his son fainted after inhaling gas and smoke during the fire. Seeing this, Samuah was immediately pulled by Khairul to save himself.