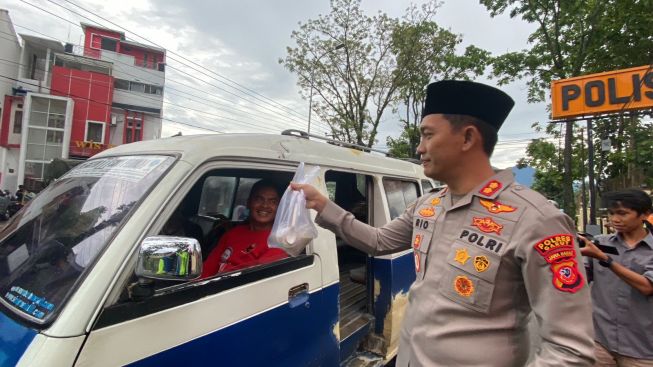 Garut Police Chief AKBP Rio Wahyu Anggoro is distributing Takzil before breaking the fast in front of the Headquarters of the Garut Police, Jalan Suherman, Karangpawitan District, Monday (27/3/2023). (Photo: Special)
SuaraGarut.id – Although the event of breaking the fast together in government circles has been banned by President Joko Widodo, the case is different with the Garut Resort Police, West Java.
The joint breaking event was held in front of the Garut Police Headquarters on Jalan Raya Suci, Karangpawitan District.
The opening together this time was held quite simply. Not with officials or important people. But with the people who pass in front of the Headquarters of the Garut Police.
Even when the evening call to prayer resounded, the Garut Police Chief, AKBP Rio Wahyu Anggoro, ate simple food, namely compote. Not at a special table but on the side of the road.
Also Read: Ferry Irawan Threatens Venna Melinda, Checks the Facts of Nassar's Death
Previously, this compote was distributed to the people who passed in front of the Mako Polres as Takzil food, including motorbike drivers, public transportation drivers and other members of the public.
Takzil activities are carried out to get closer between the police and the community. "This activity is a form of our love to share with the people of Garut," said Rio.
The Takzil distribution program is planned to be carried out by the Garut Police during this Ramadan. Hopefully this activity can also bring blessings to the people of Garut.
Editor: Farhan
Also Read: Nursyah Wrath, Indah Permatasari Wants to Take Photos Without Clothes After Contacting Arie Kriting
Loading…