Square Enix throws the house out the window by putting more than 50 games on offer for Nintendo Switch. Discover them here!
Every so often, we find new promotions in the Switch digital store. If you like role-playing, or cleaning things with pressurized water, we bring you something that you will love. There is More than 50 deals on Square Enix games for Nintendo Switchwith discounts ranging from 20% to 50%.
You can take a look at the eShop the Switch to see all the Square Enix games that are on sale, but we wanted to make things easier for you with a selection of the 10 best sales of this promotion special. You have until March 30th to get hold of it, so you can't think about it too much.
The best Square Enix special offers and discounts on the eShop – Nintendo Switch
We have titles like the remaster of Crisis Core FFVII at a minimum price in the digital store, recent releases such as PowerWash Simulator lowered in price, or Dragon Quest: Treasures reduced by 40%. There is a lot to choose from, so don't waste time and check out to the selection that we leave you below, where there is no lack of FFVII, FFVIII and FFIX:
Crisis Core: Final Fantasy VII Reunion (59,99 €) 47,99 € (20% discount)
PowerWash Simulator (24,99 €) 19,99 € (20% discount)
Life is Strange Arcadia Bay Collection (39,99 €) 29,99 € (25% discount)
Chrono Cross: The Radical Dreamers Edition (18,99 €) 13,99 € (30% discount)
Dragon Quest: Treasures (59,99 €) 35,99 € (40% discount)
Final Fantasy VII (15,99 €) 7,99 € (50% discount)
Life is Strange True Colors (59,99 €) 29,99 € (50% discount)
NEO: The World Ends With You (59,99 €) 29,99 € (50% discount)
Final Fantasy VIII Remastered (19,99 €) 9,99 € (50% discount)
Final Fantasy IX (20,99 €) 10,49 € (50% discount)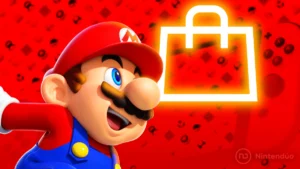 Looking for great deals on Nintendo Switch games? Here you have some of the best in its catalog at its historical minimum prices.
Nintendo eShop