The Nintendo 3DS and Wii U are fantastic consoles. Over the years they have offered us endless (and possibly unforgettable) days of entertainment. But it's been over a decade since its launch And, in a fast-moving industry, the company behind these precious devices has decided to start saying goodbye to them.
In a few days, March 27 to be precise, we will no longer be able to download content from the Nintendo eShop for the 3DS and Wii U, that is, a new stage in the farewell to these consoles. And, as one might expect, not everyone agrees with this. An American youtuber who is part of this group has decided to do something about it.
Does the eShop close? So I'll buy all the games
Jard, the content creator who is the protagonist of this story, considers himself a passionate and collector of video games. On his channel called The Completionist, he has over 1.6 million subscribers and is known for 100% game completiondoing all the side quests and even talking to each and every NCP.
"When a digital store closes or games are removed, countless titles can be lost forever," says Jared, and this is precisely what motivated him to buy all the games for the aforementioned consoles to save them. But the challenge, which from the beginning seemed complicated, became a real headache as the days went by.
The first step in this adventure consisted of dumping the game data into a spreadsheet. After this task, the youtuber and his friends discovered that they should download 866 Wii U and 1,547 3DS titleswhich translated into 1.2TB of storage and a spend of $22,971, money that he raised thanks to small individual sponsorships in other published videos.
"We tried to get them to sponsor the video, but no one wanted to do it, so we had to do it an alternate way," Jared says. Once this hurdle was overcome, the next one was to buy eShops Card at Game Stop. This store, surprisingly, only allowed $200 cards to be purchased at a time (and only accepted debit or cash payments), so they had to resort to other stores as well.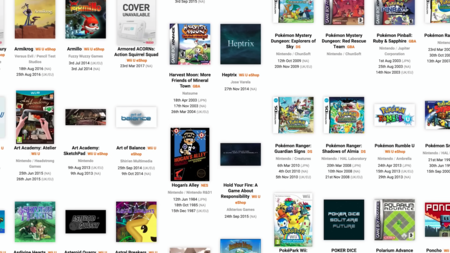 At the moment of charging balance in the eShop, the protagonist of this video found another surprise. He could only carry a $250 maximum, which was enough to buy a few games. Also, he could only download 10 titles at a time, and after a certain number of downloads, he would be "banned from the system" until the next day.
"Nintendo tried to stop us several times (…) We ran into a brick wall," laments the owner of The Completionist channel. However, he acknowledges that the restrictions that complicated his mission are designed to prevent "kids from accidentally bankrupting their parents."
In any case, it was time for action, but action that would also take some time. Downloads on the 3DS were channeled over WiFi. The result in this case was that the games took more time to download than on the Wii U. The latter console, however, also had its own limitations. It only supported 300 games per hard drive, so Jared had to buy several to store all the games.
Last but not least, Jard says that not all games allowed DLC to be downloaded immediately. In some cases advancing in the story was an elementary requirement. 'Super Mario Bros. 2', for example, required completing the first world and 'Professor Layton vs. Phoenix Wright: Ace Attorney' required you to play the entire game.
The Completionist now has all the games in his possession, except for a few that were early retirees of the store. YouTube now has an interesting base to create a lot of content. If you are a fan of Nintendo or the world of video games, it might be a good idea to visit his channel to see what videos he has worked on.
Regarding the end of purchases in the Nintendo eShop of the Wii U and Nintendo 3DS, it should be noted that after the deadline we will be able to continue downloading the content that we have purchased. We will also be able to access updates to our games (if the developers decide to publish them, of course).
Images: Nintendo | Capture The Completionist
In Xataka: Nintendo Wii U is officially dead, all efforts are for Switch