After the closure of the eShop, Limited Run Games announces the launch of one last game for Nintendo 3DS about which it does not want to give much information.
On March 27, Nintendo closed the Wii U and 3DS eShop. But that doesn't mean that companies won't release more games for these consoles. Limited Run Games has been encouraged to do "one last release" for Nintendo 3DS, his last gamewhich will arrive this year and with which he wants to play distraction with a blurred photo.
The firm specialized in physical releases has published in Twitter a photo accompanied by the following message:
Yesterday, the Wii U and 3DS digital stores closed. Days like this remind us why we do what we do and why we will continue to do it.

We have one last 3DS release to give you. There will be more news soon!
Good night, Sweet Prince.

Yesterday, the 3DS and Wii U digital stores went down. Days like that remind us why we do what we do and why we'll keep on doing it.

We have one last 3DS release to give you—more news to come!#ForeverPhysical pic.twitter.com/CIDEx0vuH3

— Limited Run Games (@LimitedRunGames) March 28, 2023
They do not finish clarifying what game it is, although in the photo, under the blurred box, there is a copy of Go! Go! Kokopolo Anniversary Collection, of which there was news in June of last year. It is a clear clue of where they are going, although they want to keep the surprise until they make the formal announcement.
What will be the last Nintendo 3DS game? Will Limited Run Games take the honor of closing the catalog of the dual-screen 3D laptop?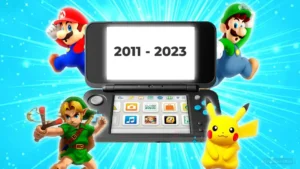 Today we want to show you the 20 best Nintendo 3DS games for you to play on the console. Updated to 2023.