Triumph of Francesco Bagnaia, ahead of Maverick Vinales and Marco Bezzecchi: Italy wins in terms of riders and technique. Good challenge for fourth place, won by Johann Zarco, ahead of Alex Marquez, Bred Binder, Jack Miller and Fabio Quasrtararo enclosed in a couple of tenths. Marc Marquez hits Miguel Oliveira and sends him to hospital: technical problem or madness. Beautiful race, real race: vote 8.5
March 26, 2023
Portimao – Ready go e Marc Marquez gets in touch with Francesco Bagnaia. A few hundred meters and lo and behold another contact of Marc. Then, on the third round, Marquez totally loses control of his Hondaseems to go 30km/h stronger of those who proceed it: first it touches Jorge Martin, at that moment third and ends up against Miguel Oliveirawith Portuguese fans enraged against the Honda rider.
Marc returns to the pitschange, go to to apologize to the RNF team and seems to tell Razan Razali that it was a technical problem. Is that so? If yes, ok, if not, it's absolutely not good: if it wasn't a technical incident, an exemplary penalty is needed for a driver who, beyond the episode, applies the concept to exasperation: "the the end justifies the means".
Bagnaia another crazy triumph

In front of, Bagnaia takes the lead, with Vinales close behind by a few tenths, able to fight back blow for blow. Until the 13th lap, when Pecco began to "tear", he stretched, until he stabilized his advantage around the second.
Bagnaia is holding this Ducatidoes what he wants, does the difference: what more should he do to convince those who claim that they triumph only because they have a Ducati? The reality is that he is very strong, a rider who can open a cycle with this Desmosedici. How beautiful.
Great Aprilia

While the CEO Massimo Rivola one asks the pits exemplary punishment for Marquezsupported in this by the CEO of Ducati, Claudio Domenicali ("If there was a technical problem, the have to prove with data"), his protégé Vinales takes Aprilia to second place: a great race.
Maverick suffered a bit in the Sprint, but over the long distance he can be really competitive. Aprilia leaves Portugal with the awareness of have a great bike: Oliveira was up front before being brought down, while Aleix Espargaro made one great comeback after a slow start. He had fourth place within reach, but a mistake on the last lap demoted him to ninth place, but Aprilia is there, all right.
Surprise KTM

After many winter difficultiesthe decision to use the motore "Big Bang" brought the KTMs back to the front, with Brad Binder sixth: he really transforms himself when there are races, he could even skip the tests. But a good KTM was seen on the track, even if the gap from Bagnaia is not that small (8"2).
Quartararo does what he can

The first, weighty verdict is on lack of competitiveness from Yamaha: on his trail, Fabio Quartararo closes eighth at 8"5. Let's not forget that last year she had won by detachment.
Fallen Luca Marini, was behind, Jorge Martin crashed in the final after he was forced to chase in the rear following contact with Marquez. And we end up where we started: glitch or madness? We'll find out soon.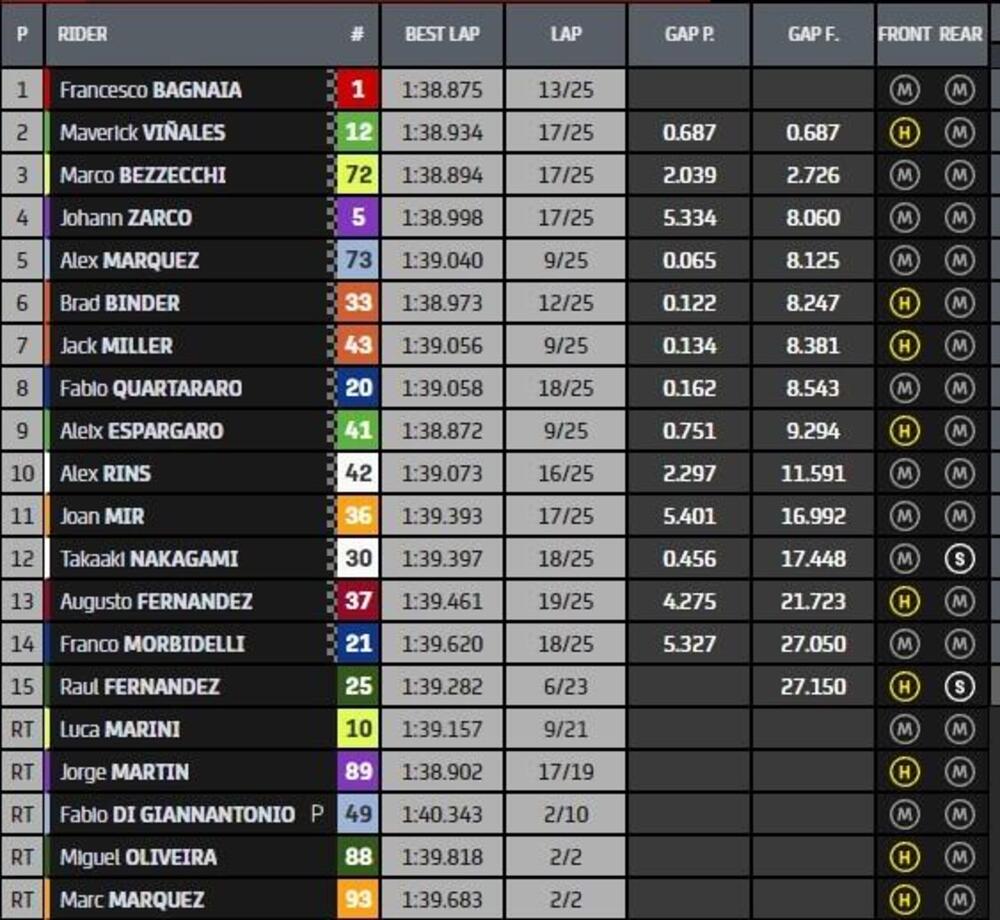 MotoGP race final standings