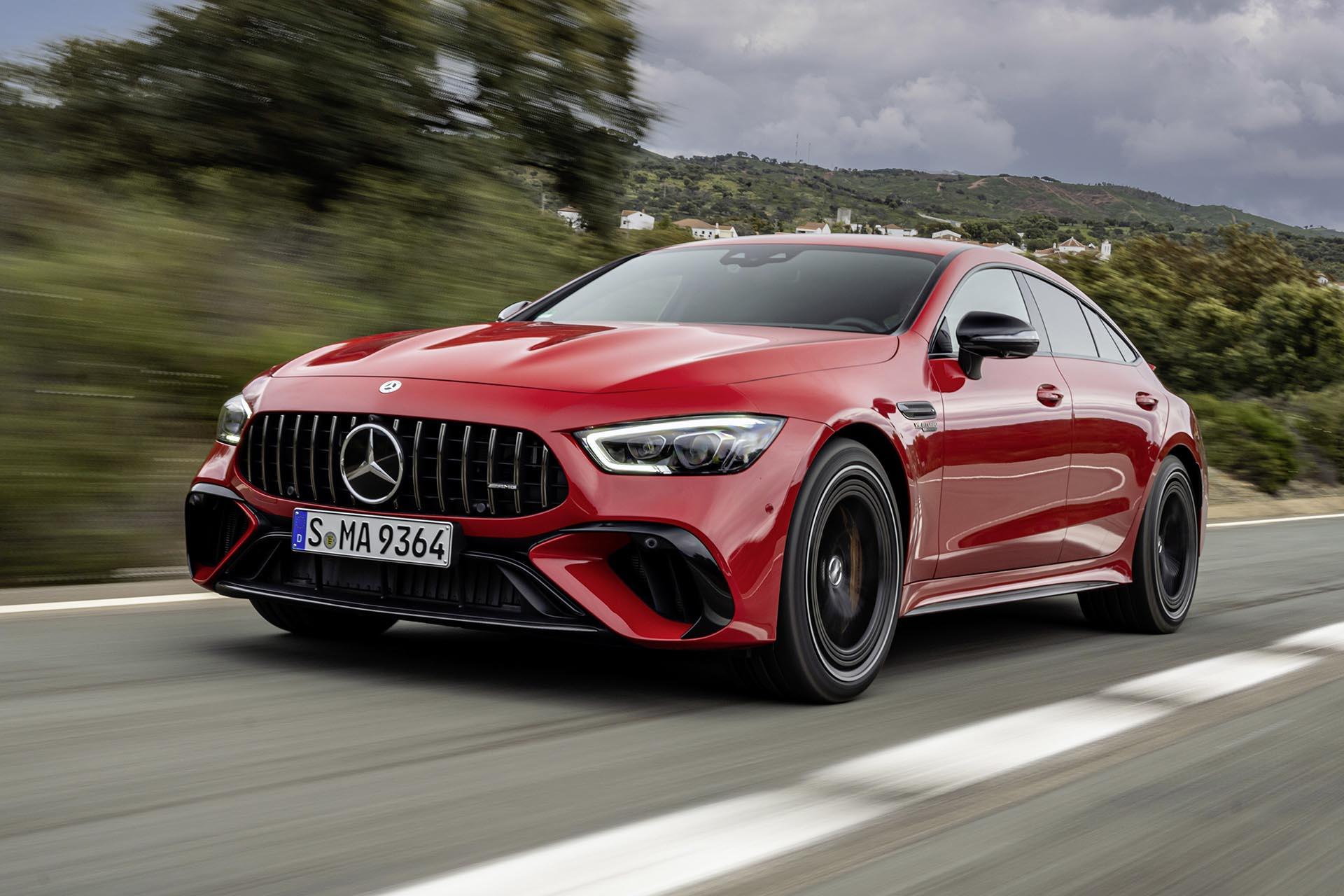 "One thousand plus one hundred and one hundred and one hundred and one hundred!" shouted little Hänsel during the annual take-your-child-to-work day at AMG when asked how much power the new model should have. And try to say no to Hänseltje. This is the only reason we can think of why you would want to give a road car such an ungodly amount of power.
This Mercedes-AMG GT 63 SE Performance 4-Door Coupé has as much muscle on board as its name is long: 844 hp and 1,400 Nm. Sure, we re-read that last sentence to check the numbers. Good to know is that this – take another deep breath – Mercedes-AMG GT 63 SE Performance 4-Door Coupé was the first plug-in hybrid that AMG brought to the market.
The engine of the AMG GT 63 SE Performance
So not only the clean task of the powertrain to compensate for the extra pounds, but also to convince the supporters of the usefulness of a plug. On paper, that mission succeeded. The electric motor sits on the rear axle and has its own two-speed transmission. It is good for 204 hp and 300 Nm. In the front is a 4.0-liter V8 with 639 hp and 900 Nm. And no, you can't just add the pairing numbers together.
A battery of 6.1 kWh provides a fully electric range of 12 kilometers. Yes, twelve. And the petrol tank has shrunk by 14 liters. So you could also buy a normal AMG with a V8 and cycle all distances within 6 kilometers for the same CO2 savings; but then you don't fully understand this car.
The AMG doesn't pretend to be green or sustainable, it's about absolute power – and nothing delivers better torque than an electric motor. An additional advantage for the Netherlands is that it produces fewer emissions due to the plug than the GT 63 S without electricity. This makes the E Performance in the Netherlands 25,000 euros cheaper than the old version with 639 hp. In Belgium it is 22,000 euros more expensive.
Driving the four-door GT
We drive the E Performance on summer tires in the week that the KNMI issues code orange for slipperiness. A full showdown isn't in there, but even at a quarter throttle you feel like you have to flip over a dictionary of superlatives to describe how this car accelerates. When you're in the right gear and both motors are working together, the torque feels like infinite.
They might have achieved the same performance with a four-cylinder, but nothing beats the sound of a V8 on the side. And even high in gear and low in revs, the GT 63 is bloody fast. Somehow it feels irresponsible that anyone with a driver's license can drive this, on the other hand it is very impressive technology.
Does the Mercedes-AMG GT 63 SE Performance 4-Door Coupé convince?
If you then find the self-control to take it easy, you hardly notice that you are on the road with a PHEV. The powertrain occasionally switches quietly from fully electric to petrol, but with some music on you don't notice it. We have every confidence in cornering, but we think the rims are just too beautiful to do too much research in these conditions.
To get back to basics: can this AMG convince the old guard? We think so. To see it is still an exaggerated device, you do not compromise on sound or experience and only get more performance in return. It is not green, but it is an AMG.
Specifications of the Mercedes-AMG GT 63 SE Performance 4-Door Coupé (2023)
Motor
3.982 cc
V8 biturbo hybride
844 pk @ 5.500 tpm
1.400 Nm @ 2.500 tpm
Drive
four wheels
9v automatic
Performance
0-100 km/u in 2,9 s
top 316 km/u
Consumption (average)
7.9 l/100km
180 g/km CO2, B-label
Dimensions
5.125 x 2.069 x 1.455 mm (l x b x h)
2,951 mm (wheelbase)
2.280 kg
66 l (benzine)
462 l (luggage)
Prices
€ 239.541 (NL)
€ 209.935 (B)