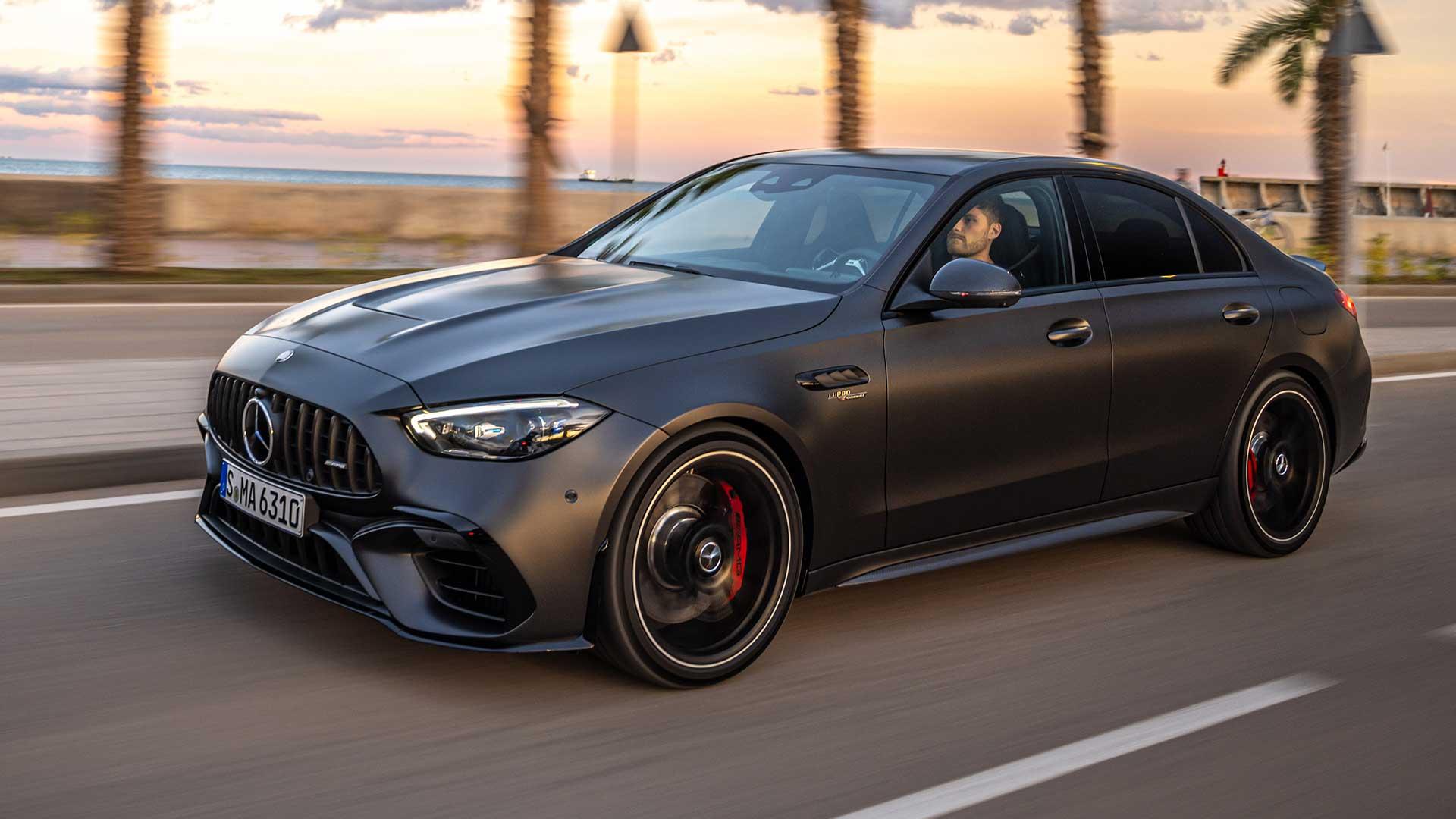 Mercedes-AMG C 63 SE Performance – a complex name for a very complex car. AMG's sportiest sedan transforms from a V8 hotrod into a four-cylinder hybrid techno monster. What do you think: is less indeed more?
This is a car that we will have to delve into quite a bit. Gone is the V8, and with it the simple connection to the rear axle and the atmosphere of the 'eloquent muscle car' that hung around the old C 63s. What replaces it is so different that they immediately gave it a new last name. This is the Mercedes-AMG C 63 SE Performance, and it's a hybrid.
No V8, but 1,200 Nm
A boosted version of the 2.0-litre turbo engine from the A 45 produces 475 hp and thus claims to be the strongest four-cylinder production engine in the world. Add an electric motor to that and you arrive at a system power of 680 hp and a torque of 1,020 Nm. Those are supercar-like numbers. However, there is one figure that is less in line with this: the sedan and station version of the C 63 weigh 2,111 and 2,190 kilograms respectively. Their predecessors weighed half a ton less.
And that's because AMG has not only added an engine and batteries, but also a mountain of new technology. The C 63 is now only available with four-wheel drive (although there is a drift mode in which the front wheels do not participate) and four-wheel steering is also standard. That is more suitable for cars of a larger size, but it is mainly used here to suppress the feeling of (too) much weight in low-speed corners. While it also contributes to that weight, of course, but good.
Mercedes-AMG C 63 SE Performance: the technical talk
The technology itself, then. Mercedes says it has dug firmly into the shelves with 'AMG One' and 'Formula 1' on it. To describe the various ways in which the powertrain functions would require a few more MBs, but it goes without saying that there is an electric mode. It cannot be switched on for more than 13 kilometers – after that the battery is empty.
But at least you can leave early in the morning in the Mercedes-AMG C 63 SE Performance without the whole neighborhood knowing. In addition to Electric, there are no less than seven other driving modes. And four settings for the ESP. Plus another four for the degree of regeneration.
For smooth driving – and for drifting
Once the petrol engine joins in, the power is distributed between the axles according to the grip and mood of the driver, with up to 50 percent going to the front wheels and the rear wheels simply being given everything. That's what the car prefers for smooth cruising, for optimum efficiency and, of course, for maximum playtime when you've selected drift mode.
Knowledge gained in F1 has been strewn all over the car like magic dust. You will find it in the speed at which the battery gives or stores energy, in the complex cooling system, in how the electrically driven turbo contributes to regeneration and in the boost strategy that you can select on the track.
The latter, in short, means that as you exit certain corners, 'BOOST' will appear in big yellow letters in your digital gauges, letting you know it's time to stomp your right foot all the way down. This activates a kickdown button under the pedal for maximum power and torque. Across the rest of the track, you can push the pedal as far as it wants without that kickdown, saving e-power for when you need it most.
But is that actually fun?
C 63s of yesteryear were instant, irresistible charmers. In a nutshell: not this one. There's just too much going on with this car to put a grin on your face in one fell swoop. Which isn't to say it's boring, by the way. Far from. With almost 700 horsepower, this is still a bloody fast machine that moves with loads of panache, not least because sensitive rears can notice how all forces are continuously distributed very dynamically over all wheels. And that goes hand in hand with the extra sharpness that the rear-wheel steering provides, which is a constant factor in tighter corners.
You feel the weight
But although the technique admirably takes the edge off in the middle of a corner, the mass of the Mercedes-AMG C 63 SE Performance cannot be masked when braking. Then AMG may state so highly about that boost strategy and the smart circuit apps they have developed, this is not really the car you are going to buy to boost your sector times on a track day. The brake pedal is not overflowing with feeling anyway (you get that with four regeneration levels), but after a few hard braking it becomes even softer.
On the track, this car with its 680 hp never feels like a weapon – all that extra weight immediately negates the power superiority over the current BMW M3. But on the open road it's still a mind-bogglingly fast machine, especially when you're accelerating out of villages to the national speed limit, and the electric motor's 205PS and 320Nm, available on demand, will kick you in the back if you don't get too excited. worry about lap times. The e-power also leads to a pretty lively rear: oversteer has always been a breeze to induce in a C 63, and nothing changes. It is only corrected much sooner with a front axle that helps to straighten you out again.
The Mercedes-AMG C 63 SE Performance is more comfortable than ever
The old C 63 was always quite firm in terms of suspension and damping, something you took for granted because of the rest of its qualities. In that respect, the possibilities are now a lot wider, thanks to the adaptive damping – with components derived from the AMG GT Black Series. The paddock of the GT3, so to speak. Rolling back roads teach us that the Comfort setting is nice and slow, while Sport returns you (literally) back to the old firmness level.
There's a lot to sparkle about this car. The nine-speed paddle-operated automatic is lightning fast and its close ratios bring serious liveliness to the Manual mode. The four-cylinder sounds a bit ordinary at low revs, but becomes a lot sharper and sharper when you put it to work. Some things are also played through the speakers, but it's best to turn that off, because it plays an amusing but rather distracting tune when you're driving purely on electricity.
Enough data and diagrams
The Mercedes-AMG C 63 SE Performance pretty much begs you to go through all its driving modes and get the best out of it. The screens and buttons are confusing at first, but you learn to use them and all the endlessly adjustable meters and the head-up display are very easy to read. You can pull out some almost classic 'analogue' instruments if you feel like it, and at the other end of the spectrum there's a diagram of the energy flows, with nerdy data like the amount of revs the turbo makes (up to a whopping 150,000, for the fact freaks among you).
Much like the AMG One, the C 63 now feels half like a sports sedan and half like a driving experiment. Certainly also because the batteries consume quite a bit of the luggage space. And part of that 'F1 for the open road' vibe comes across as a bit forced. But fair is fair: criticizing that somewhat easy link with motorsport is about the same as criticizing Land Rover for stuffing their fancy cars with all kinds of off-road driving systems.
This is one of those cars that you'll appreciate with every mile as the complexity of its powertrain – and the best way to use it – sinks into your poor little brain. Perhaps the new C 63 will eventually, in the long run, enchant its driver. But in the time he spent with us, he unfortunately did not succeed.
Specifications Mercedes-AMG C 63 SE Performance (2023)
Motor
2.0 four-cylinder hybrid
680 pk, 1.020 Nm
Drive
four wheels
9v automatic
Performance
0-100 km/u in 3,4 s
top 280 km/u
Consumption
6.9l/100km
CO2 emissions nb
Weight
2.111 kg
Prices
114.501 (NL)
n.b. (B)