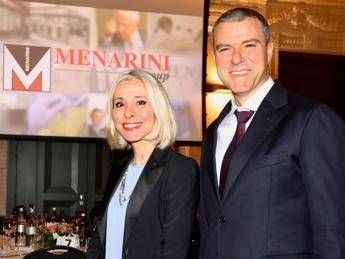 In 2022, the Menarini Group recorded a turnover of 4.154 billion euros, with a growth of 6% compared to 2021 (3.922 billion). Ebitda stands at about 400 million. The consolidated turnover, which has grown steadily since 2010, when it exceeded 3 billion, is made up of 94% from the pharmaceutical sector and 5% from diagnostics. 78% of the turnover is made abroad, while 22% in Italy. The data was disclosed by the shareholder Lucia Aleotti, a member of the board of the pharmaceutical company, during a press event in Florence.
Menarini has 17,800 employees worldwide, 49.5% of whom are women, with 18 production plants and 9 research and development centres. In 2022, the group produced 762 million units of medicines, of which 553 produced internally, exceeding 1 billion blisters. The ranking places Menarini in 32nd place in the world and 17th in Europe.
During her speech, Lucia Aleotti spoke about the company's evolution and strategy, focusing on the entry into the US with the acquisition of Stemline Therapeutics (June 2020) and the consequent steps forward in oncology.
Stemline, a biopharmaceutical company that was listed on the Nasdaq, with the drug Elzonris* (tagraxofusp), a therapy approved by the Food and Drug Administration (Fda) for Bpdcn – a rare hematological malignancy – has strengthened Menarini's presence in oncology.
In January 2023, the FDA approved, with the 'Fast Track and Priority Review' procedure, Orserdu* (elacestrant) for the oral treatment as monotherapy of advanced or metastatic Er+/Her2- breast cancer, with Esr1 mutations, for women in post-menopausal and adult men. The marketing authorization application was submitted to EMA in August 2022.
During her speech, Lucia Aleotti then focused on the geopolitical value of the pharmaceutical sector and how Menarini fits into this scenario, to then take stock of the company's growth figures. The intervention of the CEO of Menarini, Elcin Barker Ergun, followed, with a focus, in particular, on the frontiers of research and development, while the final considerations were entrusted to the president, Eric Cornut.