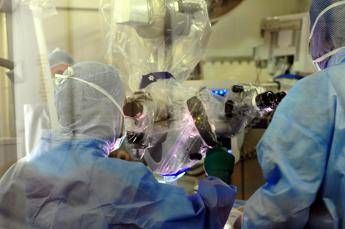 Fabio Cofano of the University of Turin has been awarded the Neuromed prize for spinal surgery prepared by the homogeneous functional area of ​​Neurosurgery of the Pozzilli Institute (Isernia). Cofano, with research in the spinal oncology sector, was selected among the under 36 neurosurgery specialists who sent the abstract of their scientific work. The award ceremony – reads a Neuromed note – took place today at the Irccs technology park, during the conference 'Technological innovations in spinal surgery', a refresher course promoted by Gualtiero Innocenzi, head of Neurosurgery I. The award was given to the young neurosurgeon, together with Innocenzi, there was Maurizio Fornari, president of the Italian Society of Neurosurgery.
It is "a research that I have been carrying out for years on spinal metastases – says Cofano – I have essentially identified a score capable of establishing the need for surgery in these patients, in order to prevent or treat spinal cord injuries or vertebral instability. So to define an effective prevention or treatment path ".
"As stated by the poet Rainer Maria Rilke – comments Innocenzi – 'the future enters us, to transform itself into us, long before it happens', this to say that we imagine the future as something we do not realize that it has already arrived . This is what happens in certain areas of medicine, such as spinal surgery. An evolving sector both in terms of basic and applied research and in terms of technological innovation. I wanted to promote this second meeting primarily to deepen the technological advances in spinal surgery. The new techniques must be recognised, understood and we must understand how they can improve the performance of us surgeons. The digital world is increasingly interactive and, moreover, allows for a better transmission of information and therefore also makes it easier to transmit progress from a training point of view. We are in Pozzilli today, but we are not regional. Even today there are colleagues who come from all over Italy to follow our courses and, as for example with our CadaverLab, they come from all over the world making Neuromed an Institute that has a central role in Italy with respect to this".
Fornari intervenes on the importance of education and training, which are also indispensable in the field of technological advancement. "The most innovative thing – he reflects – is the decentralization of technology that takes place in all branches. The technology is made available in many centers of Italy, raising the level of national neurosurgery so much that today it is constantly evolving, if we think for example to diagnostic imaging or robotic, intraoperative and computer-assisted surgery".
"This training – he continues – takes place in the field and scientific societies must, together with the institutions, promote a superior medical and surgical culture. Only in this way can the surgeon govern these technologies and administer them with appropriateness and precision while keeping alive, at the same time , the manual and artisanal component of the neurosurgeon".