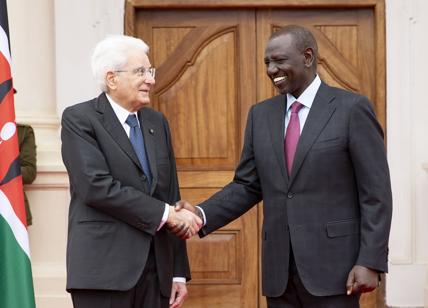 Mattarella in Nairobi, three-day state visit to Kenya
Mattarella in Nairobi: "For Italy, Kenya is a virtuous example of democracy and growth"
The president of the Republic Sergio Mattarella started this morning, March 14, his official visit to Kenya, meeting President William Ruto in Nairobi. The head of state arrived yesterday and will remain in the African country until 16 March. This is the umpteenth mission of the president to sub-Saharan Africa, testifying to the attention that Italy has been dedicating to the continent for some years. It is in fact his fifth mission to the area since he was president of the Republic.
"Italy considers Kenya a virtuous example of democracy and a model of social and economic growth" e "a pillar of stability in this important region of the African continent", said Mattarella, at the end of the meeting with his Kenyan counterpart. The Head of State recalled "the decisive action" carried out "to reach an agreement in Ethiopia for overcoming the dramatically serious conflict between the Central government and Tigray: the Pretoria agreements are the result of this decisive contribution that Kenya has made to achieve a condition of peace and serenity".
"We are alongside Kenya in this development of peace and collaboration so that the entire region can set out on a path of serenity and development, which tensions and contrasts hinder in a very serious way. There is great concern about the tensions that exist also in the Great Lakes region as well as in the Horn of Africa and we strongly support – Mattarella reiterated – the initiatives that Kenya is developing to spread a culture of peace and social and economic". Mattarella then reiterated the need for one common line with the European Union for the development of peace"
Mattarella in Nairobi: "A growing commitment and immediate action is needed on the climate"
"Hopefully Nairobi will see some rain today, but drought is alarming and is a symptom of the consequences of climate change, including in Europe. This is why we urge the international community to proceed decisively in virtuous behavior and in combating climate change", added the head of state, hoping that "a concrete and growing commitment will derive from COP 28".
Subscribe to the newsletter