Marc Marquez presented himself to the media in the late afternoon, several hours after finishing the race at the Portuguese Grand Prix, in which he was unintentionally involved in a collision with Jorge Martín and Miguel Oliveira after completing just two laps. A maneuver that cost him a penalty from Race Direction: a double long lap penalty to be served in the long race of the Argentine Grand Prix.
Already knowing that he has been punished for next Sunday's match at Termas de Rio Hondo (provided he will be in the match, given that there is a suspicion of a fracture in his right hand), which leaves him virtually out of the fight for victory, Marc said he agreed with the penalty, and was especially concerned about the damage it caused.
"I don't care about the penalty for Argentina, but that Miguel Oliveira is safe. I made a mistake in turn three and that created everything. I locked the front tire and managed to avoid Martin, but not Miguel. It was very ugly for me and for this I apologized to him", explained the Honda rider.
"It wasn't my intention to overtake Martín, but the bike was facing inwards when I released the brakes," he explained.
Marquez didn't want to make excuses, but reflected on the novelty of this year's Grand Prix format, with the introduction of the Sprint on Saturday. "With this new format there are risks. But having a test here made everything very close," he recalled.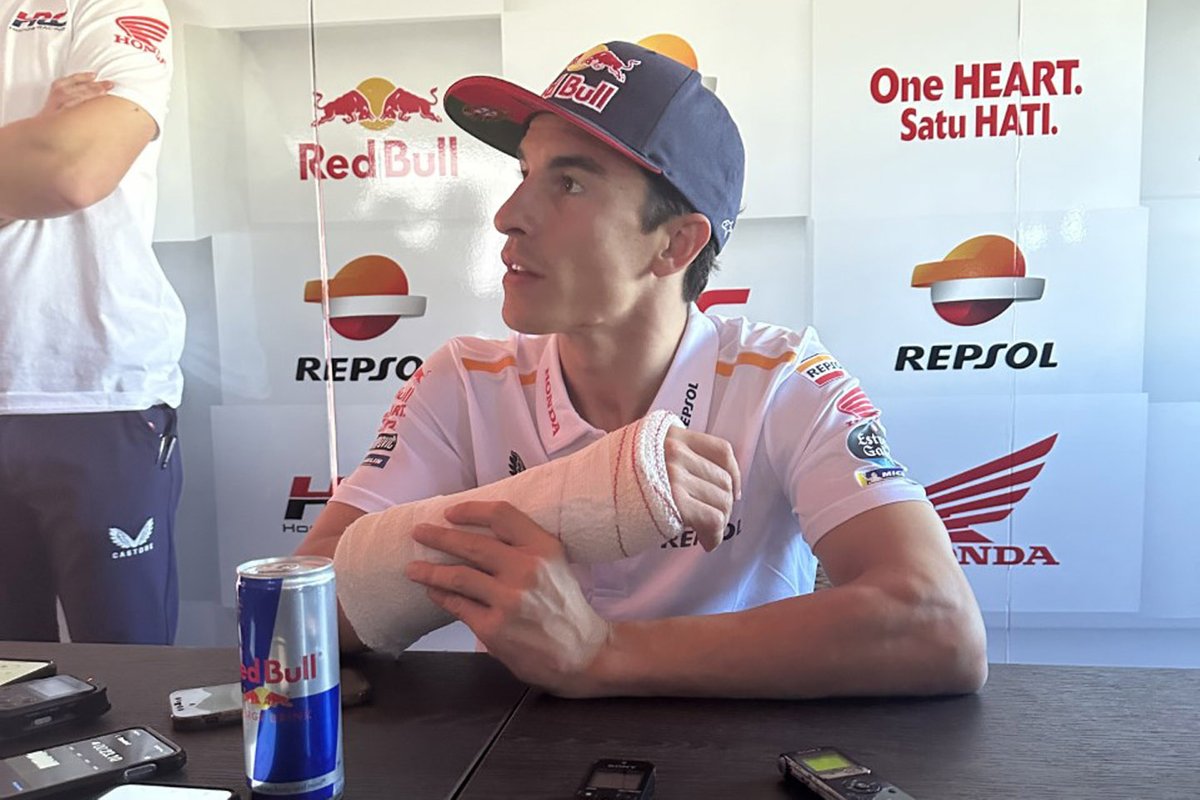 Marc Marquez, Respol Honda with a bandage on his arm
Photo by: Oriol Puigdemont
Although he didn't finish the weekend as he hoped, pole position and podium in Saturday's Sprint were a good reward. "The weekend was surprising, because we didn't expect to be at this level. But to be at this level, you have to take a lot of risks."
When asked directly about the penalty, he didn't seek justifications: "I made a serious mistake, I was penalized and that's fine with me. You never want an accident like this, but when you make a small mistake when braking, it picks up a lot of speed".
With Honda in a slump, Marc has been involved in some borderline action of late. "There's no need to do these things, but maybe the hard front tire wasn't ready. In the end, it's my mistake, full stop," he said. "The only way to get time is under braking. But I wasn't attacking, I was calm because we weren't going very fast."
On Thursday, in the riders' meeting with Race Direction, Marc asked to think about lowering the penalties because with so many races they could be excessive.
"Thursday's meeting spoke about that penalty (double long lap). According to the regulation, this is the penalty; but if the regulation says it must be more severe, then I will accept it", concluded the rider from Cervera.
Read also:
Photogallery: the sequence of the accident
Marc Marquez, Repsol Honda Team, Miguel Oliveira, RNF MotoGP Racing

1/20
Foto di: Gold and Goose / Motorsport Images
Marc Marquez, Repsol Honda Team, Miguel Oliveira, RNF MotoGP Racing

2/20
Foto di: Gold and Goose / Motorsport Images
Marc Marquez, Repsol Honda Team, Miguel Oliveira, RNF MotoGP Racing

3/20
Foto di: Gold and Goose / Motorsport Images
Marc Marquez, Repsol Honda Team, Miguel Oliveira, RNF MotoGP Racing

4/20
Foto di: Gold and Goose / Motorsport Images
Incident with Miguel Oliveira, RNF MotoGP Racing and Marc Marquez, Repsol Honda Team

5/20
Foto di: Gold and Goose / Motorsport Images
Incident with Miguel Oliveira, RNF MotoGP Racing and Marc Marquez, Repsol Honda Team

6/20
Foto di: Gold and Goose / Motorsport Images
Marc Marquez, Repsol Honda Team, Miguel Oliveira, RNF MotoGP Racing

7/20
Foto di: Gold and Goose / Motorsport Images
Marc Marquez, Repsol Honda Team, Miguel Oliveira, RNF MotoGP Racing

8/20
Foto di: Gold and Goose / Motorsport Images
Marc Marquez, Repsol Honda Team, Miguel Oliveira, RNF MotoGP Racing

9/20
Foto di: Gold and Goose / Motorsport Images
Marc Marquez, Repsol Honda Team, Miguel Oliveira, RNF MotoGP Racing

10/20
Foto di: Gold and Goose / Motorsport Images
Marc Marquez, Repsol Honda Team, Miguel Oliveira, RNF MotoGP Racing

11/20
Foto di: Gold and Goose / Motorsport Images
Marc Marquez, Repsol Honda Team, Miguel Oliveira, RNF MotoGP Racing

12/20
Foto di: Gold and Goose / Motorsport Images
Marc Marquez, Repsol Honda Team, Miguel Oliveira, RNF MotoGP Racing

13/20
Foto di: Gold and Goose / Motorsport Images
Marc Marquez, Repsol Honda Team, Miguel Oliveira, RNF MotoGP Racing

14/20
Foto di: Gold and Goose / Motorsport Images
Marc Marquez, Repsol Honda Team, Miguel Oliveira, RNF MotoGP Racing

15/20
Foto di: Gold and Goose / Motorsport Images
Marc Marquez, Repsol Honda Team, Miguel Oliveira, RNF MotoGP Racing

16/20
Foto di: Gold and Goose / Motorsport Images
Marc Marquez, Repsol Honda Team, Miguel Oliveira, RNF MotoGP Racing

17/20
Foto di: Gold and Goose / Motorsport Images
Marc Marquez, Repsol Honda Team, Miguel Oliveira, RNF MotoGP Racing

18/20
Foto di: Gold and Goose / Motorsport Images
Marc Marquez, Repsol Honda Team, Miguel Oliveira, RNF MotoGP Racing

19/20
Foto di: Gold and Goose / Motorsport Images
Marc Marquez, Repsol Honda Team, Miguel Oliveira, RNF MotoGP Racing

20/20
Foto di: Gold and Goose / Motorsport Images