Several videos with new scenes come to light with which Super Mario Bros. The Movie confirms the rumors of its musical air.
The new super mario movie finally dropped its final trailer on March 9, but the promotion machinery is far from over before its grand premiere on April 5. New videos have emerged, even more than one mini trailer with completely new scenes with which Super Mario Bros. The Movie confirms the rumors that have surrounded her for a long time.
Which is it? Those in which it was said that the video game adaptation to the big screen was going to be a kind of musical a bit different. You just have to take a look at the following video to verify it:
In it second 16you can see Bowser at a pianonext to Kamek, with whom he seems to have played a song with four hands. Jack Blackthe actor who plays the king of the Koopa, already dropped that this film would show his other face, pointing to something more musical (let's not forget that the actor even has a rock band).
will we see Mario, Luigi, Peach, Toad and the rest sing Or is it just a matter of the plumber's archenemy? For now, we know that Toad is also going to give cante. Despite everything we've seen so far, Super Mario Bros. The Movie continues to hide many surprises like this one that confirms the rumors, and even the occasional star appearance that can give a lot to talk about. Like for example, who is the Kong in the following trailer?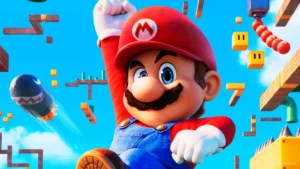 A movie website reveals how long the new Super Mario Bros movie lasts, making it clear that it will have a very tight duration.