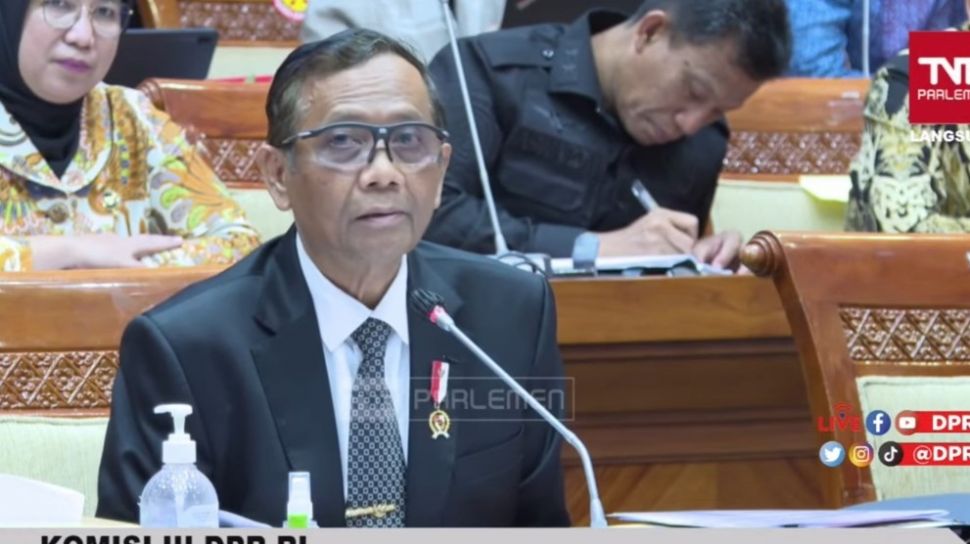 Suara.com – The Coordinating Minister for Political, Legal and Security Affairs Mahfud MD explained in detail the alleged transaction of money laundering in the amount of IDR 349 ​​trillion at the Ministry of Finance. He explained this explanation during a hearing with Commission III of the DPR on Wednesday (29/3/2023).
Mahfud's statement began when he explained the seven modes allegedly involved in the financial transaction. First, there is share ownership in the company on behalf of the family. According to him, this case occurred with tax official Rafael Alun Trisambodo.
"So he has few reports, few accounts. But his wife, children, company, that should be suspected," said Mahfud MD, quoted, Thursday (30/3/2023).
Then, Mahfud explained, the second mode is the ownership of assets in the form of movable or immovable property whose ownership is on behalf of another person. Furthermore, the third mode, there is the formation of companies to manage the proceeds of crime as an effort to make profits considered legitimate.
Also Read: Threatening the Case against Mahfud MD after Calling DPR Member 'Markus', Arteria Dahlan: I Ask To Revoke Prof!
Then the fourth mode, said Mahfud, is receiving a grant of immovable property without being accompanied by a deed of grant.
"For example, I was bribed with Rp. 5 billion, sent to my father, then my father was asked to make a grant," he explained.
After that, the fifth mode is where employees use accounts in other people's names in storing proceeds of crime. Sixth, there are fictitious goods purchase transactions, where the transaction has been paid for, but the goods have never been sent. And finally, seventh, storing the proceeds of crime in a deposit box or other place.
Mahfud also discussed the question of suspicious transactions at the Ministry of Finance which were divided into 3 categories. First, transactions are carried out by employees of the Ministry of Finance, where the number of transactions reaches IDR 35 trillion.
Second, suspicious transactions allegedly involved Ministry of Finance employees whose transaction value reached IDR 53 trillion. Finally, thirdly, transactions involving the authority of the Ministry of Finance as predicate crime investigators whose value reaches IDR 260 trillion
Also Read: FACT CHECK: Mahfud MD Dragged Arteria Dahlan to the KPK
"So the total is Rp. 349 trillion fixed, we will show the letter later," he concluded.