The producer of the Klonoa Phantasy Reverie Series remasters reveals that the studio's first goal was to bring them to Nintendo Switch.
It ended up becoming an open secret, but his announcement was equally a surprise and a joy for his fans. Klonoa Phantasy Reverie Seriesremaster of the first two Klonoa, came to Nintendo Switch in July 2022and its developers have revealed that the hybrid was the first console for which they raised this launch From the first moment.
Ryo Ishida, producer of this remastered collection, has revealed it in an interview with Lost In Cult. In addition to sharing some details about the development, he has confessed that this version was the first to be finished, just in time for the Direct in which it was announced:
The platform we started development for was Switch. As we were finishing up the Switch version, we were presented with the opportunity to show it in a Nintendo Direct and, consequently, reveal the existence of the collection to a global audience. We thought it was a great way to share information and let fans know, because that's where game announcements are most expected. so we feel very grateful for that opportunity.

Ryo Ishida, producer of Klonoa Phantasy Reverie Series
Later, it was announced versions for other platforms, but it was Switch that was in the spotlight from minute zero. It is not the first development with such an approach, although it is precisely thanks to this that the game shows a performance according to hybrid standards.
Have you played it? If not, you can read our analysis of Klonoa Phantasy Reverie Series or even try their free demo.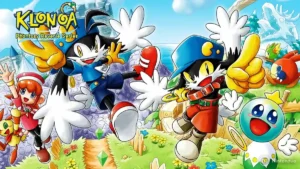 The Klonoa Phantasy Reverie Series remastering can be tested on Switch with a demo that, at the moment, is only in Japan.
Via