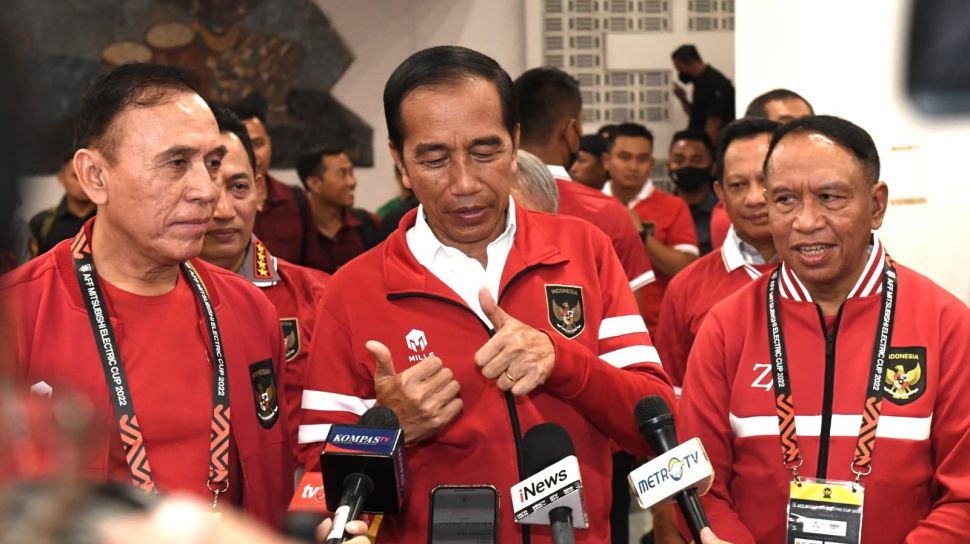 Suara.com – President Joko Widodo or Jokowi is still waiting for the return of PSSI Chairman Erick Thohir to get a full report on the results of his meeting with FIFA President Gianni Infantino in Doha, Qatar. Jokowi awaits Erick's return to discuss Indonesia's potential for sanctions.
This sanction could have been given by FIFA after Indonesia's status as the host of the U-20 World Cup was officially revoked.
"That's what it will be like after meeting Mr. Erick," Jokowi said after inaugurating the Lido City SEZ, Bogor, West Java, Friday (31/3/2023).
After being officially removed from hosting the U-20 World Cup, Indonesia must be prepared to receive sanctions from the International Football Federation, FIFA. The following is a list of FIFA's toughest sanctions that Indonesia might receive.
Also Read: Replacing Boy Rafli who is entering retirement, Komjen Rycko Amelza will soon be appointed by Jokowi as head of the BNPT
1. Boycott
Even though FIFA has not officially announced it, the heaviest sanction that Indonesia might receive is a ban or boycott of FIFA sports events. If this sanction actually occurs, it is likely that there will be another impact, namely Indonesia being ostracized from the world football community.
"What we are worried about is if we get banned. That will be very difficult for us," said PSSI Executive Committee (Exco) member Arya Sinulingga in his statement to the media crew, Wednesday (29/3/2023).
The wave of rejection of the Israeli national team was allegedly the basis for FIFA's firm decision to cancel the draw which was originally to be held in Bali. Indonesia is known to be keen on defending Palestine, its fellow Muslim country, in the protracted conflict with Israel which has affected the football climate.
2. Unable to Participate in FIFA Competitions
Also Read: TikTok Live Survey After the U-20 World Cup Chaotic: Gibran Most Popular up to 46 Percent, Ganjar Dropped Only 0 Percent
The boycott that Indonesia is likely to accept will have a wider impact, one of which is that Indonesia will not be allowed to participate in competitions held by FIFA. Indonesia cannot participate in activities related to the FIFA calendar and loses the opportunity to be chosen again to host sporting events. Even though international sports competition is a means for Indonesian athletes to develop themselves.
Indonesia may be crossed out as a candidate to host the 2034 World Cup. The world sports federation will consider no longer choosing Indonesia to host sporting events including the Olympics. Not to mention the criticism because the Indonesian public is considered to act discriminatory by mixing sports with politics.
3. The Indonesian National Team Loses an Opportunity
The U-16, U-19 and U-20 national teams are prohibited from participating in international football events if FIFA freezes PSSI. Of course this will threaten the regeneration of Indonesian football and eliminate potential revenues of trillions of rupiah from the sports business.
Limited opportunities are also likely to be experienced by national players who are starting their careers on the world football scene. This will obviously leave them with little chance of strengthening the top clubs or the world's prestigious leagues. Another consequence, the transfer value of players can also decrease.