Suara.com – President Joko Widodo or Jokowi revealed that the government continues to strive to maintain a balance in grain and rice prices, from the producer to the consumer level. Efforts are made so that profits can still be obtained by farmers and traders.
This was conveyed by Jokowi after observing the rice harvest in Kartoharjo Village, Ngawi Regency, East Java, Saturday (11/3/2023).
"What's difficult for the government is to balance prices at reasonable farmers, which means getting profits, prices at traders are reasonable meaning traders get profits, prices at consumers, at society are also reasonable. It's not easy to find such a balance," said Jokowi.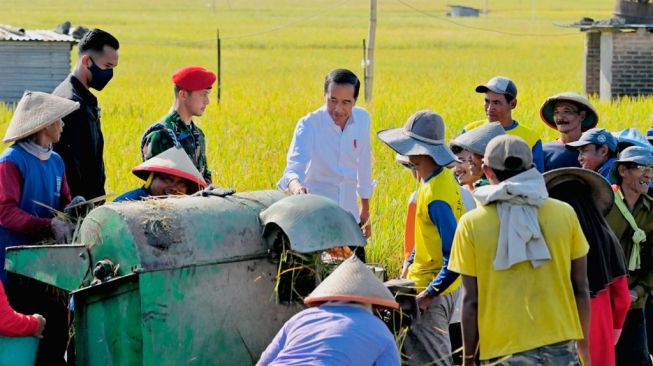 President Jokowi inspects the rice harvest in Kartoharjo Village, Ngawi Regency, East Java, Saturday (11/3/2023). (Laily Rachev – Press Bureau of the Presidential Secretariat)
Thus, Jokowi re-emphasized the importance of immediately determining the price of dry harvested unhusked rice (GKP) nationally. The Head of State also warned the National Food Agency (BPN) to do the calculations correctly, so that the price of grain is higher than the costs incurred by the farmers.
Also Read: Weekend Vacation at Solo Safari, President Jokowi Becomes a Visitor Magnet
"That's the most important thing. This is a big harvest, if the price is not maintained, both the grain and the rice will fall," he continued.
Furthermore, the former Governor of DKI Jakarta said that the price of grain would later be announced by BPN. With the announcement of the unhusked rice price, he hopes that Bulog's purchases will become clearer.
"This will soon be announced by the Food Agency so that it becomes clear what the purchase of Bulog is, what the GKP is," he said.