Suara.com – Dewa United coach Jan Olde Riekerink ensures his team is ready to serve Arema FC in Week 29 of the Indonesian 1st League at the PTIK Stadium, Jakarta, Friday (10/3/2023).
Quoted by ANTARA from the club's official website, Thursday (9/3/2023), Riekerink said that ahead of this match Dewa United received additional energy after several players recovered from injuries.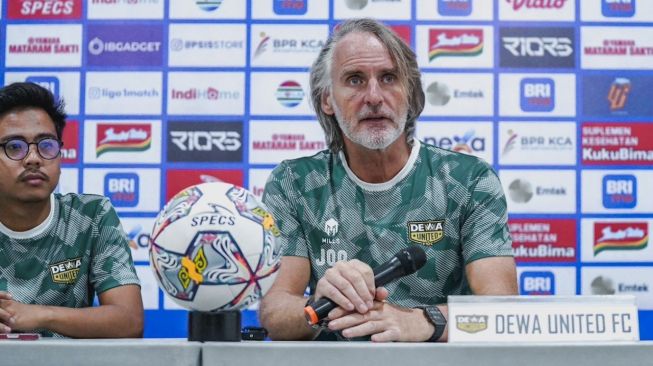 Dewa United FC head coach, Jan Olde Riekerink during a press conference. (doc. Ligaindonesiabaru)
Even so, the Dutch coach explained that Dewa United had to appear without striker Egy Maulana Vikri who had to be absent due to injury.
"For tomorrow, of course, we are ready with the strategy that has been prepared. Several players have also returned from injury. But Egy must be absent due to injury," said Riekerink.
Also Read: The South Kalimantan Regional Police Facilitates Bonek, the Barito Putera vs Persebaya Game is Conducive
Regarding Arema FC's strength, Riekerink thinks that Joko Susilo's squad is a big team and should not be in their current position.
When asked about the results in the first meeting and then in the previous half of the competition, where Dewa United FC had to lose 0-2, Riekerink stressed that the current situation was much different.
"Arema has currently only played 25 matches and if he can win the three games he hasn't played, he could be in 7th place with Bhayangkara FC. I think Arema shouldn't be in his current position because they are a good team," said Riekerink.
"Regarding the first game (against Arema FC), I haven't seen it. I've also only been with the team for 2.5 months and we are still building this team," he continued.
"Of course we are focused on the current team and saw the last match played by Arema. Of course there are many different things now," he said.
Also Read: Happy Persik Kediri finishes Maung Bandung, Divaldo Alves: Persib is Barcelona in Indonesia
Dewa United is now in 14th place in the Indonesian League 1 standings with a score of 32 points, having the same points as Arema FC who are in 12th place.