Suara.com – Barito Putera will host Persis Solo in the closing match of the 31st week of BRI Liga 1 which will be held at the Demang Lehman Stadium, Tuesday (21/3/2023), at 15.00 WIB, and the team coach nicknamed Laskar Antasari Rahmad Darmawan emphasized that his team is ready to fight .
In the last two matches, Barito Putera won, defeating Persebaya 2-1 and Dewa United also with a score of 2-1. In this fight, Rahmad Darmawan is also targeting victory in order to continue the positive trend of his team.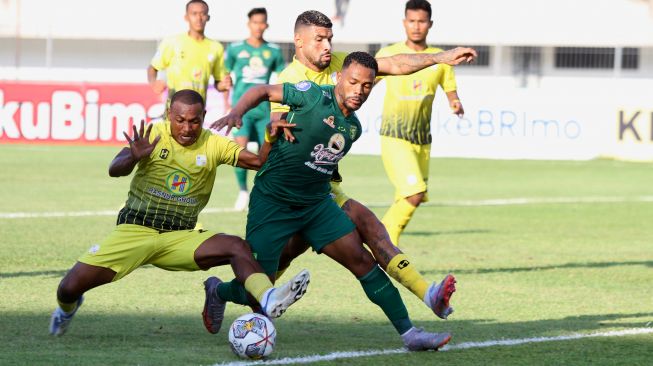 Barito Putera footballer Franc Rikhart Sokoy (left) fights for the ball with Persebaya Surabaya footballer Paulo Victor Costa Soares (center) in the BRI League 1 continuation at the Demang Lehman Stadium, Banjar Regency, South Kalimantan, Thursday (9/3/2023). Barito Putera managed to beat Persebaya Surabaya with a score of 2-1. BETWEEN PHOTOS/Bayu Pratama S/aww.
"I hope the players will continue to show the same motivation and enthusiasm as they did in the previous match," said the coach who is familiarly called RD as quoted from the New Indonesia League page, Monday (20/3/2023).
Meanwhile, regarding the status as the host, he also hopes that the players are not burdened with the target of having to win in front of their own supporters.
Also Read: Winning Hard Against Dewa United, Persib Bandung Foreign Defender Gives Striking Comments
RD asked the Barito players to play freely without a burden because it would help the players to show their best performance on the field.
"With the confidence shown by the players for them to play freely, the quality of the team's play will certainly be greatly helped," said the former RANS Nusantara FC coach.
"So you don't need to be burdened with anything, just play normally according to what they do in training. What is certain is that I certainly want the players to be able to enjoy the match," he added.
Pocketing 31 points from 29 matches, Barito Putera is currently still in 17th position, or one strip above the bottom of the standings. While Persis Solo, who collected 37 points from 30 matches, is in 11th position.
Also Read: Barito Putera vs Persis Solo, Leonardo Medina: Mentality will determine