Suara.com – Acting Minister of Youth and Sports (Plt Menpora) Muhadjir Effendy hopes that FIFA will give Indonesia the opportunity to continue holding international events after being removed from hosting the U-20 World Cup.
Muhadjir made this statement during the inauguration of the Deputy for Sports Achievement Improvement and Expert Staff for Youth and Sports Innovation at Wisma Kemenpora, Senayan, Jakarta, Thursday (30/3/2023).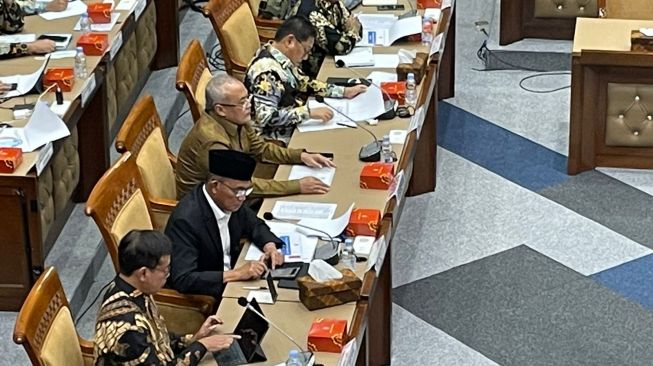 Plt Menpora Muhadjir Effendy in a working meeting with Commission X DPR RI at the Parliament Complex, Senayan, Jakarta, Tuesday (28/3/2023). (Suara.com/Bagaskara)
On this occasion, Muhadjir said Kemenpora would continue to utilize the U-20 World Cup budget, especially regarding stadium maintenance.
"Regarding the (budget for) the stadium and others so that it can still be used as much as possible. We hope there will be somewhat comforting news from FIFA, because the U (World Cup age category) is not only U-20. There are other U," Muhadjir said as published by ANTARA.
Also Read: Call Not Doomsday! Ganjar Pranowo Even Receives Criticism After Encouraging the U-20 Garuda National Team
Apart from the senior and U-20 levels, FIFA has an agenda for the U-17 World Cup in 2023 with Peru as the host which is scheduled to roll out from 10 November to 2 December. However, in mid-March 2023, Peru was rocked by an earthquake with a magnitude of 6.7.
Back to the U-20 World Cup, Indonesia's elimination as host, said Muhadjir, was a shared disappointment and sadness. Moreover, there is a potential sanction from FIFA for Indonesia.
"Maybe we are all disappointed and sad because of our expectations to make this event a milestone to make further leaps in the development of our national football," said Muhadjir.
"It turned out that this was not what we imagined and of course everything has passed and we must immediately forget all the sadness and disappointment," said the man who also serves as the Coordinating Minister for Human Development and Culture.
He invited the whole community to look to the future in managing Indonesian football, especially with the existence of very standard rules, namely the National Sports Grand Design (DBON).
Also read: Canceled hosting the U20 World Cup, said Gibran