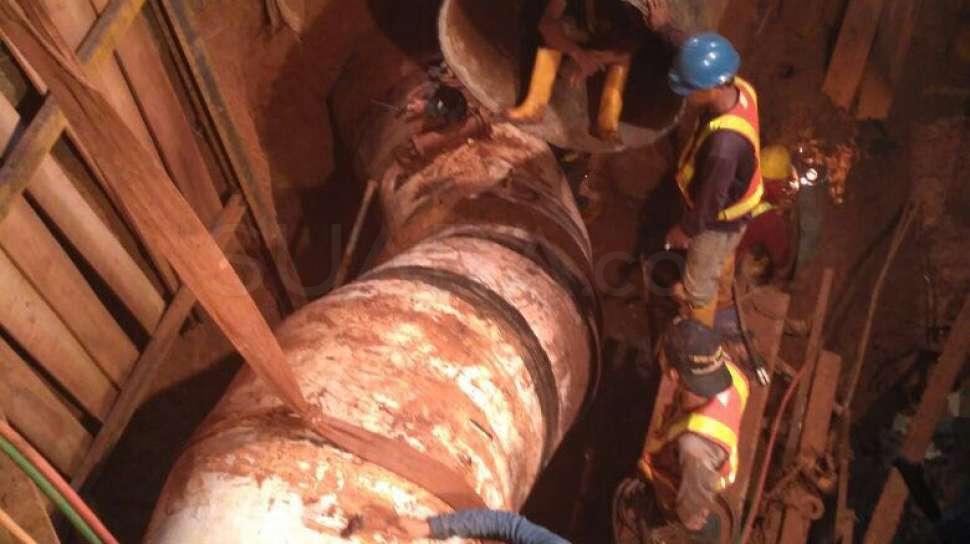 Suara.com – The Drinking Water Company or PAM Jaya claims to have suffered a big loss because its water channel on Jalan Batu Ceper, Gambir, Central Jakarta is damaged. This is due to the work of the contractor who made excavations using large tools during the crossing of the waterways installation project.
The main director of Perumda PAM Jaya, Arief Nasrudin, who also went down to the location, said that this incident caused a water leak which was detrimental to his party. Moreover, it needs to be repaired which takes a long time.
"The water leak cannot be counted at this rate, it's difficult. What's certain is that PAM will suffer big losses," said Arief at the location, Friday (24/3/2023).
Because of that, he ordered his men to immediately temporarily stop clean water services in the area. Meanwhile, his workers carry out repairs at most one day.
Also Read: Seven Years Ahead of Jakarta's Sinking Prediction, PAM Jaya Pede Can Build Clean Water Connections Every Year
"I turn off the valve (piping faucet) there. If it doesn't (stop it), we can't fix the pipe as well. The work takes about 1 x 24 hours," said Arief.
Previously, DKI Jakarta DPRD Chairman Prasetio Edi Marsudi held a sudden inspection or onslaught at Jalan Batu Ceper, Kebon Kelapa, Gambir, Central Jakarta, Friday. During the inspection this time, he found a PAM pipeline network that was damaged by the DKI Water Resources (SDA) Department excavation project.
Initially, Prasetio admitted that he wanted to see the infiltration well project which had been disputed several times on Jalan Batu Ceper. However, he instead saw a large excavation with the condition that a number of connections and networks were cut off.
"Two days ago I was here, there was no incident like this, when I saw today how come there was a new beco (excavator), the road was damaged, I went down and I asked," said Prasetio at the location.
Based on Suara.com's monitoring at the location, it can be seen that there is a large hole and a heavy excavator. Inside the hole there are a number of broken joints broken.
Also Read: Ahead of Ramadan, Tanah Abang Traders Complain that Mukena Buyers Drop Drastically
The PDIP politician also questioned the oversight function of the DKI SDA Agency as the person in charge of this project for contractors. He said that the work was ridiculous and had wasted the DKI Regional Revenue and Expenditure Budget or APBD.