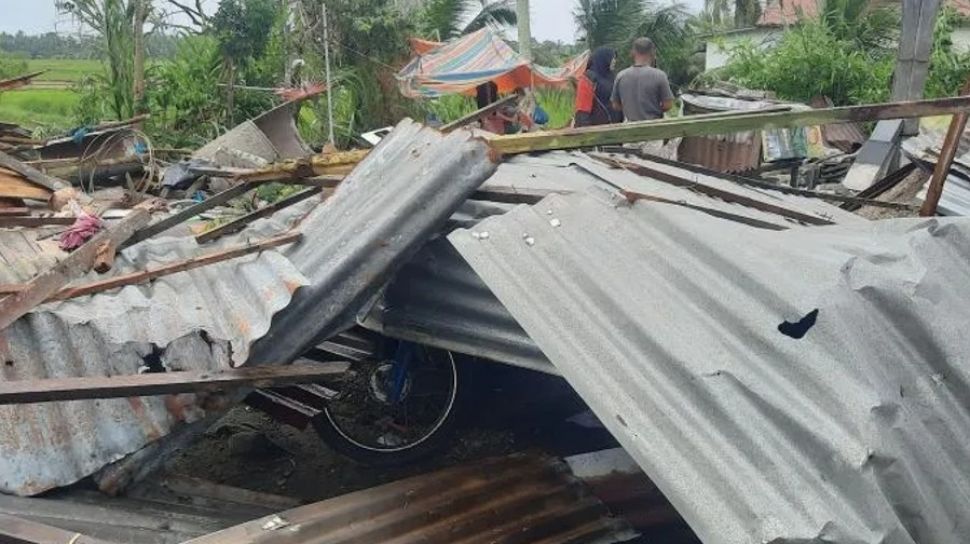 Suara.com – Hundreds of residents' houses in Bekasi Regency, West Java, were reported to have suffered damage as a result of being hit by a tornado on Wednesday (1/3/2023). It was recorded that 121 houses were damaged from moderate to severe.
"A total of 121 houses were damaged by the tornado," said Tambun Selatan sub-district head Junaefi.
Junaefi said the tornado that blew at 13.00 WIB hit three villages in the South Tambun District area with the worst impact in Sumberjaya Village.
In Kampung Buwek Jaya, Sumberjaya Village, as many as 90 houses were damaged, with details of 17 houses being severely damaged after being hit by a tree and 73 houses being moderately damaged.
Also Read: Intention to collect debts, two women reciting students die and are buried by being cast out
The tornado also resulted in 21 houses in Tridayasakti Village being damaged with the status of seven houses being severely damaged and 14 houses being moderately to lightly damaged.
"Meanwhile, in Mangunjaya Village, until earlier there were reports that 10 houses were damaged. Three to four houses were seriously damaged, the rest were slightly damaged," he said.
Most of the damage experienced by Junaefi occurred because the wind hit the majority of the roofs of the houses which were made of asbestos.
"Most of the roof tiles were damaged, especially those made of asbestos which were heavily damaged," he said.
He admitted that he had reported the tornado disaster to Acting Bekasi Regent Dani Ramdan as well as conducting a comprehensive data collection of the affected residents.
Also Read: New Facts Revealed in the Serial Murder Case of Aki Wowon Cs After Reconstruction in Bekasi
"There were no injuries or fatalities as a result of the disaster. I have reported this to the Regent and also coordinated with the BPBD. At this time we are still collecting data, we will report it later. As for the follow-up handling, we will fully submit it to the relevant agencies," he said .
Meanwhile, Head of RW 02 Kampung Buwek Jaya, Sumberjaya Village Asnawi, said that apart from damaging residents' homes, the tornado also toppled electrical installation cables.
"For the time being we have turned off the electricity. PLN officers are also repairing it. We have mobilized residents to help clean up, because our area is the worst hit," he said. (Between)