Discover the correct way to follow the story of Sword Art Online in chronological order.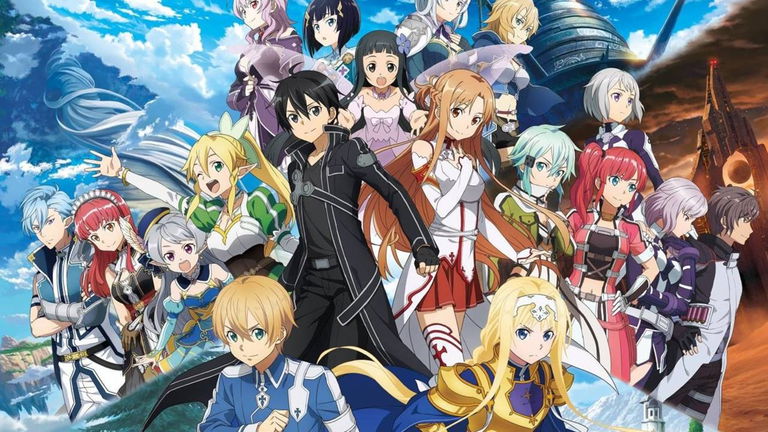 Watching Sword Art Online in chronological order is the best way to understand the full story of Kirito and Asuna.
join the conversation
Sword Art Online is a science fiction adventure anime that has been created by Reki Kawahara and in a short time gained fame due to its interesting plot related to video games. However, if you have not seen the series yet or would like to see it again, it is important that you know that you can follow an order to see each of the installments of the franchise.
Sword Art Online has a fairly entertaining and action-packed story, which has made it one of the most watched anime in recent years. Therefore, it is important to know how to watch this franchise in chronological order and thus manage to understand everything that happens in the universe of video games and the real world of Sword Art Online.
In what order to watch Sword Art Online
Sword Art Online (2012)Sword Art Online II (2014)
Sword Art Online (2012)
The first Sword Art Online anime was released in 2012, where the beginning of the story of Kirito, an expert video game player who enter a virtual reality RPG called SAO, but something goes wrong and all the users are trapped inside it.
Now all players who die in the game, too they will die in real lifeso Kirito must use his abilities to advance and become powerful in order to save his love Asuna.
Sword Art Online: Extra edition – Movie (2013)
The plot of this movie follows Kirito, Suguha, Asuna, Lisbeth, and Silica, who must face a new threat in a virtual world after Kirito was killed. tricked into attending an emergency meeting. The story is positioned some time after the end of Sword Art Online and here all the protagonists are in the SAO Survivor School.
Sword Art Online II (2014)
After watching the movie Sword Art Online: Extra edition you will be able to better understand what happens in Sword Art Online II, the second season of the anime. To be more specific, here Kirito returns to the real world again as Kazuto Kirigaya, where he is hired by the Japanese government to investigate a series of mysterious deaths related to a new game called Gun Gale Online.
Sword Art Online Alternative: Gun Gale Online (2018)
It is a spin-off of the Sword Art Online II anime, which focuses on Karen Kohiruimaki, a girl who enters the game Gun Gale Online to escape from your everyday life. Karen creates a character named Llenn with the appearance of a cute girl, but dangerous when she tries to fight.
Thanks to new virtual reality device called AmuSphere, gamers can be more secure. Due to the lost popularity of video games after the problem with Sword Art Online, a tournament with a cash reward has been proposed and Lenn is willing to win it.
Sword Art Online: Ordinal Scale – Película (2017)
The film follows the series' main characters, Kirito and Asuna, as they face a virtual reality game known as Ordinal Scale or OS. This installment explores deeper topics, such as the importance of memory and the impact that difficult moments can have in life.
Sword Art Online: Alicization (2018)
Sword Art Online Alicization is the third season of the anime. Here Kirito must enter a completely new virtual world, "Underworld". On this site he has to investigate a mysterious technology that can revolutionize artificial intelligence. Alicization is the longest arc in the series and is divided into three parts:
Alicization Beginning.Alicization Running.Alicization Turning.
Although the series aired in a non-chronological order, following it in this way allows you to better understand the story and appreciate the details that are presented in each story arc. The good thing is that you can watch Sword Art Online in Spanish on various streaming platforms like Crunchyroll.
join the conversation