We are going to explain to you how to search and find telework in europe using the Jobgether website. It is a page that differs from many others not only by focusing on Europe, but also by being able to tell you the real flexibility of each company.
In this way, you will be able to know when a company is really looking for workers who work completely remotely, or what they are looking for is more hybrid work. We are going to explain to you how to use this remote work portal to find deals.
Use Jobgether to find telecommuting
The first thing you have to do is enter the jobgether.com/en website. In it, in the search field that appears you must indicate the type of work you want or leave it blank to search all, and then also indicate the country from where you telework. The search is not to find jobs in a specific country, but to find them while being able to work from yours.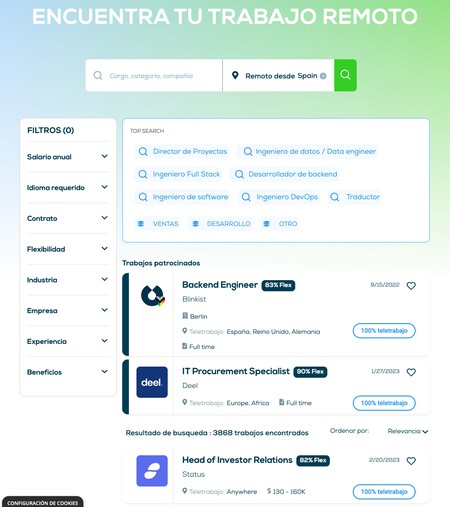 You will enter the results page, where now you only have filter the results using a column on the left with all the available filters. These are the filters What the web offers you:
Annual salary: It can be from zero to more than 200,000 dollars or euros, indicating the minimum and maximum. Required language: You can specify the languages ​​you speak so that the teleworks that appear require them. This way you avoid finding jobs where languages ​​you don't know are needed. Contract: You can specify the type of contract you are expecting from the company, ranging from self-employed to permanent. Flexibility: You can add specific filters for flexible hours, unlimited or additional vacations, or parental permissions. Industry: You can search for the type of industry in which you want to find a job. There are a large number of them, and you can choose more than one. Company: You can specify specific companies where you want to find the job. Sometimes there are large companies where several profiles are sought for different jobs. Experience: You can indicate if experience is required in the position you want to find. Thus, you can change sectors in a job where experience is not required, improve in a job where you have only been a few years, or take advantage of your extensive experience in specific sectors. Benefits: You can look for additional benefits tied to the position, such as parent benefits, remote work grants, digital training, and many more.
Once you have specified everything you want, the page will show you the results of jobs that match what you have specified. In this page, in each offer you will see two indicators that tell you the percentage of teleworking of the position and the flexibility they offer.
When you click on an offer, then you will be given all the details. You will be able to see the information of the company, the amount of teleworking, and the list of benefits and flexibility criteria. Besides, you will also see the job descriptionas well as the knowledge required for the position.
If you are interested in the job, click Apply, and you will go to a page where you have to write your personal data. This data includes your name, surname and resume, as well as your salary expectations, if you can work from the country that is required, your language level, your LinkedIn profile and more. And that's it, with this information, the company will contact you if interested.