Flavia Laos confirmed through an Instagram story that she will proceed to freeze the eggs to determine her motherhood. Months ago, Magdyel Ugaz, another woman from the Peruvian show business, decided to carry out the same procedure.
This time, to find out all the details about the egg vitrification technique, we spoke with Dr. Luis Ernesto Escudero, representative of the Immater Clinic, who accompanied the popular 'Teresita' during the application of this treatment.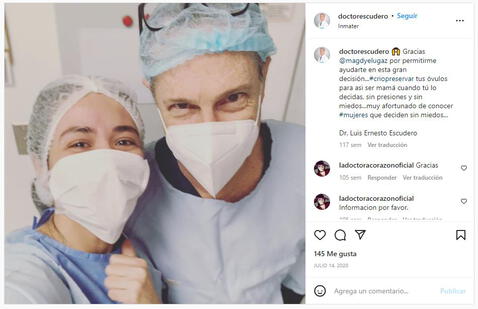 Publication of Dr. Escudero. Photo: Instagram capture
Why are the eggs frozen?
Egg freezing emerged as a measure available to young women and girls who suffered from some type of cancer that would end up affecting their ovaries and, with them, the possibility of becoming mothers.
At present it is an important procedure that is applied to women who have maternity as part of their life project, but whose age to achieve it exceeds 35 years. In these cases, the former president of the Peruvian Fertility Society recommended treatment before reaching 30.
"As a woman gets over 35 years of age, the number of eggs needed to get pregnant will increase and their production will decrease," explained the Inmater specialist.
What is egg vitrification?
The oocyte vitrification procedure takes a total of 10 to 12 days and consists of storing the oocytes produced by a woman during the application of a hormone treatment designed to increase their production.
"In reproduction, between 6 and 10 eggs are needed to have a baby. Because some are not good, some are not going to grow correctly with the sperm, not all the embryos that are formed are genetically healthy and not all of them give rise to a baby, "explained the specialist, who added that with a total of 10 ovules I should have the peace of mind that I can have a child.
What is the difference between vitrification and egg freezing?
Dr. Luis Ernesto Escudero revealed that egg vitrification is a more recent technique, with a period of 12 years on the market, and that, unlike egg freezing, it allows them to be kept in better conditions.
According to the specialist, in this last procedure, known as 'slow freezing', barely 2 out of 10 eggs survived. While in the method currently used it is possible to maintain the 10 ovules.
What is the procedure for egg vitrification?
Dr. Luis Ernesto Escudero considers that the steps to carry out a correct egg vitrification can be summarized in five. Next, we detail what each of them consists of.
The procedure begins with the injection of hormones into the woman's belly for a period of 10 days. In this way and by receiving more hormones, the ovary will develop more follicles (group of eggs). Regular controls are applied to determine the number and size of the follicles that are produced thanks to the treatment. Before the follicles When they reach 24 millimeters, the size at which they begin to break, the specialist begins with the aspiration of the liquid found in each one. The specialized medical team begins the search for ovules within the extracted liquid. The material found is stored at -190 °C in liquid nitrogen by ovule vitrification.
In which cases is oocyte vitrification recommended?
According to the specialist, there are many reasons why women today decide to opt for egg vitrification. Among the most prominent are:
Social reasons: Perhaps this is one of the most important reasons why women choose to undergo this procedure. With the passage of time, they have new goals and objectives to achieve before wanting to become mothers. In this way, they prefer to do it when they are more professionally and emotionally developed and are better prepared to start this new adventure. Medical reasons: This technique is recommended and arose with the purpose that young people who suffer from a chronic disease or whose treatment affects their ovaries have the option of accessing maternity at the time they think is most appropriate.
What recommendations should be taken into account for egg vitrification?
Dr. Luis Ernesto Escudero also sent some recommendations for all women who consider undergoing the oocyte vitrification treatment.
It is better to apply it before 30. It is suggested to carry out the treatment before the mentioned age because, thus, there is a greater possibility of producing more ovaries. Consider the complications. Before starting the procedure, the possible consequences that it could have should be taken into account. Although it is not a risky procedure, it is important to go to trained specialists to avoid problems such as possible 'ovarian hyperstimulation' (incorrect stimulation of ovaries with many follicles). Do not choose based on price. In this case, it must be taken into account that this decision can affect our entire lives and, therefore, it is important to go to specialized centers that have the support of the authorities and that comply with all the corresponding sanitary measures.
How long can my eggs be frozen?
Dr. Luis Ernesto Escudero revealed that the egg vitrification technique is in operation for a period of 12 to 15 years. According to the specialist, this has demonstrated its effectiveness and has not shown problems in its storage.
How much does it cost to freeze eggs in Peru?
According to the former president of the Peruvian Fertility Society, the cost of the treatment reaches a total of 9,500 to 10,000 soles. This varies according to the fees of the medical specialists that are used.
It is also known that the main expense in relation to the vitrification of ovules is found in the medicines applied to increase the production of ovules in women, while the storage itself represents a maximum of 4,000 soles.
Egg freezing: price
The oocyte vitrification procedure is less expensive than the previous hormone treatment that the woman must undergo. This could cost between 3,500 and 4,000 soles.
It is recalled that, in addition to the amount established to carry out this process, there are the costs of the ultrasound scans and the fees of the doctor in question. Finally, there is a charge related to the maintenance of the frozen eggs that is charged annually and consists of approximately 300 soles.
Where can I freeze my eggs?
In the city of Lima, there are about 10 specialized laboratories for carrying out the egg vitrification technique. Among the most prominent medical centers are:
InmaterMiraflores ClinicRicardo Palma ClinicConcebir ClinicCefra
What celebrities have frozen their eggs?
Over the years, there have been many famous Peruvians who have undergone the egg freezing procedure in order to prolong their decision to be mothers. Here is a list of some of them.
Magdyel Ugaz
The popular artist Magdyel Ugaz surprised her followers on Instagram when she announced that she had undergone this procedure. She explained that, at 36 years of age, she has understood that she does want to be a mother, but she is not going to rush her time just because of the "standards and expectations" that society dictates to women.
"But what could I do to be able to have that possibility open and without pressure, and it was there that I decided to freeze my ovules. I feel more and more proud of the decisions I make about myself and about my body, "said the actress through her social networks.
Alejandra Baigorria
Alejandra Baigorria joins the list of celebrities who have undergone this procedure in order to guarantee a future motherhood. The reality girl commented that, in this way, she does not have to worry about the passage of time.
"When you are younger you say, 'at thirty I would like to be a mother', it is the ideal, it is what everyone thinks it should be, then, suddenly thirty arrives and you realize that they are the new twenty", explained the businesswoman from Gamarra.
Luciana Leon
The politician was invited to the program El Valor de la Verdad in March 2016 and confessed to having undergone this procedure with the hope of being a mother at some point in her future. In addition, Luciana León stated that she did not consider that being married was an essential requirement to start this stage of her life.
"It is better to prevent and I recommend it to all young people who have not thought about it until now. And that nothing stresses them, that time or age does not stress them and that it is only for prevention, "she said.
Flavia Laos
The actress Flavia Laos told details of the treatment she will undergo to ensure that she has children, in case she is encouraged later. According to her statements, it is very important to her that her fans are informed about this intervention to remove taboos.
That's right guys, I'm going to freeze my eggs. I am 25 years old and I am at the ideal age (from 20 to 30) so that they can freeze them because they are the young ovules. (…) I also think it's one of the best decisions I've made because it's like insurance. You don't know what will happen later. In fact, I have many projects and now I am not thinking about having children, but later I will love my family (…) ", were part of his words.
Are the eggs frozen individually?
According Manuel Fernandez, a gynecologist specializing in fertility and director of the IVI clinic in Seville, the eggs are not extracted and frozen individually, but in "cohorts" or groups of oocytes. This is how he explained it in an interview with the BBC.
According to the doctor, normally with each menstrual cycle the body allocates between 20 and 50 oocytes for ovulation. Of these, naturally only one usually ovulates, which is the one that reaches a greater "maturation". The rest of the oocytes die and are destroyed by the body in a process called atresia.