Suara.com – Triyono Martanto is back on the list of candidates for Supreme Court justices who will undergo a fit and proper test at the DPR RI on Tuesday (28/3/2023). Netizens then highlighted the assets owned by the candidate for Supreme Court Justices of the Special State Administrative Chamber for Taxes, which reached IDR 51 billion.
A Twitter account shows Triyono's State Administration Wealth Report (LHKPN).
"The candidate for Supreme Court Judge specifically for tax, Triyono Martanto, is very rich. His total wealth (as reported to LHKPN) is 51 billion! Amazingly, most of his assets are in the form of cash or cash equivalents, aka fat accounts," tweeted @PartaiSocmed quoted on Saturday (25/3/2023).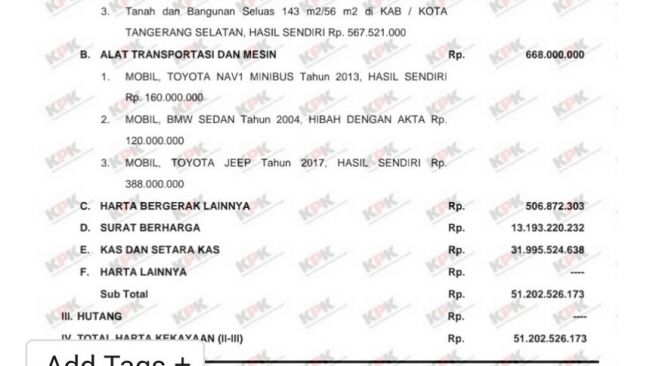 LHKPN candidate for Supreme Court Justice Triyono Martanto. (Twitter)
If explained, the assets with a total of IDR 51 billion owned by Triyono consist of land and buildings worth IDR 4,838,909 billion.
Also Read: Wahono Saputro Comes for the Second Time at the KPK, Undergoes Examination of the RAT Fat Account Case
He owns three lands and buildings in the City/District of Karawang, Regency/City of South Jakarta and Regency/City of South Tangerang. Everything is land and buildings from the results of Triyono himself.
Then, Triyono has means of transportation with a total value of IDR 668 million consisting of three four-wheeled vehicles.
Then, other movable assets worth IDR 506 million, securities worth IDR 13,193,220,232 billion, cash and cash equivalents IDR 31,995,524,638 or 31.9 billion.
Triyono has no debt as stated in his LHKPN.
Plagiarism Suspected
Also Read: Choose Silence After Clarification to the KPK, Wahono Saputro's Situation is Part of the Development of the RAT Fat Account Case
Triyono was once a candidate for Supreme Court Justice in 2021. However, Commission III of the DPR RI decided not to continue the fit and proper test on him because he was suspected of committing plagiarism.
Triyono is suspected of having plagiarized the paper read in the fit and proper test.
"You wrote a paper on the existence and independence of the tax court in the justice system in Indonesia. One more thing, I have, from Mimbar Keadilan, Journal of Legal Studies, was written by Rio Bravestha and Syofyan Hadi. The position of the tax court in the justice system in Indonesia. I saw in your paper yesterday there was plagiarism," said member of Commission III DPR RI from the PDIP faction Ichsan Soelistio, Wednesday (27/1/2021).
Triyono denied the accusation of plagiarism. He defended that many of the sentences contained in his paper were also contained in the law.
"So if there are similarities, indeed there is a lot of writing about the existence and what the position is, even now it is still being debated among academics, a lot of people are writing," Triyono defended.