In the world of video games Heart of Darkness it does not indicate the adventures of Charles Marlow on the African continent, but a particular platform released in 1998 which did not meet a particular success with the public. A game with a troubled history, which is worth telling.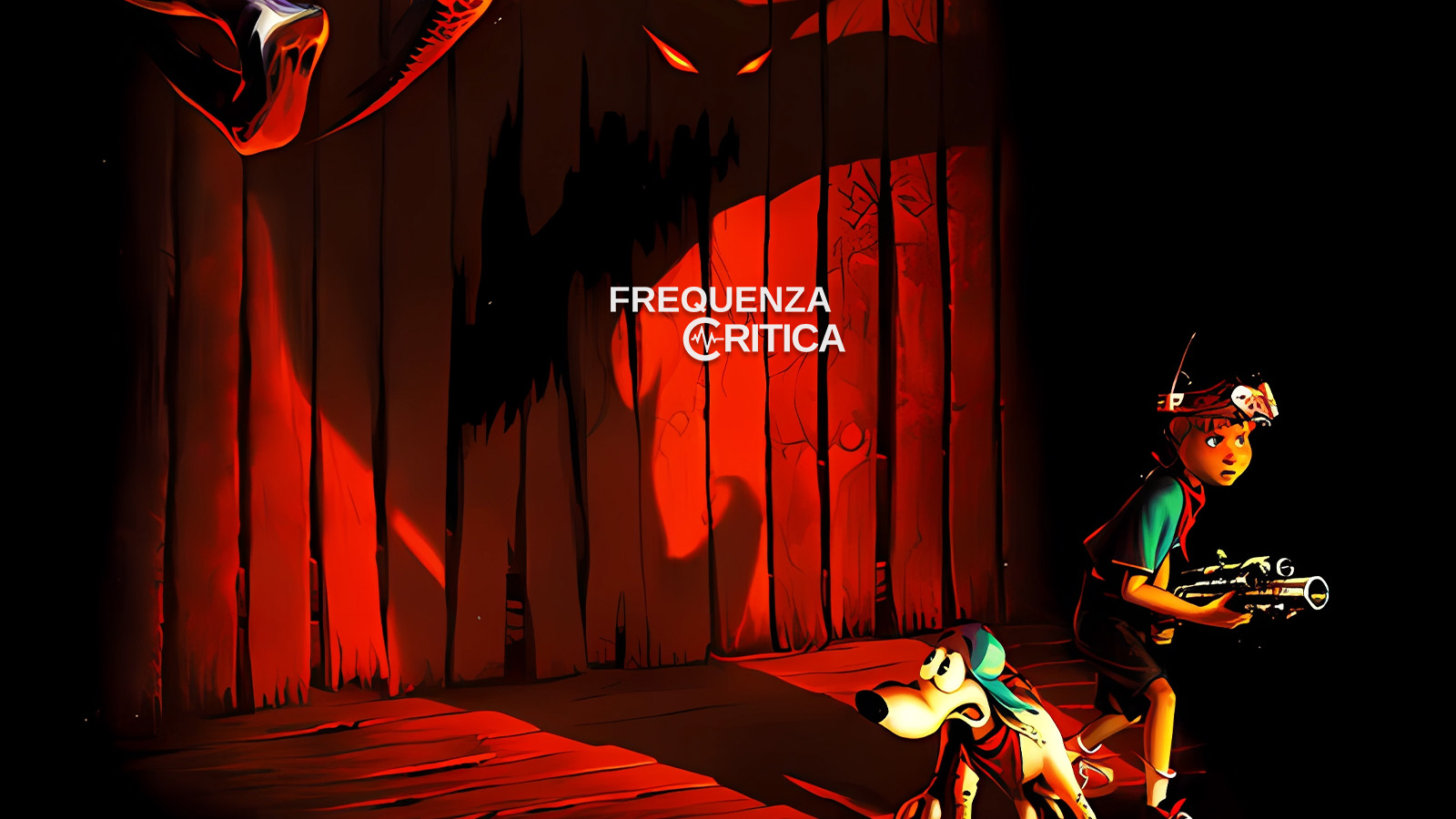 When it comes to authors who leave their signature in the gaming world, the name of Eric Chahi not new to longtime gamers like yours truly. While not reaching the levels of popularity of Hideo Kojima or David Cage, Chahi has left his signature on gaming gems like Future Wars, Another World and, in more recent years, From Dust e Paper Beast. However, the title that I intend to address today is one of his works that are closest to my heart or rather Heart of Darkness, released for PC and PlayStation in 1998. It is a title with a history full of interesting ideas: both that of the game itself and that which describes its place in the gaming world. And it is also a project that has seen many difficulties before coming to light and which has risked cancellation several times, but first things first.
THE STORY BEHIND THE SCENES
After the public and critical success of Another World, in 1991 Éric decided to leave Delphine Software and to found his own development team, the Amazing Studioswith which he began working on Heart of Darkness in 1992. The game immediately presented itself as a cinematic platformer with a cartoonish tone made entirely in 2D, an ambitious technique but which was already beginning to be considered outdated in those years , with the advent of 3D upon us.
DEVELOPMENT HELL
Among the modern games that we associate with the idea of ​​"long, laborious and problematic gestation" we immediately think of titles such as Cyberpunk 2077 o Duke Nukem Forever, titles whose development has been characterized by continuous postponements and inconveniences that have significantly delayed and altered the course of development, but things weren't so different even in the 90s. Initially conceived as a PC and 3DO game and announced to the public in 1995 with funding from Virgin, the game spent years in what is now referred to as "development hell" until the 3DO version and subsequently announced Amiga CD32, Atari Jaguar and Sega Saturn were cancelled.
It is worth noting that all of the consoles mentioned were not even released to the market when development of this title began, and were already obsolete and no longer available by the time the title was completed in 1998. Vista the disastrous development situation in which the game found itself, Virgin decided to withdraw from the project by defunding it.
against all expectations the programmers, determined not to throw away years of work, decided to continue development anyway
This, in theory, should have marked the end of the project. But against all odds the programmers, determined not to throw away years of work behind the project, decided to continue development anyway despite the years of adversity. After nine months of unpaid work and without a commercial partnership, the game was presented at the 1997 European Computer Trade Show, arousing the interest of Interplaya company that had already worked with Chahi at the time of Delphine Software by publishing Future Wars and Another World, and who took an interest in the project, finally bringing it to fruition and its commercial distribution in 1998 on PC and PlayStation.
In a 2015 interview with Eurogamer, Éric Chahi said that Heart of Darkness was one of his most difficult projects due to the transition "from working alone to working with a team in the context of an industry that was changing and with the arrival of the CD-Rom, the PC and with 3D on the way." In a later 2007 interview, Chahi admitted that he felt completely exhausted after the years dedicated to developing Heart of Darkness. After the completion of the game he decided to take a break from the gaming world to devote himself to his personal life, and then reappeared in the gaming world in 2010 working for Ubisoft on From Dust.
THE MARKET RESPONSE
It would be reasonable to think that a title that has seen the light after years of difficulty and management changes cannot in any way be a valid game, just think of the public and critical response received by the aforementioned Cyberpunk 2077 and Duke Nukem Forever. The case of Heart of Darkness also had all the potential to end badly. In those years, technology had made great strides; consoles and publishers had lived through their rises and their declines, and 3D now dominated the market.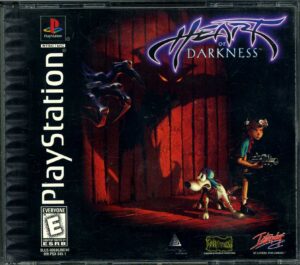 2D platformers were now a relic of the past, and it was more than legitimate to have doubts about the potential success of a title belonging to this genre. Indeed, such was the environment and the general attitude of the trade press that welcomed the game when it arrived in stores. Reviews welcomed the storytelling and art however, criticizing the technical sector and the gameplay, both children of a dated conception as much as the project itself was. The commercial impact of the game was not helped by some controversies aroused by some particularly brutal scenes represented in it, which contrasted with the cartoonish and childish style of the visual sector. However, there are some aspects of an interactive work of art that ignore the historical context within which it is evaluated and go through history remaining universally valid until inevitably the work that transmits them is re-evaluated and consecrated to imperishable memory.
the number of milestones released in 1998 made it difficult for anyone to stand out, especially if the son of an outdated era
1998 was arguably the year with the greatest concentration of titles that have defined the history of gaming modern. To cite a few examples, games like Metal Gear Solid, Resident Evil 2, Half-Life, StarCraft, Parasite Eve, Baldur's Gate and many others came out in 1998 and many others that we still remember and honor as milestones of the industry. You understand, therefore, that it was a very tough year in which to emerge, especially with a title born of an era that now seemed to have long since passed. Yet nowadays Heart of Darkness is still talked about, replayed on dedicated channels and he is remembered with affection and nostalgia: Why? Let's find out by talking about it in more detail.
THE PLOT
The game begins with a spatial overview of planets and galaxies above which the distant voice of a professor speaks to a class of boys. These images are soon cut short as they reveal themselves be just another daydream of our protagonist Andy, a young man characterized from the first introductory films as a dreamer who is not particularly attentive to school, so much so that the teacher in a fit of rage decides to punish him by forcing him in the dark inside a locker. The boy, visibly frightened by the darkness, protests as he is mocked by the professor: "Aren't you afraid of the dark?"
Armed with lasers and a colander on his head, he flies off to a distant alien planet
The ringing of the bell saves him and frees him from his captivity. From school, the boy ventures into the city with his skateboard and his trusted friend, the dog Whiskey. They head to the park where a curious lunar eclipse sucks Whiskey away, causing it to fly away from its master. Andy at this point, determined to save his friend, returns home, enters his personal refuge: a wooden house in the tree which turns out to contain all sorts of futuristic and sci-fi contraptions, and armed with a laser rifle and colander on his head he mounts his trusty spaceship and flies off to a distant alien planet.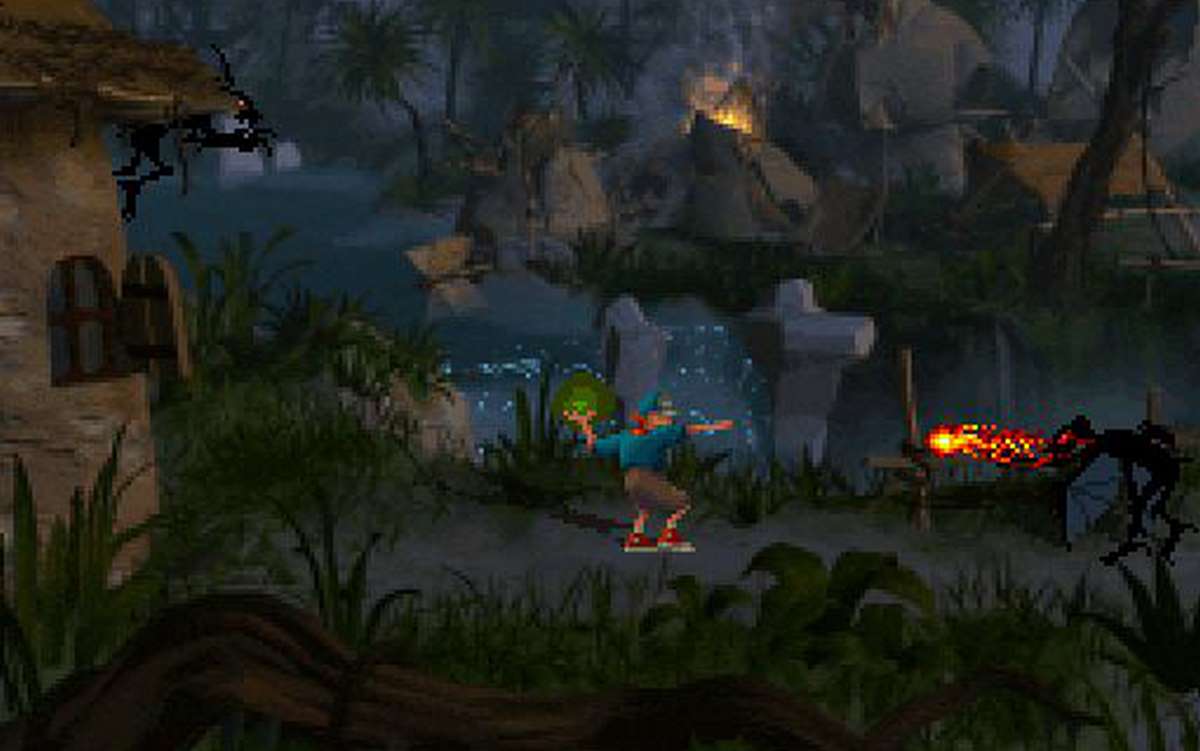 A premise so childish as to seem generated by the imagination of a child
It is such a childish premise that it seems itself generated by the imagination of a child, perhaps yet another imaginary scenario conceived by the creative mind of a dreamy boy like Andy. On his adventure on the alien planet Andy will face a hostile environment and an inhospitable nature and he will be constantly hunted by creatures made of pure shadow, but he will also meet friends, clumsy and talkative creatures who will tell him that his dog is held hostage by the evil lord of those lands, whose power is to transform into creatures of shadow and evil those of his kind, and that Whiskey had been kidnapped by mistake by the dark lord's bumbling lackey, since the real target of the kidnapping was Andy himself.
Andy will once again find himself in the dark, surrounded by barely visible evil forces from which he will not be able to escape
Andy will face a thousand vicissitudes to then get to save his dog and collide against the dark lord, who we will discover present more than one similarity to the wrathful master encountered at the beginning of our story, a fairly standard final boss fight but which does not suggest what follows. Defeated the lord of evil, Andy will find himself back in the dark, surrounded by barely visible evil forces from which he will not be able to escape, and which he will be forced to face relentlessly until the darkness vanishes again, broken by the door that opens and the reassuring mother's voice calling him to dinner. Andy and Whiskey then head towards the bedroom where the boy, having completed his adventure, plays with the shadows projected by his hands on the wall and then lies down on the bed and finally turns off the light, no longer fearing the dark.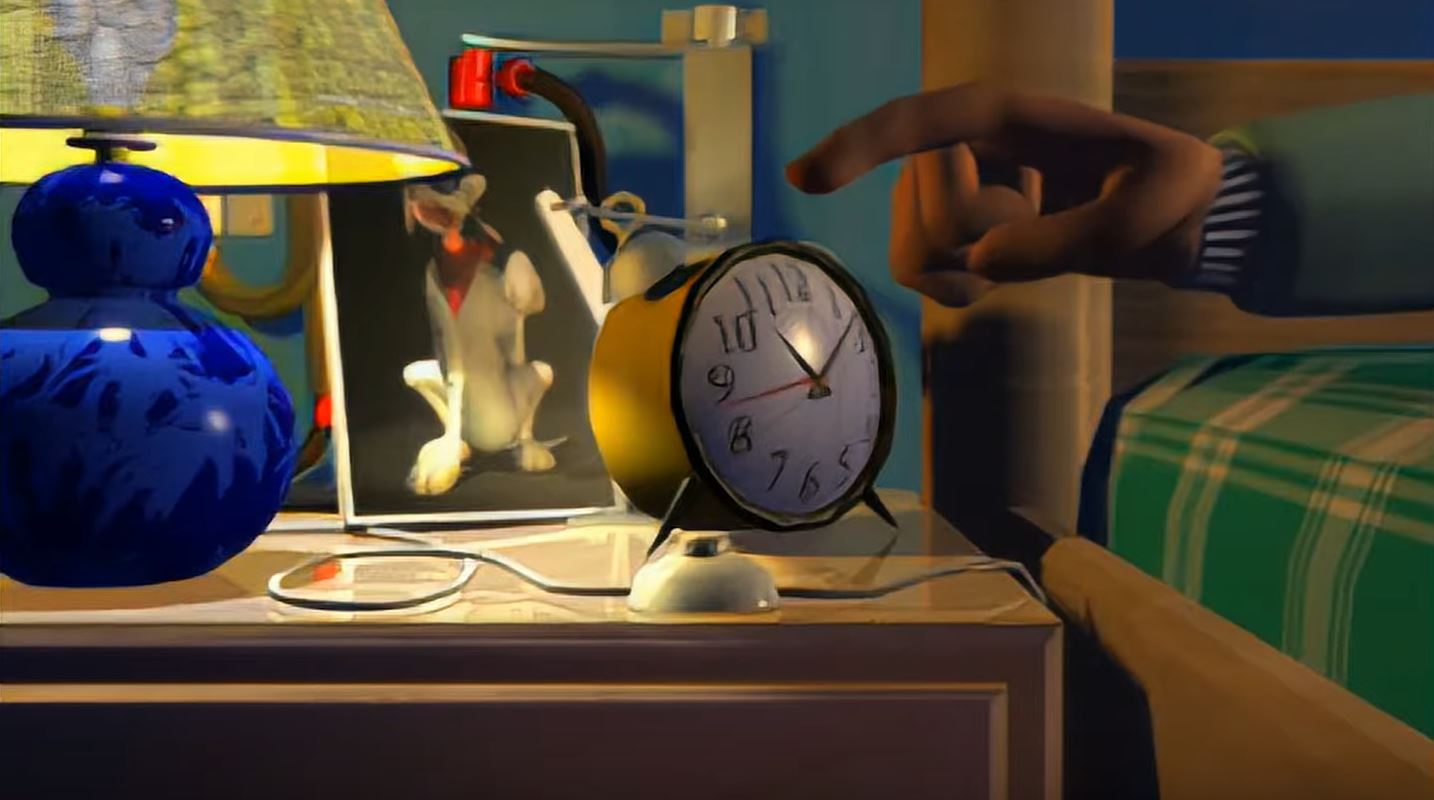 THE IMMORTAL LEGACY
Metaphor of a growth path that we've all faced, Andy's mental adventure it brings us back in touch with our youthtelling an immortal plot of pure fantasy and how at the same time our fantasy helps us to face and overcome our fears, especially in a phase of our growth characterized at the same time by fears and infinite creativity.
HEART OF DARKNESS TELL US ABOUT HOW WE SHOULD NOT ABANDON OUR INNER CHILD BUT LEARN FROM IT
It tells us how we should not abandon our inner child but learn from it even when our age is not so young anymore, because our fantasy is not only an escape from a problematic present in which to take refuge but can and must also be a source of teaching and wisdom to face our daily life. A timeless moral that can be learned by people of all ages and generations who want to approach this title, a game that, a bit like its protagonist, manages to ignore the concept of time through a thousand vicissitudes to deliver us an eternally valid teaching.
---
This article was written for The Games Machine by Critical Frequencythe Italian video game blog.