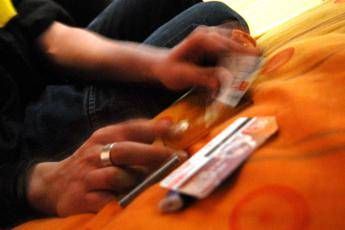 Social – between challenges and sexting – online video games, food. The 'Gen Z' behavioral addiction map is full of pitfalls. And almost 2 million Italian 11-17 year olds are exposed: over 1 million and 150 thousand are at risk of food addiction, almost 500 thousand could have an addiction to video games while almost 100 thousand have characteristics compatible with the presence of an addiction to social media. And it is precisely the teenagers who present the greatest risk who most declare that they have difficulty talking to their parents about things that worry them. The photograph emerges from the maxi study 'Behavioral addictions in Generation Z', the result of an agreement between the Department of Drug Policies of the Presidency of the Council of Ministers and the National Center for Addiction and Doping of the Higher Institute of Health, presented today with a conference at the headquarters of the ISS.
In the autumn of 2022, more than 8,700 students between the ages of 11 and 17 were interviewed, around 3,600 from lower secondary schools and around 5,100 from lower secondary schools, throughout the national territory, selected in order to have a representative sample of the population. The survey also explored the relationship between parents and children, inviting all middle school parents who had joined the study to participate, and 1,044 questionnaires were collected. The survey – carried out with Explora research and statistical analysis – also focused attention on the characteristics of children with a risk profile (personality traits; relational dimension; family, school and social context; quality of sleep) and behaviors related to internet usage, such as social challenges, doxing, sexting and morphing.
2.5% of the sample has characteristics compatible with the presence of an addiction to social media (about 99,600 students), a percentage which in the female gender reaches 3.1% in female students aged 11-13 and 5.1% in 14-17 year old students. At-risk students aged 11-13 were 10.1 times more likely to have severe or very severe social anxiety disorder and 5.5 times more likely to be highly impulsive. It's an addiction that drives you to compulsively frequent social channels (Facebook, Instagram, Tik Tok, Twitch, etc.) in an uncontrolled way so as to compromise other areas of daily life.
Kids in the virtual world are measured in social challenges that are often filmed to be published, some are fun but others are very dangerous. Among the behaviors that expose one to risks is 'doxing' (publicly sharing information such as photos, videos or other personal data relating to a person online, usually with unpleasant intentions), 'Morphing', the tendency to change one's image using apps to enhance one's appearance and hide any flaws, sexting, sending or receiving erotic messages, videos and personal photos. And then there is the Internet gaming disorder chapter: the risk of video game use disorder involves 12% of students (about 480,000 Italian students).
If girls prevail on the social media addiction front, in the case of video game addiction it is the male gender that is the most affected, with the percentage reaching 18% in male lower secondary students and 13.8% in high school students (versus 10.8% in middle school and 5.5% in high school for females). Compared to age, the percentage of greatest risk of video game addiction is found in middle schools with 14.3% of children at risk, while the figure drops to 10.2% in high schools. Associated factors are moderately severe or severe depression, with a 5.54-fold increased risk in 11-13-year-olds and 3.49 times in 14-17-year-olds, and severe or very severe social anxiety, with a by 3.65 times higher than the average in 11-13 year olds and 5.80 in 14-17 year olds.
Among the behavioral addictions, Food Addiction has a very high weight. The risk of food addiction involves approximately 1,152,000 students between the ages of 11 and 17, of which more than 750,000 are female (271,773 in middle school and 485,413 in high school). 13.1% (about 523,000) have a mild risk; 6.4% (about 256,000) have a moderate risk and 9.3% (more than 373,000) have a serious risk. Those with a risk of severe food addiction in the 11-13 year old sample are 11.62 times more likely to have moderately severe or severe depression; 6.55 times to have moderate depression; 4.43 times to have moderate anxiety and 2.39 times to have mild depression.
The study investigates the relationship with parents and finds that students aged 11-13 with a risk of social media addiction report a communication difficulty in 75.9% of cases (this percentage drops to 40.5% in those who do not have the risk); among those who present a risk of Internet gaming disorder, communication difficulties with parents are declared in 58.6% (against 38.3% of those who do not); and in 68.5% among those with a serious food addiction (vs 34.4% of those with no food addiction). Among the parents who declare that they "do not observe problems in their children related to the risky use of video games" there is actually 8.6% who have a child with a risk of gaming addiction. Indeed, among parents who declare that their child "does not play", there are 3.7% of cases of children at risk of gaming addiction. Even among the parents who "do not observe behaviors of uncontrolled intake of unhealthy food in their child" there is almost 20% of children with food addiction (9.1% mild; 5.5% moderate; 5.2% severe) . On the other hand, among parents who detect gaming addiction or food addiction in their child, there is an overestimation of the problem.