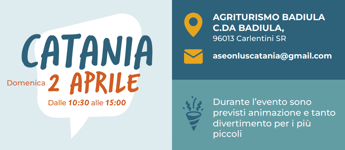 It reaches Catania on Sunday 2 April 'Articulating Talks: Articulations? Let's treat them well!'. The initiative is part of the Articulation campaign, supported by Sobi under the patronage of FedEmo – Federation of Hemophilic Associations – which in 4 years of meetings throughout the boot has become a point of reference for joint health of those with l haemophilia, also thanks to a site, www.articoliamo.com, full of clear and useful information for everyday life. The Sicilian event, promoted by Ase Onlus Catania, is entitled 'Discovering articulations. Between prevention and protection'.
"We welcome every action aimed at improving the quality of life of people with haemophilia with great enthusiasm and we are happy to bring Articulate back to Catania – says Francesco Cucuzza, president of Ase Onlus Catania, the Sicilian haemophiliac association. After a first virtual stop, in 2020 , this face-to-face meeting is for us a splendid opportunity to discuss with clinicians. As an association we have always been engaged in education and training courses, and Artisan allows us to focus on the importance of prevention, to preserve the well-being of the joints The key elements of this approach are periodic ultrasound screenings, to monitor the status of microbleeds, physical activity, still too often viewed with fear and hostility, even though science amply demonstrates its benefits, and adherence to prophylaxis ".
The aim of these meetings that touch the whole Peninsula – recalls a note – is to invite people with haemophilia to take care of their joint well-being, because now, thanks to the right protection, damage to the joints can be avoided for the benefit of a free and quality.
Hemophilia is a rare coagulation disorder which – due to microbleeding especially in the knees, ankles and elbows – can lead to joint problems and progressive reduction of mobility. In Italy there are over 5 thousand people with haemophilia, of which over 370 in Sicily. However, through a series of prevention and protection strategies – prophylaxis with a prolonged half-life factor, periodic joint screening and regular exercise – it is possible to take care of your joints to reduce the risk of these bleedings and thus preserve joint well-being . Data now show that prophylaxis with prolonged half-life coagulation factor, if done regularly and personalized to maintain an adequate level of protection even when performing physical activity, reduces bleeding and keeps the skeleton and muscles in good condition. In fact, adherence to therapy is essential to preserve joint well-being at all stages of life.
"Articulating is now recognized as a point of reference on the topic of joint well-being and this year it presents itself with a new format – explains Annalisa Adani, VP & GM Sobi Italy, Greece, Malta and Cyprus – Leading the debate and comparison with the specialists are the patients themselves, because only those who live with haemophilia can bring out concrete and daily needs as well as success stories.The tomorrow of haemophilia looks rosy, but already today you can count on therapeutic options that allow you to live truly a full life, thanks to a correct grip and protection. Like Sobi, we can only be proud to be able to give our contribution to this evolution".
Specialist doctors – continues the note – recommend undergoing periodic ultrasound screening, a simple, non-invasive and effective method in identifying joint problems early. In fact, microbleeds can go unnoticed and do not cause pain, but thanks to the ultrasound investigation it is possible to detect the presence of blood, locate its position precisely and measure its extension, as well as highlight possible complications affecting the joint. even in the absence of symptoms. The appointment with 'Articulating Talks: Articulations? Let's treat them well!' in Catania it is for 2 April, from 10.30 at the Agriturismo Badiula, C.da Badiula, Carlentini. The meeting is open to the public, with free participation and subject to availability. To receive further information or register, write to [email protected].