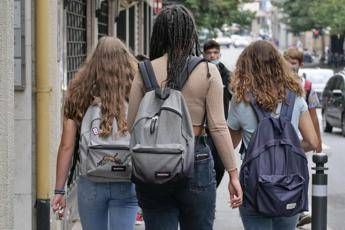 "One day we fell into a chasm." Thus begins the story of Franca Rosa, mother of Lucrezia. It is the story of a 'lilac bow'. A story of DCA (eating disorders), of a girl "who felt inadequate" and her "dark moment", of a family who was able to see the red light that had come on and ask for help, of a journey in course with one goal: "I hope to get out of it," sums up the 19-year-old.
Mother and daughter have decided to tell their experience, "because – says Lucrezia simply – I hope it can help". Because, Franca analyzes, "there is a lack of information on eating disorders. There is not only anorexia, bulimia, but also many other manifestations. And support for the family, as well as the patient, is important. Because the family feels very lonely and unable to help her loved one. She ignores how to act, the words to use, the attitudes to keep. We see it every day: there are taboo words and topics. You can't talk about food with my daughter". When an eating disorder affects someone, whether it's a girl or a boy, a child, an adult, "the life of the whole family is turned upside down, there is no longer the balance and serenity of before, everything is compromised ".
For Franca there is an urgency: "One cannot fail to be treated – he insists – it cannot be that only those who are economically more fortunate are treated. The national health service reaches a certain point and often does not even arrive. care must be for everyone. My daughter – she says – is 19 years old today, 2 years ago she felt inadequate" in her body shape "and asked me to go to the dietician to lose a few pounds. I was afraid she might look on the web and do it alone, so I brought her. But she is a determined girl and when she sets a goal she has to achieve it at all costs. She got carried away, the diet she was given began to halve her in quantity. And we fell. It's not true, however, that parents can't see signs. You can see when a girl isn't well."
Warning lights? "Besides the weight loss, there's the isolation, hair loss, sallow complexion, blank stare, brittle nails," she lists. "Lucrezia no longer participated actively in family life, she went out less and less with her friends". The diagnosis: restrictive anorexia. From there the dietician recommended psychological support. Then Lucrezia asked for "pharmacological help and the psychiatrist was involved. In a team work that is fundamental. We need to rely on those who have professionalism in this field", Franca points out. Now, he assures, "Lucrezia is much better physically, but she still has many things of her own to deal with inside. She must learn to like herself more and think that she is a beautiful person. Each of us is an individual in itself, we must not look at the appearance physical but to what one is".
When you hit rock bottom, what drives you to take back your life? "To be honest – says Lucrezia – there has never been a moment in which I have decided to seek treatment, it has always been my parents who pushed me. I asked for pharmacological support to overcome a very dark moment. I can't do it I couldn't get out of bed, I didn't want to study. For trivial things like taking a shower it was my mother who lifted me up. I didn't see the reason. You wonder why do it if you hope not to wake up on day after". Now, however, she says, "I'm working on the set of things that led me to that point. The only thing I saw control over was food. If I think about it, I've had this thing since I was a little girl: I didn't like myself, when I I was in a bathing suit pulling my belly in". But in 2021, in the midst of the Covid pandemic, the year of Lucrezia's maturity, "I was forced to stay at home, still, alone". Until the go-ahead and the easing of restrictions.
For the girl, it is the return to society that triggers something. "It was panic. I was no longer used to being around people. I started the diet and my sociality, my 'popularity' increased as I lost kilos". The connection is automatic: "I'm thin and I like myself more. Actually the reason was that I felt better with myself and I was nicer. Outside I wore a mask, not at home. Even today, if I look at the photos from then, I think that I was prettier. But in those days, at the height of my illness, I felt like shit." Lucrezia then went through several ailments, not just anorexia, but a mixture of bulimia and binge eating. And if when you talk about anorexia people maybe feel sorry, the binge is seen as crap. And it is. But I know that a person who already feels bad, like this ", with the 'easy condemnation' of others on his shoulders," feels more judged and embarrassed. This is why I talk about it and I hope it can help someone". Today Lucrezia has a plan. " I reached a compromise with the dietician and having put on her weight, I asked her to be able to lose a few kilos. She gave me a pattern to follow and every week she will check me. The goal is to maintain that weight that has been set and try to get out of it. And now I really hope to make it". Being followed is important, mother Franca intervenes. "Facts cure, words are not enough". Objective concreteness.
The same as the newborn Fiocchetto Lilla Foundation, presented today in Milan. Families and ex-patients united against what has now taken on the contours of a "real national and social emergency". Anorexia, bulimia, binge eating, vigorexsia, orthorexia: eating disorders – known as DCA or, more recently, DNA (nutrition and eating disorders) – after the pandemic have reached "numbers that can no longer be ignored: an increase which is close to 40%, a growth in hospitalizations that reaches 50%". This new reality was born in Grosseto from the experiences and commitment of those who have personally fought against these pathologies (former patients, mothers, fathers, brothers, sisters, friends, companions). A reality that brings together the good things that have been built with associations such as 'Così come sei', founded by Francesca Lazzari, who lost one of her 4 children; 'Mi nutrito di vita', chaired by Stefano Tavilla, who saw his daughter die, Micaela Bozzolasco and Sebastiano Ruzza who experienced the disease on their own skin; 'Perle Onlus', founded by Mariella Falsini who knows the disease closely, Simona Corridori, creator of the lilac code, and Maria Carla Martinuzzi, pediatrician. These three associations are now creating, as founding members, a new reality "with a national scope".
The Fiocchetto Lilla Foundation "intends to promote care, research, training, prevention, prompt treatment, listening, credibility, continuity of care and healing paths. In a single word: concreteness", explain the promoters of the initiative. After years spent "helping people, having a dialogue with local and national institutions, providing prevention and information, raising awareness among citizens, studying more deeply and stimulating professional skills, the time has come for the long and often painful path taken up to now to undertake new roads, with means suitable for the new and growing challenges". The dream is that "behind every lilac bow there are only stories of victory".