Here we tell you what our experience has been with the first hour of Road 96: Mile 0.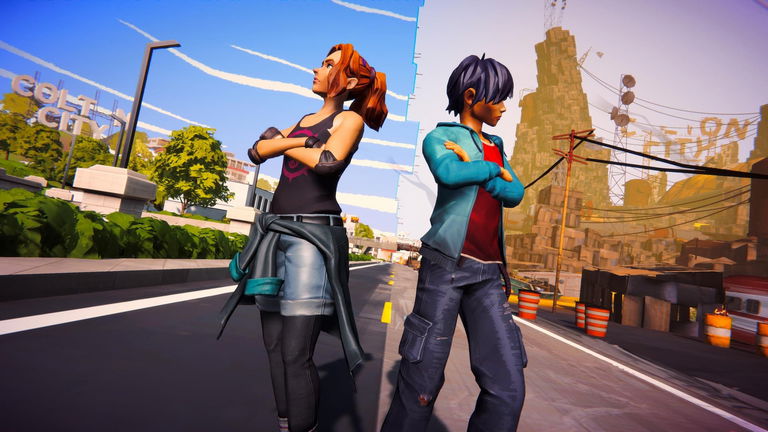 Promotional image of Road 96: Mile 0.
join the conversation
Road 96 is a game that went under the radar of many people, and the truth is that they missed a great gem. To put a bit in context, we are talking about an independent video game that was released in 2021, and that from the beginning managed to make a large number of people fall in love. This was achieved thanks, in large part, to being a game with procedural generation, which also had a great political focus.
In addition, with its inclusion in Xbox Game Pass, it managed to gain a large number of users, who tried it for being in the service, and stayed because of its many advantages. now we meet getting closer to receiving the new title of this franchisewhich, despite what is usual, does not turn out to be a sequel, but rather a prequel to the story that we live in the original video game.
We have already been able to test the first hour of this new title, and then We are going to tell you what you can expectsince it is a game that, despite having the roots, certain central parts of its gameplay and narrative differ from those of Road 96.
A story with moral decisions
As we have said, the original video game was committed to being a journey, which was created procedurally, so you could never know what you would have to do next, even if you had already played the title. In this case, Mile 0 moves away from this, to tell us the story of two teenagers: Zoe and Kaito.
To begin with, as the team has specified, and as we have been able to see in what we have tested, this title does not focus as much on politics, as it did the first title. We will go from being a young man who, due to certain problems in his country, decides to leave him and has to live the journey of his life to achieve it, to two adolescents who live their lives in this same country. Even so, do not think that the subject is left aside, although in this case we will see it from the perspective of these two characters, and it is that they lend themselves a lot, since they belong to totally different social classes.
In the hours that we have played, we have controlled Zoe, and although we do not know if we will end up controlling Kaito or something similar, we must mention the morality system that this character has. In certain conversations, we will be able to choose certain answers, which clearly affect the morality of our character, but the game also makes it clear that these answers will have consequences, in the style of how the Telltale games did. This mechanic is not refreshing, but it works and allows us to make it a more replayable title, but the truth is that we don't know if it will have the necessary depthsomething that we will have to check when it is officially released.
music is the key
This is probably the most substantial change from the original title. Here, the music, and the musical scenes will be very important, or at least they have had it in the hour that we have been able to play.
You can see it in the trailers that have already been released for the game, but basically we are talking about scenes in which we will have to avoid the obstacles that we find on the way, while music, which seems to be well chosen, plays in the background. Of course, we can't talk about the final game, but at least in the time we've played, these moments were very well chosen, turning out to be an important narrative resourcegiven that we have even come to make decisions during these moments.
The best thing turns out to be that this looks like It will be a counterpoint to the gameplay that we saw in the first installmentand that continues here, in which we are placed in a first-person view, with which we can explore the scenarios, and even make the decisions, which are masterfully integrated into it.
A display of style
The artistic style of the original game returns for this prequel, but the truth is that we have been pleasantly surprised, and that is that the developers They have managed to use it masterfully in the musical scenes.
It seems like a lot of time was spent on these, as they're not only imaginative, but they shine in terms of scenery and art design, giving us some of the most spectacular moments in this demo. We can only say that, although in terms of mechanical design we cannot say that it is something revolutionary, when we refer to aesthetics, we would say that we have fallen in love leaving us looking forward to being able to play the final title.
A contained experience
As we have said, we have been able to play for about an hour, but you should know that, as the developers have clarified, we are facing an experience that will last about 5 hours on average.
This makes it a more contained experience than the original title, and although it has some replayability (as we have said), it is most likely that finish it once to know the history of these characters. Even so, we can say that what we have tried has managed to hook us, making us want to continue with the story of Zoe and Kaito.
We will always defend that more is not better, so if the quality of what we have tested is consistent with that of the complete game, we can say that these 5 hours will do us wonderfully.
Less ambitious, but just as interesting
Road 96: Mile 0 is undoubtedly a less ambitious experience than the original title, and therefore it may disappoint those who were hoping for a sequel. For our part, we can say that this test has left us wanting morethanks especially to its cool musical settings and Zoe and Kaito's relationship.
It may not be one of the most anticipated releases of 2023, but it is an interesting proposal, which we believe can offer us a lot, even despite the fact that, as we have said, this title does not have as many pretensions as the original.
join the conversation