The first open world racing game built with LEGO bricks.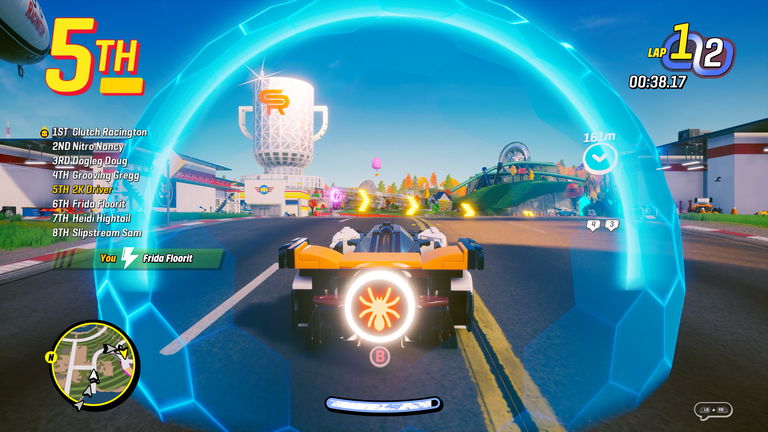 LEGO 2K Drive offers very fun races for single player, cooperative or competitive multiplayer
join the conversation
After so many rumors, we can finally talk about LEGO 2K Drive. A game that was born from the first collaboration between 2K and LEGO, but they have already promised us that it will not be the last. We were invited to the T2 offices in London at a private event to test this so ambitious new racing title that no one expected. And yet, she has seemed to us a very funny proposal to play both solo and cooperatively and competitively online. LEGO 2K Drive Launches May 19 en PS5, PS4, Xbox Series X|S, Xbox One, Nintendo Switch y PC.
LEGO gets out of its comfort zone after flirting with cars in Forza Horizon 4. A very small appetizer of what we can find in LEGO 2K Drive. It is a game of open world driving divided into several regions with their own biome and characteristics. It has a Story mode for a player, the objective of which is win the Heavenly Cup. But to access that tournament, you will have to earn it by burning wheel. Here we tell you our first impressions of the new 2K game that enters through the eyes.
open world with racing
In LEGO 2K Drive we find a flashy (and colorful) open world that can be freely explored mounted on a vehicle. Thus begins our adventure to learn to drift, activate the turbo and other mechanics typical of arcade games. The first region is located in some green meadows with kilometers of roads, curves and hills to discover our vocation as pilots. The first contact with the races is almost immediate to the participate in a closed circuit to beat the main rival, a renowned pilot who challenges us.
Here it already shows how accessible the game is for all audiencessince the driving system is based on skidding, fast turns, the use of turbo and the enhancers. Throughout the course, the player can pick up items and throw them at opponents to hinder his career. A concept that always works in these types of games and we never get bored of seeing them. it's possible cast a web to disturb visibility, become a ghost car capable of passing through cars or launch projectiles.
Vehicles have their own attributes like health or speed which can be inversely proportional. For example, a robust car will be more difficult to destroy, but it will be slower. lose all life does not mean Game Over, but will return to the race with that penalty time. In any case, it is not something definitive because health regenerates over time with very curious animations piece by piece and that allows step on the accelerator without fear to break completely.
One of the main features of LEGO 2K Drive is just that. He pleasure to trample and destroy without taking much damage. Crash into rivals and leave them by the wayside, while you end up entering triumphant at the finish line. The concept of destruction is an advantage in competition, since breaking things in the environment allows you to fill the turbo bar, as well as skids. This mechanic is very easily filled, something that should be better balanced not to abuse it. If you do it right, you can go the whole circuit in Turbo mode without breaking a sweat.
Los circuits are varied and can combine different surfaces. As in the open world, the player is equipped three types of vehicles (that we know): the road car, the off-road and aquatic to travel rivers that cross the map. It is switched automatically, a very satisfying feeling for move around the map with full freedom. And the same thing happens in the races, you don't have to be aware of those details and you can take advantage of it. After winning competitions you get flags and rewards to improve your team. Either through objects or with new vehicles to add to your fleet.
Missions, challenges, mini-games and more
After completing the first few races, you unlock a new area and a workshop which is the first fast trip. Throughout the map you can discover more workshops, quests and many different activities. Thus we encounter the first problem: we do not have sufficient level to participate in the following races. It's time to put the batteries and complete the character quests or challenges.
Exploring the environment, characters with a goal appear, which has led us to cut weeds with a lawn mower, run errands, chase a thief and other very fun things like collecting little blue pigs. Quests can have interesting rewards, although at this point we just wanted experience. You can get items, vehicles that are possibly exclusive to that mission and money to improve your vehicles.
On the other hand, the challenges are more technical tests whose result will be well rewarded. Here we realize the real difficulty of the game, quite the opposite of that in the races. There are challenges that require great skill with the car and others that seemed impossible to get. There are also some activities that need to unlock an item type like a propelling backpack. The world is filled with so many activities that we are left wanting to explore everything in more detail. Each player had a very different experience in front of the screen with chases, invasions of aliens and other stories that are only part of the first hour of play.
LEGO 2K Drive has more exclusive tracks for online multiplayer. The servers were not available, but we could see the tournaments made up of 4 circuits each to compete against the machine or up to 6 players. The loading screens that are anecdotal during the game give us advice and in this case remind us that there are shortcuts. These tracks also have environmental traps that can slow down your run. Undoubtedly, a perfect format for mince with friends and that rewards the best of 4 races. Here you can bring out your best car, whether you get it in the adventure or you build it yourself.
Limitless customization
"If you can imagine it, you can build it." 2K brings the LEGO premise to this very ambitious video game in many ways. Not only does it pose activities and challenges everywhere, but the editor is totally overwhelming. Imagine a LEGO set with over 1,000 pieces available in any shape and size, including technics. This game defy all limits customization so that the player has many resources within reach to build everything you imagine.
Any LEGO fan will dedicate hours on this tool so complete to create very original vehicles and authentic follies. But if you don't want to waste so much time, there will also be default templates to make the constructions step by step. You have the parts, you have the instructions and nothing is missing. Can change the paint of the bodywork and all the pieces, add stickers and endless possibilities to tune the cars. And, of course, it looks like they can be share the creations with the community. With so many options, it is striking that the minifigures are so limited and cannot be customized.
Artistic design between LEGO and realism
The second region is desert like a recreation of the Colorado canyon. We have been surprised by combination of textures in the whole game. The elements of the landscape themselves have a more realistic style, but the buildings, workshops and urban elements are built with LEGO pieces. So the cars pull up dust particles really in any skid. A mix of styles that we don't dislike it at all. Of course, the camera is quite sensitive and in each crash you do not know where or how you can land. The screen becomes a conglomerate of animations, flying pieces and cars very funny, but difficult to distinguish.
LEGO is a very powerful label of lots of fun and here he proves it again. This game brings out the great sense of humor with absurd jokes every minute and comments that will not take away from you the smile on the face. It doesn't take 10 minutes for him to release a recurring "Until Lego!", since LEGO 2K Drive is translated and fully dubbed into Spanish. you will also find funny gag and characters with funny names like Johnny Pilot. A title that at the moment is a unique experience that we had not seen among the best lego games.
join the conversation