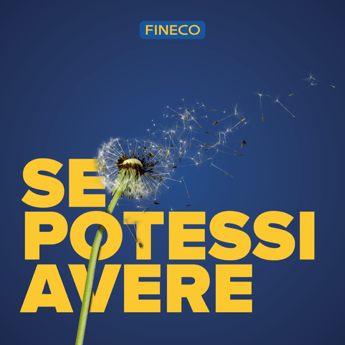 From Monday 27 March, "If I could have", the new Fineco podcast produced by Hypercast, is available on all podcasting platforms (Click here to listen to the podcast). Five episodes in which five protagonists (three women and two men) tell their stories of change and how money and savings have influenced their choices. A careful management of one's assets and a careful analysis of the economic repercussions can, in fact, positively influence everyone's life. "If I could have" is therefore a unique project of its kind which, alongside pure storytelling, also addresses practical issues.
To collect these stories, a person who has experienced firsthand an experience of change: Corinna De Cesare, journalist, author, writer and podcaster. De Cesare worked for 15 years at Corriere della Sera, where she dealt with macroeconomics and employment issues; she has conducted live broadcasts and correspondence from Brussels for the European elections to then specialize, in recent years, on issues of gender identity and violence against women. In 2019 he founded thePeriod, a newsletter with over 12,000 subscribers that quickly became a disruptive voice on the Italian literary scene and published two books ("Ciao per semper", 2021; "Biglietti alle amiche: Corpi, sex, rights, ambitions. A full stop in the narration of the facts", 2022); through social media, De Cesare analyzes newspapers and media, dismantling the processes that contribute to legitimizing sexism, misogyny, ageism and gender discrimination in society.
Guest of the first episode of "If I could have" is Pierluca Mariti. Born in 1989, classical graduate and repentant jurist, Pierluca Mariti worked for seven years as a manager in a multinational company. Shortly before the pandemic, he decided to dust off his never dormant passion, entertainment, first with stand up comedy, then through his Instagram profile, @piuttosto_che. What began as a creative pastime, in a few months, has taken on the dimensions of a real job. The most exemplary symbol of his approach "makes you laugh but also think" is Tell Mama, the column most loved by his community: a series of Instagram stories in which Pierluca ironically responds to matters of the heart and beyond. A column that is also re-proposed in the final part of his shows, answering the questions that the public writes on his notes. Just like it was done at high school institute assemblies. In addition to creating content on social media, Pierluca has published several articles for the newspaper Domani, has participated in podcasts and radio programs (not least "Piuttosto Che", of which he was co-host on Radio Lattemiele in spring 2022) and signed the monologue "It's like a girl" for the TedX in Ferrara. He has a newsletter with which he keeps the community updated on his favorite reads, movies and best plays.
Already nominated in 2022 for the Diversity Media Awards as "creator of the year" and protagonist in 2023 of the social accounts of the Sanremo Festival, on his Instagram profile Pierluca Mariti @Piuttosto_ who offers the recipe for good humor thanks to a mix of amateur dances, finished recipes evil, parodies and stakes of the heart that do not solve problems. Starting from his thirty-year-old's perspective grappling with daily life, @Piuttosto_che recounts the change in society by investigating relationships, rights, gender issues and pop culture through a light and ironic story, with due seriousness if necessary.
The other guests of "If I could have" are Monica Lasaponara the first Escape Coach in Italy. After leaving her job in television marketing, she devoted herself to social innovation and studying alternative career methods. Lasaponara offers tailor-made courses, workshops and itineraries dedicated to those looking for a professional dimension that is different from the classic job as an employee. In 2021 she published for Newton Compton "I drop everything and change my life. The practical and innovative method for designing the perfect plan B".
Marie Nurra is a young artisan who opened her workshop in the Pigneto district of Rome two years ago. She is a ceramist with a past as a documentary maker. To those who ask her how she was able to go from the camera to the lathe, she says: "My approach is the same, trying to tell the reality that surrounds me. They are the jars of sauce that my grandmother prepares and that she takes to France, like every emigrant, where the tomato is hard to blush. And all this, I try to put in a plate, a cup, a salad bowl or a jug: the nuances of the rocks, the simplicity of the form, the olive tree ash in the glaze, the sensation of comfort, the nostalgia, the transmission, the memory and finally the passion for a profession".
Marco Ottonello, entrepreneur, is one of the founders of Rame, a platform that helps people start a path that will lead them to achieve financial well-being. Former manager of an important multinational, Ottonello's life changes when his wife discovers she is pregnant with twins. At that moment the entrepreneur realizes he can take advantage of paternity leave and chooses, together with his wife, to both take care of their twins full-time at least for the first few years of life. That experience changed the life of Marco Ottonello who from that moment on chose to leave his old job and start a business that would allow him to devote more time to his family.
Azzurra Rinaldi feminist economist, teaches Political Economy at the Unitelma Sapienza University of Rome, where she is also Director of the School of Gender Economics. In 2022 you founded Equonomics, to bring the theme of gender equity within companies and institutions. She sits on the board of the European Women Association and that of Opera for Peace. She is an honorary board member of the UK Confederation. You are a member of the Scientific Committee of Save the Children and of the Tertiary Observatory ManagerItalia. She is a commentator on La Svolta, she is the author of articles and books on gender gap issues. Her latest book is titled Ladies don't talk about money (Fabbri Editori, 2023).