Want to find out what the week's top game releases are on the Nintendo Switch eShop? Here you have the top.
The week is about to end, and Nintendo has shared the top releases and premieres of the week in the eShop de Nintendo Switch. A selection of 4 games that offer the most varied and original experiences, as well as much deeper backgrounds than what appears at first glance on most occasions. Do you want to discover them?
Top game releases from the Switch eShop
These are whats most outstanding games that have Released on the Nintendo Switch eShop during the week of March 27 to April 2, 2023. Fishing, robots, deadly sins, baseball? The variety is served.
Dredge – Team17
Get on your boat and go fishing while you explore dozens of islands and the secrets that surround them. Survive by selling your parts, upgrade your ship, complete missions and gain new abilities. But be careful, you don't know the Threats in the deep.
Saga of Sins – Just for Games
Listing in the eShop
Also available in physical format
25% discount until April 28
Hardcore arcade with art that imitates the style of Bosch stained glass. You're a clergyman named Cecil that can enter other people's minds and become four demons different. Your mission? End the seven deadly sins and save the town of Sinwell from the plague. End evil with a clean blow, explore the thoughts of up to 31 villagers and overcome puzzles to achieve your purpose.
The Last Worker – Wired Productions
Listing in the eShop
Also available in physical format
20% discount only on March 30
In an increasingly automated world, you will have to assume the role of Kurt, an employee of the world's largest trading company and torn between capitalism and activism. An immersive adventure in which, in the company of the robot Skew, you will have to dismantle your own company using its tools while discovering a most emotional and reflective story.
MLB The Show 23 – MLBAM
How does it feel to be the new promise of baseball? We don't know but MLB The Show 23 may be the key to finding out. More than 25 new legends from the world's biggest baseball league, official licenses, customizable teams, official uniforms… The most complete baseball experience that is faithful to the sport that you will be able to find.
Do you keep any? Remember to take a look at the eShop catalog to see also the juiciest deals of the week. I'm sure you'll discover some interesting gems for your Switch!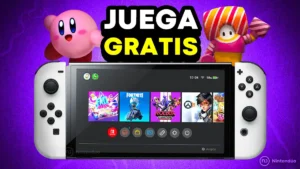 We have compiled the 30 best free games on Nintendo Switch (in 2023) so that you can have a great time without spending a single euro.
Nintendo Switch eShop